Food
The Myers + Chang cookbook is finally here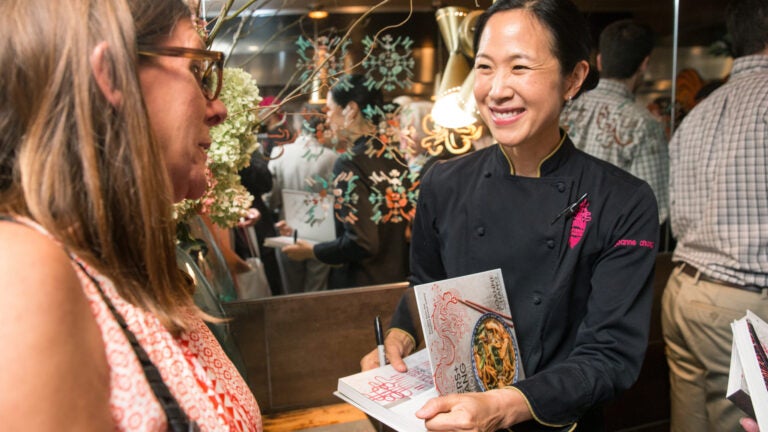 The women behind Myers + Chang are revealing the acclaimed South End restaurant's kitchen secrets.
Chef and co-owner Joanne Chang, a James Beard Award-winning chef and baker also known for her Flour Bakery empire, and executive chef and partner Karen Akunowicz, a Top Chef contestant and three-time James Beard Award nominee, teamed up for Chang's fourth cookbook, Myers + Chang at Home: Recipes from the Beloved Boston Eatery. Released Tuesday, the book breaks down the pair's interpretations of traditional and not-so-traditional Chinese, Taiwanese, Thai, and Vietnamese dishes — but for home cooks.
Recipes in the cookbook include nasi goreng, a spicy-sweet Indonesian fried rice dish with pork, shrimp, and pineapple; Tiger's Tears salad, a rare beef dish so spicy it could make a tiger cry; garlicky spicy coal-black chicken wings; Thai ginger chicken salad; sweet-and-sour Brussels sprouts; and the tea-smoked pork spare ribs dubbed "meat candy" by many guests.
Of course, the book wouldn't be complete without a dumpling recipe — six recipes, in fact, such as juicy duck and ginger, shiitake mushroom and spinach, and Mama Chang's pork and chive in a black pepper scallion sauce.
And for the home chefs not so familiar with Asian ingredients, fear not. First, Chang and Akunowicz walk you through how to shop for ingredients at an Asian grocery store, everything from dried shrimp and nori to kimchi and dumpling wrappers. Second, the duo explains the kitchen equipment (bamboo steamer, fish spatula, spider, wok, and beyond), then gives a walkthrough of basic cooking techniques.
We spoke with Chang about Myers + Chang at Home and how she got bitten by the "cookbook bug" — and we have the recipe for pan-roasted soy-glazed salmon with cool cucumber salad for you, too.
Boston.com: I've been waiting for this! Flour has already gotten three cookbooks. What made you decide to do the Myers + Chang cookbook now?
Joanne Chang: We were hoping to do the cookbook about four or five years ago. I finished the first Flour cookbook, and I thought, "OK, I've done Flour. Now it's time to do Myers + Chang." But it turned out my publisher had other ideas. He wanted me to do the Flour Too book, and then we did Baking with Less Sugar.
I'm actually glad that we ended up postponing it, because I think if we had tried to write the book back then, it would not have been as developed as it is now. The restaurant needed more time to become more fully formed. Plus, had we started back then, Karen would not have been involved. She's a huge part of the book, and the restaurant too. I'm glad we waited until the 10th anniversary.
How has Myers + Chang evolved in the decade it's been open?
It's been influenced a ton by Karen, who has been with us for [the last] six of the 10 years. The very basic core of who we are has not changed. It's still a neighborhood restaurant, it's still casual, fun, loud, energetic. The food is very flavorful and crave-able.
I think over the years, we're just much more comfortable with who we are. We always had a strong Taiwanese and Chinese base because of my background, but then we'd add on a little bit of Vietnamese, some Korean, some Japanese. And we still do that, but now, I think it's more influenced by other Asian cultures, along with Karen's history and her experience and her talents. She is able to take dishes from other cultures, but then look at them from her culinary perspective, and create a new dish that is different than just taking another country's dish and replicating it.
With four cookbooks under your belt now, what are the best and worst parts of the process?
The best part is when you get a recipe that you love and are able to bring it down to a home cook's size and technique.
Along those same lines, the worst thing is when you have a dish that you tried really, really hard to get somebody at home to replicate, and for whatever reason, it just doesn't work. I'm working on a cookbook now — a pastry book — where I've got some recipes that work at the bakery, but when I try to scale them down and make them work within the confines of a home kitchen, they're not working out. That's really a bummer.
The other thing that can be hard in cookbook writing, honestly, is just not having enough time. I wish I had ample time to test, retest, and just keep testing. But the reality is you have a deadline.
I think that's similar to working in the restaurant. When you're on the line, every minute, you're making these decisions about, "When is it perfect enough to send off to the guests?" It's the same with the recipes for a book: "When is it perfect enough to actually print it and put it in a book?"
The cookbook is clearly designed to be accessible to cooks who aren't especially familiar with the Asian ingredients and cooking techniques of the Myers + Chang kitchen.
We knew that anybody picking up this book was likely not working in a Chinese restaurant. We wanted to make sure that every recipe was approachable, both from an ingredient standpoint and a kitchen equipment and kitchen technique standpoint. We worked really hard to take recipes that we've worked with for up to a decade and to figure out how to source the ingredients and explain them in a way that pretty much anybody could pick up the book, start reading, and make the food.
My editor said that he reads every recipe thinking about his mom, who is a home cook but doesn't work in restaurants. I used that kind of as my filter when I was looking at recipes. I tried to imagine someone who hadn't been to the restaurant before and maybe who didn't have access to a lot of Asian ingredients. I wanted to make sure everything was super clear so that she could just pick up the book and figure it out.
What is your favorite recipe in the book?
That's hard! The soy-glazed pan-roasted salmon is my favorite dish in the restaurant. The nasi goreng is a guest favorite — it's our Indonesian fried rice — and that was one that we worked really hard to bring it down to home-cook size. The black-pepper shanghai noodles was kind of the same, and I think I got the most positive feedback from that recipe.
And then I'm a pastry chef, so I love all of the pastry recipes in there. The orange granita and vanilla-bean parfait has been on the menu since we opened. The homemade fortune cookies are in there.
I guess if I had to pick a favorite-favorite, Momma Chang's dumplings. That's one of the things that kind of started the restaurant. I learned how to make dumplings when I was like five, so I've been making dumplings since I was a little girl. Now we make them here — hundreds and hundreds a day.
What's on the horizon for you next?
I'm actually working on a book called Pastry Love with the same publisher, [Houghton Mifflin Harcourt]. I've been actively testing recipes for that. That comes out in 2019. It's due next year, so it takes about a year after that [to hit the shelves].
You're churning out cookbooks here.
It feels like it.
In terms of your passions in the food industry, do you like working on a cookbook as much as you like working in the kitchen?
I do. Writing a cookbook is like teaching a bunch of people how to do stuff. When I was in the kitchen, I was often training chefs on how to make things. Now, I'm doing that through the cookbooks.
I really do love it. There's a reason I've written so many. I got bitten by the cookbook-writing bug pretty early.
It must feel good that so many people want to learn to cook your food.
I hope the book reaches far past Boston. There are a lot of very classic recipes in here and a lot of not classic but really delicious recipes that I'm hoping will appeal to people across the country.
One good thing [about] Boston is, we're a college town. A lot of people will eat [at Myers + Chang] while they go to school here, and then go to the other parts of the country. My hope is that we've made enough connections with enough students that are now living in other cities.
Is there anything else I should know?
We have a 10th anniversary dinner on Sept. 25. It's a 10-course dinner [with] recipes — not just from the book, but definitely from the book, and from when we first opened. The [signed] book is included as part of that dinner. We're celebrating all month long for both our anniversary and the publication of the book!
This interview has been edited for length and clarity.