Food
One of the best seafood restaurants in the country is opening in Boston this weekend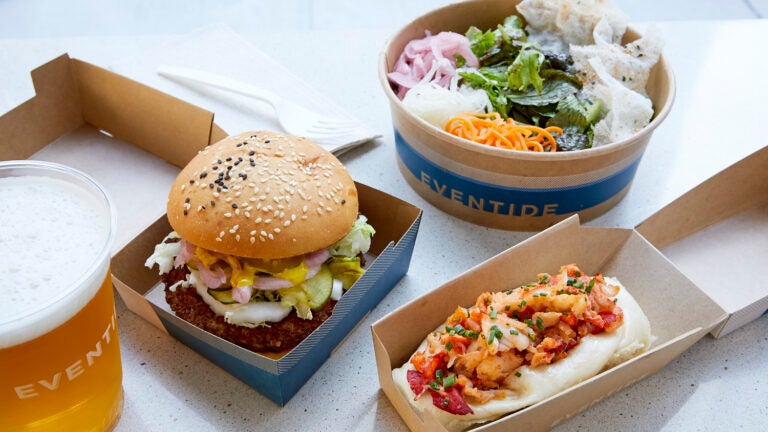 At long last, Bostonians will get a taste of a Maine seafood restaurant that has been called one of the best in America.
Lauded Portland, Maine, establishment Eventide Oyster Co. will open its doors to the public on Saturday, Oct. 7 in the Fenway neighborhood.
Eventide's chefs/co-owners Andrew Taylor and Mike Wiley won the 2017 James Beard Award for Best Chef — Northeast, and were nominated as semifinalists in 2016 for the same award. (They received a nomination that same year for Best New Restaurant for another one of their Portland spots, The Honey Paw.) Eventide has also nabbed national recognition from publications like Conde Nast Traveler, Travel + Leisure, and Eater, the latter of which called it "the oyster bar of everyone's dreams."
Eventide Fenway's menu will feature a larger version of the restaurant's trademarked Brown Butter Lobster Roll and a lengthy oyster list of both local and imported bivalves. Customers will also find several hot and cold dishes, and rotating specials that will take advantage of whatever catch is freshest at any given time.
Though Eventide Fenway is a long drive away from its Portland sibling, the restaurant's design evokes the Maine location, with a vibrant light blue color covering the walls and a sculptural chunk of Maine granite that holds the restaurant's oyster selection.
That said, the Fenway location won't be like the Maine one in one significant way: Though Eventide menu items suggest a sit-down restaurant — and, in fact, the Portland one is — customers in Fenway will be greeted by tablet-toting staff waiting to take orders, and then can either watch their food being made behind the counter or take a seat and wait for a text message to confirm their food is ready to be picked up. Staffers will monitor the sit-down area if anyone needs to order drinks or more food. The restaurant is calling the concept "fine-casual."
Its indoor section seats 70, with an additional 16 spots on the patio, which opens next spring.
Interestingly, Eventide co-owner and general manager Arlin Smith said that the Fenway was probably last on the list when selecting a Boston neighborhood for the restaurant. But the team quickly changed their minds.
"Growing up with Fenway, it was gas stations, bars, and games — why else would you come to Fenway?," Smith said. "Now it's a 365-days-a-year neighborhood. You look outside and you see a lot of residential, a lot of offices above us, and these buildings are all full. People are here to work, and they're also here to live."
Eventide Fenway's regular hours will be 11 a.m. to 10 p.m. daily, though the restaurant will open at 4 p.m. Saturday, Oct. 7.
In terms of pricing, oysters will run $16 for a half-dozen and $29 for a dozen, and the lobster roll will cost $19. The hot and cold dishes will run anywhere from $8 to $16, and specialty plates will cost between $11 and $17. Sides, including kim chee and nori-dusted potato chips, will be $4, and sweets, like whoopee pies, brown butter soft serve ice cream, and oatmeal cream pies, will be priced from $4 to $7.
1321 Boylston St., Boston; eventideoysterco.com