Food
Welcome to fall doughnut heaven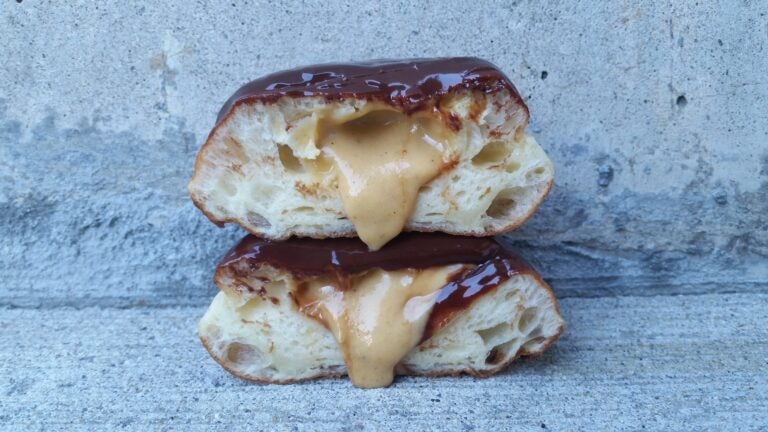 No one is telling you not to eat a cider doughnut. If you were to eat a second doughnut, you might consider these autumn- and Halloween-themed ones, which local shops are serving this season.
"Fall is this amazing time to be in New England," said Josh Danoff, owner of Union Square Donuts. "It's, like, why we live in New England. What better way to celebrate that than to reward people with just delicious fall-flavored doughnuts?"
"Our best seller is all dressed up for fall," writes Boston's Blackbird Doughnuts about the shop's fall-themed Boston Cream doughnut it began selling on Sept. 22, the Pumpkin Boston Cream Bismarck. The raised doughnut is made of a buttery brioche dough that's filled with a pumpkin spice custard and topped with chocolate ganache, and it costs $3. It will be available until Dec. 8. (492 Tremont St., Boston; 20 Kilmarnock St., Boston)
How's this for a spin on apple cider doughnuts: Kane's, located in Boston and Saugus, is infusing Angry Orchard Crisp Apple Hard Cider into its signature honey glaze, then dipping cake-style doughnuts into it. The shop is doing the same thing with Sam Adams Fat Jack Double Pumpkin Ale. The Angry Orchard Hard Apple Cider Donuts are made with fresh apple cider and a hint of cinnamon, as well. The Sam Adams Pumpkin Ale Donuts are topped with cinnamon and nutmeg.
"Our loyal customers love when we bring other Boston-based brands into our products," said Maria Delios, co-owner of the shop, in a statement, "but it goes without saying there's a little extra excitement in the air when they hear we're creating donuts using beer from Sam Adams and hard cider from Angry Orchard."
Kane's is also selling an Apple Spice Filled Donut made with apple pie filling and rolled in cinnamon and sugar and a gluten-free Pumpkin Spice doughnut. The shop began offering these doughnuts Oct. 1 and will sell them through Oct. 31. The doughnuts are $2.25 each in Saugus and $3.25 each in Boston. (90 Oliver St., Boston; 120 Lincoln Ave., Saugus)
Dunks has dressed up many of its classic doughnuts for Halloween this month, giving them frosting, drizzle, and sprinkles in Halloween colors. Customers can choose from 13 flavors: Spider Donut (featuring a glazed chocolate munchkin spider in the middle), Boston Scream, Scary Strawberry, Witch's Brew Berry Donut, Vampire's Delight, Nilla Nightmare, Purple Potion, Choc-o-Lantern, Owl Fashioned, Spooky Sprinkles, Wicked Chocolate, Ghoulish Glazed, and Full Moon. Pumpkin doughnuts are also available for a limited time.
The Halloween doughnuts cost $1.09 each, except for the Spider, which costs $1.39 each. Availability and prices may vary by location. (Various locations)
Faithful customers of Union Square Donut may recognize the return of these seasonal doughnuts: Apple Crisp, Pumpkin Spice, Apple Cider Cake, and vegan Apple Cinnamon.
"These are tried and true," Danoff said. "We've done these the past couple of years. They're fall favorites."
The Apple Cider Cake and Pumpkin Spice are $3 each. The Apple Crisp and vegan Apple Cinnamon are $3.50 each. (20 Bow St., Somerville; 409 Harvard St., Brookline; Boston Public Market, 100 Hanover St., Boston)
Pop-up shop Speakeasy Donuts is selling handcrafted treats out of Little Italy Pizzeria in Beverly throughout the month, and the shop's Halloween-themed ones will scare up both an appetite and a fright. You can bite into Little Shop of Horrors Audrey II doughnuts, made using the shop's signature yeast dough and decorated with blood orange royal icing and sour apple licorice vines to look like the the blood-thirsty plant in the movie. The scary sweets are sold six in a box for $25 and must be preordered, to be picked up at Little Italy Pizzeria on Oct. 11 or Oct. 25.  (Little Italy Pizzeria, 294 Cabot St., Beverly)
https://twitter.com/speakeasydonuts/status/913416964126789632