Food
8 restaurants that local chefs recommend for Thanksgiving dinner
These Boston-area restaurants have all your Thanksgiving meal needs covered.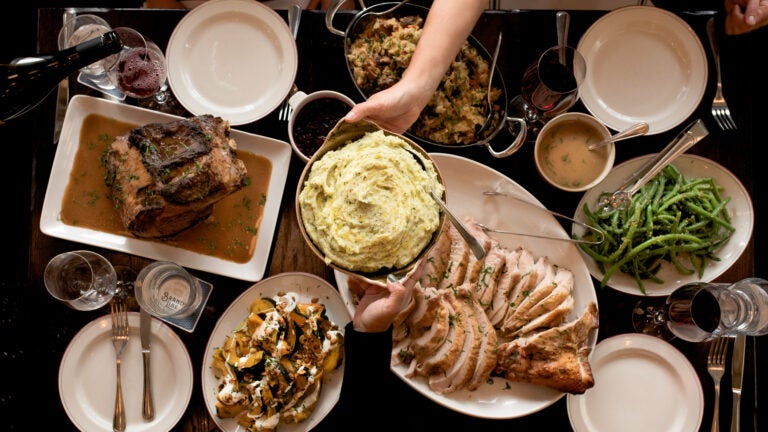 Thanksgiving is traditionally a holiday spent in the home, preparing your own food and spending time in the company of family. However, some people choose to eschew Thanksgiving norms and leave their Turkey Day prep to culinary experts.
To get the inside scoop, we emailed a group of local chefs to dish on their favorite restaurants for everything Thanksgiving. Whether you live hours away from your relatives, are too busy to make your own meal, or can't cook a frozen pizza, much less a Thanksgiving dinner, these local spots' Thanksgiving menus should leave you smiling and giving thanks.
Of all the chefs we surveyed, more recommended Eastern Standard than any other restaurant. The Kenmore spot has a very limited number of reservations left for its three-course prix fixe Thanksgiving meal, available from 1 p.m. to 8 p.m. on Thanksgiving.
Chef Ivan Conili, who will be prepping Branch Line in Watertown's own takeout Thanksgiving menu, said that Eastern Standard does a great job with standard Thanksgiving fare like mashed potatoes, creamed spinach, and especially stuffing, but also serves its own culinary translation of the holiday.
"I appreciate a good restaurant menu that showcases their own style of dishes but also incorporates their interpretation of what Thanksgiving means to them," Conili said. "Eastern Standard is the perfect example – they serve things like lobster Newburg and duck breast but also have amazing turkey and super delicious stuffing. The ambiance doesn't hurt, either."
Nick Calias, executive chef at Brasserie Jo and the Colonnade Hotel, will be cooking and overseeing two Thanksgiving dinners at Brasserie Jo: a traditional French menu and a traditional American one. But if he wasn't working or dining at his own restaurants this Thanksgiving, Cailas said he would chow down on some takeout from The Smoke Shop in Kendall Square.
"Get the smoked turkey, smoked brisket, and butter cake," Calias said, adding that Smoke Shop owner and chef Andy Husbands' smoky fare "is a favorite."
Customers hoping to order food from The Smoke Shop must place their orders by Sunday, Nov. 19, and pick them up on Wednesday, Nov. 22.
Calias also mentioned Deuxave, a modern French-American spot in the Back Bay overseen by Boston Urban Hospitality co-owner Chris Coombs.
"I love Chef Chris Coombs' twist on classic French fare," Calias said. "Especially how he infuses a French style into a classic American dinner."
Deuxave is currently taking reservations for its Thanksgiving meal from 12 p.m. to 8 p.m. The prix fixe menu features appetizers like spiced heirloom pumpkin soup, both a traditional turkey and a "turducken," and some decadent desserts from pastry chef Shaun Velez, including apple tatin and pecan pie bars.
Brendan Pelley, chef de cuisine at Doretta Taverna and Raw Bar, recommended Boston Chops, another Chris Coombs restaurant.
"Chris Coombs serves a traditional dinner with all the sides in a very celebratory setting," Pelley said. "Chris gets it. He's a family man that cooks from heart."
Boston Chops is currently taking reservations for a traditional Thanksgiving dinner from 12 p.m. to 8 p.m., featuring a roasted turkey from Misty Knoll Farms, stuffing, cranberry sauce, green bean casserole, and sweet potato mash.
Lenox Hotel chef Sean MacAlpine picked this Harvard Square spot, saying that Harvest's Thanksgiving offerings are "no fuss, straightforward food prepared with the best possible ingredients."
A limited number of reservations are still available for the restaurant's Thanksgiving meal from 11 a.m. to 8:30 p.m., with a menu that will include appetizers like chestnut ginger soup, a turkey breast from Misty Knoll Farm, and desserts like pumpkin profiteroles and apple pie.
State Street Provisions chef Tom Borgia gave a shout-out to one of his former employers for its Thanksgiving offerings, saying that Russell House offers guests a "thoughtful and comforting" Thanksgiving dinner. Borgia, who will be prepping State Street Provisions' own Thanksgiving menu, specifically complimented Russell House's new chef, Greg Guevin.
"Greg Guevin is incredibly talented," Borgia said. "The pheasant and leek terrine available on this year's three-course prix fixe menu is amazing."
Russell House is currently taking reservations for its Thanksgiving meal, which runs from 11 a.m. to 9 p.m. On the menu are a sweet potato bisque appetizer, a turkey entree with sage and brown butter mashed potatoes, cranberry sauce, chorizo and chestnut cornbread stuffing on the side, and desserts like pumpkin cheesecake and bourbon-apple bread pudding.
Chef Dante de Magistris (Dante, il Casale) will be busy prepping both his regular dinner menu and speciality Thanksgiving items at Dante with his brothers Damian and Filippo. If he wasn't working, de Magistris said he would visit Lydia Shire's Scampo for the holiday feast. 
"The chestnut risotto with a crispy duck leg and oven brown buttered chestnut is comfort food at its best," de Magistris said. "And the wedge salad with Lydia-style lardoons cannot be beat."
The restaurant is currently taking reservations for its Thanksgiving service (from 11:30 a.m. to 8 p.m.) featuring a prix fixe menu full of holiday favorites and a delectable choice of desserts between pumpkin roulade, dark chocolate truffle tart, and pecan brown sugar cake.
Bistro du Midi
executive chef Josue Louis (who will be cooking up
a Thanksgiving meal
at his own restaurant) said that while Moody's isn't open on Thanksgiving, he would recommend checking out the beloved deli for all your Thanksgiving dishes in the days prior.
"I am a big fan of Josh Smith at The Backroom at Moody's," Louis said. "They have incredible charcuterie, smoked local maple turkey breast, and fire-roasted brussels with chorizo maple vinaigrette."