Food
These are the absolute best places to get a roast beef sandwich in Massachusetts, according to Boston.com readers
The North Shore appears to have the roast beef market cornered, but many readers recommended a South Shore spot as the best around.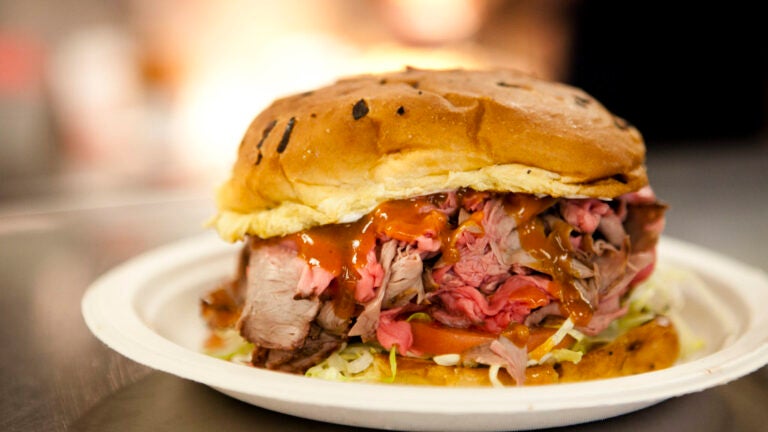 Who knew roast beef sandwiches could be such a conversation starter?
At least in Massachusetts.
Earlier this month, we asked our readers on Facebook, "What's the absolute best place to get a roast beef sandwich in Massachusetts?"
Now, a little over a week and roughly 600 comments later, we've compiled your responses into a (hopefully) digestible list.
Here's an unscientific look at the very best roast beef sandwiches (aka super beefs) in the Bay State, according to Boston.com readers:
Best of the Best
Harrison's Roast Beef
80 Chickering Road, North Andover
To be fair, Harrison's shared our post on their Facebook page. But also to be fair, the legendary North Andover spot was clearly among our readers' favorites, and probably the favorite, regardless of any boost.
https://www.instagram.com/p/BamG-yTBjp4/embed
"Harrison's in North Andover. By far the best in…well, anywhere. Why? I've been going there for 30 years, three generations of my family. It's consistent every single time. From the quality beef to the buttered roll, it's simplicity at its best. Oh, and their fries are fantastic!" – David Millstein
"Harrison's Roast Beef in [North] Andover. I live in Florida and when I come home to visit my family…my first stop is Harrison's for a roast beef sandwich…yes, before I see my family!" – Chris Harvey
"Harrison's is where I go to pray. Beef-cheese-mayo." – Jeff Durso
Angelo's Famous Roast Beef
98 Water St., Plymouth
A few of our readers complained about the lack of roast beef options on the South Shore:
"As usual, absolutely nothing on the [South Shore] because there is nothing here of any repute. Moved here recently and astounded that the 'Readers Choice' for best steak was the 99. That sums it up perfectly." – Karen Whelton
"Why aren't [there] any places in the [South Shore]? Live in [Canton]. My husband grew up in Arlington. Seems to be an absence of roast beef and soft serve ice cream once you get past the [Pike]!" – Sue Poole
However, waiting in the wings was a plethora of Angelo's fans waiting to chime in (at the urging of the restaurant):
https://www.instagram.com/p/BZthAQOnwUS/embed
"Y'all are missing out. [North Shore] is [overrated]. [Angelo's] is the best." – Phil Wild
"I'm a [North Shore] guy, loved Kelly's and [Mike's] in Everett. But now since I have been on the South Shore. Angelo's in Plymouth […] absolutely destroys any [roast beef] I have had in the North. Worth the drive!!! Angelo's Famous Roast [Beef] […] for the win!!!" – Joe Mayflower
"If you haven't tried Angelo's in Plymouth you are missing something special. Awesome roast beef." – Kate Linden
Nick's Famous Roast Beef
139 Dodge St., North Beverly
Despite its legal issues, Nick's Famous Roast Beef remains open and was a favorite among our readers.
https://www.instagram.com/p/4ImmOQCOfz/embed
"Nick's Famous Roast Beef in North Beverly is top notch. Their beef is cooked to perfection, and the friendly, neighborhood service has kept us coming back for nearly 20 years." – Sara Barker
"If you didn't answer [Nick's] Famous Roast Beef in Beverly. [YOU'RE] WRONG!" – Chris Thomas
Billy's Roast Beef & Seafood
1291 Main St., Wakefield
https://www.instagram.com/p/BSj7Z7lgNjM/embed
"Billy's Roast Beef on the Melrose/Wakefield line!!! DELICIOUS!!!" – Julie Ludwig
 "Billy's in Wakefield!! Never dry, never shreds—delicious toasted bun! Yum!!" – Christa Seme
 "Billy's is G O A T." – Emily Chew
Mike's Roast Beef
115 Broadway, Everett
https://www.instagram.com/p/7wfn3yM6Ef/embed
"Mike's in Everett. Awesome sauce, even better onion rolls and they have mushrooms and that's what makes it!" – James Hayes
Bill & Bob's Famous Roast Beef
Peabody, Salem, Woburn
https://www.instagram.com/p/BaRfUWUgAyA/embed
"[Bill & Bob's] in Woburn….especially after midnight…never disappointed!" – Patrick J. Fay
Rest of the Best
With so many recommendations, it was hard to narrow down. You can check out all of the suggestions on the Facebook post, but these spots certainly stood out due to multiple mentions or likes from other readers:
Most Polarizing Pick
Kelly's Roast Beef
410 Revere Beach Blvd., Revere, and other locations
https://www.instagram.com/p/Baadb8blEe_/embed
Most likely due to its fame and expansion, Kelly's proved to be the most controversial roast beef spot among our readers, with many readers using it as the benchmark for their local favorite:
"Angelo's Famous Roast Beef in Plymouth is by far [amazing]. [Supersedes] Kelly's big time." – Michele Rentel-Gallant
 "I feel bad for people who think Kelly's is good. Or [Bill & Bob's]….." – Chris Thomas
 "[Peter's in Revere], Billy's in Wakefield…if you say Kelly's your opinion is not valid." – Ant Def
But it certainly had its super fans, too:
"[Kelly's Roast Beef]. The one on [Revere Beach] is the best." – Diane Marino-Allen
 "Kelly's. Revere Beach. Best anywhere." – Betsy Chorney Rosenberg
 "Kelly's without a doubt." – Elaine Hoey Dold
Gone, But Not Forgotten
Elsie's Sandwich Shop
Harvard Square, Cambridge
"Nothing will ever replace Elsie's in Harvard Square." – Steven Alexis Eisenman
Mur-Mac's Roast Beef
Stoughton
"The best was [Mur-Mac's] in Stoughton until they closed." – James Smith
Some Parting Wisdom …
 "As long as it says 'Famous' in the title…" – Greg Christo