Food
How the Thanksgiving leftover sandwich became a ubiquitous New England staple
"It's kind of taken on a life of its own."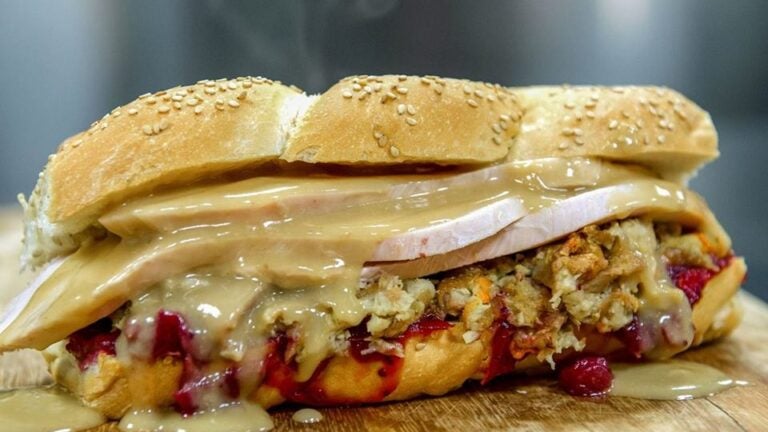 Turkey. Stuffing. Cranberry sauce. For some Thanksgiving food enthusiasts, the holiday's traditional foods are best served on a sandwich the day after.
The Thanksgiving leftover sandwich has taken off in popularity across the country as a seasonal trend, in iterations ranging from the simple to the eccentric. However, the classic combination of turkey, stuffing, cranberry sauce, and gravy between bread has been a year-round mainstay in parts of New England for decades, most popularly known as the Pilgrim or the Gobbler.
"It's just a great sandwich," Tom Pierce, the co-owner of Bongi's Turkey Roost in Duxbury, a longtime purveyor of the sandwich, simply explained.
It's not exactly clear where or when this version of repurposed Thanksgiving leftovers first originated. Likely, it was at some point since sliced bread became a popular vehicle for eating food around the turn of the 20th century — perhaps on that Friday after Thanksgiving. Beyond that, food historians have only been able to sketch a rough outline of its rise to prominence.
Previous attempts to pinpoint its origins have speculated the sandwich is rooted in southeastern Massachusetts, if not Cape Cod. Paula Marcoux, a food historian in Plymouth, concurred.
Marcoux says her best guess is that the sandwich emerged sometime after World War II, which was the earliest period during which she could find a published recipe for it.
In 1950, a food service manual published by the U.S. Department of Agriculture included a recipe for making turkey-stuffing-gravy sandwiches in bulk quantities. And in 1954, a Fitchburg woman was cited for a prize-winning "turkey and dressing sandwich" in the trade magazine Poultry Tribune.
Its first mention in The Boston Globe appeared in a somewhat sexist recipe article for the "Man's Special Turkey Sandwich" in 1953, which called for reheated stuffing, white and dark turkey meat, gravy, and cranberry sauce to be stacked onto sliced bread.
"Men naturally want to cook with flair and they recognize that theirs is a role that calls for a touch of genius," wrote the Globe, later adding, "Only a man could dream up a hot turkey sandwich like this."
Marcoux said many recipes exist in home kitchens for decades before ever being published in print, but she doesn't think that's the case here, since sandwiches were much different in the early 20th century compared to the creations we eat today.
"The sandwich, at least through the 1930s, was not the big messy pile of the late 20th century," she explained. "Rather it was a dainty, trimmed affair you could eat with white gloves on. It would be more likely for a home cook in the 1920s through the 1940s to reheat the Thanksgiving leftovers, and serve it on toast with gravy."
Marcoux says it's likely the turkey-stuffing sandwich came from "small mid-century regional turkey farms with a strong retail presence," such as Bongi's. Cynthia Rossi, a manager at Hart's Turkey Farm in Meredith, New Hampshire, says the family-owned establishment has been serving their Gobbler since they opened in 1954.
According to Rossi, they simply took a classic Hart family recipe and put it on the menu, which now includes everything from turkey tempura to turkey parmesan. Marcoux says such New England turkey farms were able to expand their retail offering of selling whole holiday birds by incorporating fresh turkey into a more diverse menu.
Indeed, Pierce said the Thanksgiving leftover sandwich has become a four-season sandwich in Duxbury.
Bongi's first put its version — a sliced turkey sandwich with stuffing, cranberry sauce, and mayo — on the menu in the late 1980s. At the time, the shop only made "a few a day." Now certain customers order the sandwich every day.
"It's kind of taken on a life of its own here at Bongi's," Pierce said.
And not just at modest shops like Bongi's.
Mike's City Diner has seen former President Bill Clinton and the late Sen. Ted Kennedy sit at its tables. But the South End spot is perhaps more famous for its enormous Pilgrim sandwich, which has earned national acclaim and attracted the likes of The Food Network's Guy Fieri.
The Pilgrim was just a regular menu item at Mike's when chef Jay Hajj, then a 25-year-old immigrant from Lebanon, bought the struggling eatery in 1995. Now Hajj says it's definitely one of their signature sandwiches, if not also their most popular.
The monstrous sub consists of layers of freshly roasted turkey (the diner cooks four 30-pound birds a day) with homemade stuffing, cranberry sauce, and gravy in a giant braided roll, which he describes as "not too hard and not too soft." It also comes with fries, a pickle, and no substitutions.
"People come just to eat that now," Hajj said, adding that orders for it especially pick up before and after Thanksgiving (which perhaps supports the idea that people look forward to the leftover sandwich more than the actual turkey dinner).
"Right now it's definitely cranking," he said.
Like Pierce, both Rossi and Hajj said the sandwich has really risen in popularity at their restaurants within the last decade — as it has nationally. From 2006 to 2016, Google search interest in the Thanksgiving sandwich in November has quadrupled. And a broad spectrum of the food world has tried to capitalize on the seasonal trend.
From D'Angelo and other regional sandwich shops to more omnipresent chains like Starbucks and Dunkin' Donuts, the turkey-stuffing combo is seemingly just one highway exit away come the holiday season.
Across the country, restaurants have also offered more high-brow spins on the sandwich.
Five Horses Tavern in Somerville and Boston offers a delicious-sounding Gobbler consisting of fried turkey breast, pumpkin purée, cranberry-Brussels sprout slaw and maple mayo. Ted's Bulletin, a Washington, D.C., institution, has made headlines with its savory turkey-stuffing pop tart. And in New York, the seasonal craze spans everything from arepas to croissants to banh mis to even burgers, both turkey and vegan.
"Upscale versions of comfort food are a trend," National Restaurant Association spokeswoman Annika Stennson told Fast Company in 2014. "Restaurants will elevate that sandwich, taking a culinary approach to an old favorite."
The champions of the sandwich don't begrudge those trying to make a perennial buck off the item they spent years perfecting.
"It hasn't really hurt our business," Pierce said. "If anything it's helped our business, because more people are trying it and looking for that flavor combination."
However, Hajj says that "99 percent" of the chains and restaurants offering their take on the sandwich for a month a year aren't using fresh, daily-cooked turkeys.
"I don't mean to knock anybody," he said. "Cooking a whole turkey is costly."
But Hajj noted that the reason the Pilgrim made Mike's famous in the first place was the "novelty that we cooked all fresh turkey."
"We don't take any shortcuts," he said.
Turkey sandwich experts agree that regardless of which moniker you prefer — whether it's the Pilgrim, the Gobbler, or the "Man's Special Turkey Sandwich" — what makes a great sandwich is attention to detail. That means perfecting the art of roasting a turkey so that the meat isn't dry, using fresh, homemade ingredients, and achieving the right balance between the flavors and consistencies within the sandwich.
"There's really no secret," Hajj said, "besides taking the time to do it right."