Food
How to drink like award-winning Boston bartenders
Advice from the renowned team at Brookline's new Blossom Bar.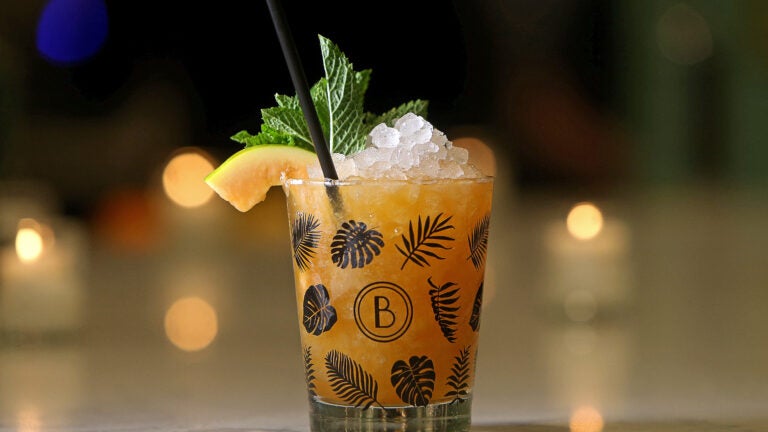 For an essential guide to the city, sign up for How to Boston, Boston.com's weekly culture and lifestyle newsletter.
A new project from the team behind Woburn's award-winning bar and Szechuan restaurant The Baldwin Bar opened earlier this month in Brookline. Ran Duan's Blossom Bar — a bright, tropical-themed reimagining of veteran Szechuan restaurant Sichuan Garden (co-owned by Duan's parents, whose original menu remains intact) — is a creative mash-up of Latin American cocktails and spicy Szechuan cuisine.
"We want to offer a really focused bar program," he said, "but the core is that neighborhood atmosphere. Transporting people to another place while catering to everyone is the idea."
Bar manager Will Isaza, whose heritage is Colombian, said he pulled inspiration from his mother's cooking when helping Duan craft a cocktail program that highlights traditional Latin American cane spirits like rum, cachaça, and pisco. He also spent time exploring the bodegas of East Boston, where he lives, in search of exotic fruits and ingredients.
"It's really cool, because [the program] opens up conversations with guests," said head bartender Jen LaForge, of the cocktail program's heavy Latin American influences. "You're able to engage on a different level. If you want to get really nerdy with it, you can."
The new team includes some of the city's most skilled bartenders, with resumes linked to such cocktail sanctuaries as The Automatic, Green Street Grill, Deep Ellum, The Baldwin Bar, and Franklin Café. Still, Isaza said Blossom Bar's emphasis is on being a "world-class neighborhood bar."
We talked to the Blossom Bar team about where (besides their own spot) they head for great drinks, whether they want a night out or ingredients for a night of shaking.
Bars where you can drink like a bartender
Isaza received his education at Kenmore Square's The Hawthorne. He considers the Hotel Commonwealth-set destination a model bar, as much for its modern kitsch design as for its beverage program. His go-to cocktail there is a Little Giuseppe, a bitter and salty-sweet blend of Cynar and Vermouth.
Bartender James Sutter also finds inspiration in the Hotel Commonwealth, at industry hangout and buzzy bistro Eastern Standard.
"Watching them operate on a busy night is like watching a machine function," he said. "Everyone behind that bar knows what they're doing and can walk you through any cocktail."
Fenway hotspot Hojoko is a favorite among the whole team, for everything from sake bombs to house-made shrubs to an espresso-based cocktail called the Majikku. Blossom Bar bartender Jordan Runion admires Hojoko bar manager Daren Swisher's handcrafted syrups.
"I'd tell someone to order a daiquiri with demerara syrup, or anything with pineapple juice," he said.
Runion also divulged an industry secret: "If someone wanted to try an array of top-shelf spirits, I'd send them to Central Square standby Green Street. Because it's really f***ing cheap. You can drink [rare French liqueur] Chartreuse VEP for $11."
Isaza and LaForge are both recent alums of Cambridge newcomer Pammy's, an intimate Italian spot they said they love for its wide selection of unique amari, a range of bitter herbal liqueurs that have risen in popularity in recent years.
"The attitude there is very open and encouraging to guests to try things," LaForge said. "They'll pour you a taste if you ask about something."
Shops where you can buy booze like a bartender
Whenever you can, the team suggests going directly to the distillery to source your spirits. And if you want to source your cane spirits locally, the team agrees on a single favorite distillery: Privateer in Ipswich.
"The only local spirit we carry is Privateer," Isaza said. "[Head distiller] Maggie is amazing. The product that they make is insane."
Dorchester's Grand Ten Distilling also got a nod from the team for its range of local spirits and its tasting room.
On the retail front, LaForge points to The Wine Press in Brookline for its wide selection of local spirits from outside of driving range and its class offerings, while Ball Square Liquors is a team favorite for its selection of fortified, digestif, and aperitif wines, liqueurs, and spirits. The team's Somerville contingent loves The Wine & Cheese Cask for its selection of sherries and liqueurs.
"I like to think that I've paid a couple of their employees' salaries," Runion said.
Sutter said he finds extensive information and a great selection of wines, beers, and ciders at Jamaica Plains' Streetcar Wine & Beer.
"I lacked wine knowledge when I first came here," he said. "The people at Streetcar are insanely knowledgeable and just amazing people."
Tools that will help you shake like a bartender
The whole team agrees that tools matter, as much for aesthetics as ergonomics.
"[Tools] are important to achieve consistency, but also to being kind to your body," Runion said.
LaForge said that something as seemingly inconsequential as straining to hold a shaker can cause problems, even for the home bartender.
"It seems so minor, but all those little things add up," she said. "Even if you're just home making one or two drinks, it matters. Quality matters, too. If you're getting something at Target, it's going to bend, it's going to lose its shape or rust."
The team was unanimous in its endorsement of The Boston Shaker in Davis Square.
"It's the obvious one, but they have awesome things," Sutter said, referencing the shop's extensive bitters selection, classes for home bartenders, and range of bar tools for sale.
For more bar tools, the team also loves Duan's own online-only Twelve24 line.
"It's the only other extensive source of bar tools that's Boston-based," Isaza said.
"We're not being paid to say that," Sutter joked, who likes the line for well-balanced tools that are aesthetically refined.
"Style matters," he said.
No one on the team suggests going all-out for expensive glassware. Instead, they said, search for vintage finds at the Salvation Army or Cambridge Antiques Market.