Food
On Valentine's Day, this $3,000 North End burger comes with a diamond ring
Would you like fries with your lifetime of commitment?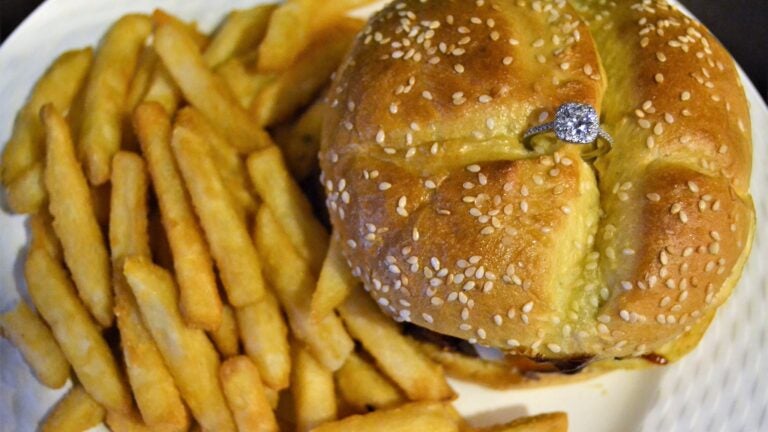 For an essential guide to the city, sign up for How to Boston, Boston.com's weekly culture and lifestyle newsletter.
When ordering a burger, one often chooses between fries and onion rings. At one North End restaurant, you can get an extra ring with your order — an engagement ring.
For those who want to make sure their engagement is well done, Pauli's, a fast-casual Italian spot in the North End, is offering diners a real gem of a deal this Valentine's Day: Buy one of Pauli's Big Boy burgers for the low, low price of $3,000, and the restaurant will stick a 7/8 carat Neil Lane engagement ring from Kay Jewelers in the bun for free.
"Nothing says 'I love you' quite like Boston's best burger topped with a princess cut ring framed by round diamonds on a band of 14k gold," reads a press release. "For $3,000.00, savor the flavor of Pauli's Big Boy Burger, and simmer in sweet bliss, if they say yes!"
Pauli's press release adds that customers must reserve the special dish 48 hours in advance and that this offer is "sure to sell out." So for those of you whose significant other has been waiting for you to say those four magical words ("Valentine's Day burger proposal"), don't miss the chance to make his or her dream come true.