Food
16 restaurants where you can find Boston's best meatballs
Think all meatballs are scooped on top of spaghetti? Think again.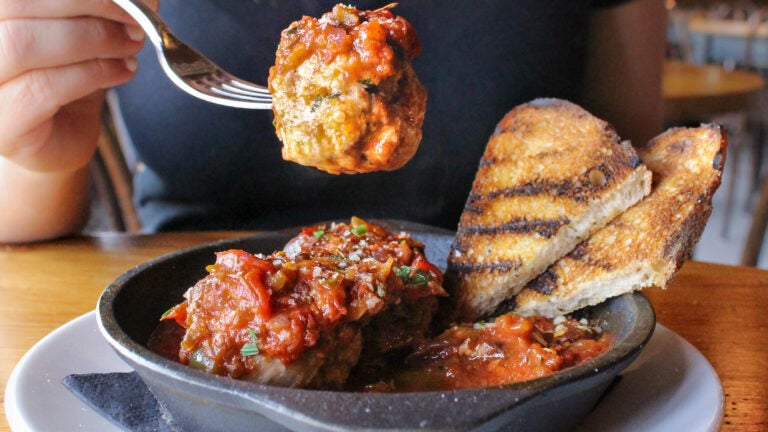 Want to go old-school with a 50-50 pork-and-beef split like Nonna used to make? Or try a different take on meatballs by going global and adding some cumin or ginger for Turkish and Asian flavors? No matter what style you're craving, here are 16 sweet places around Boston that put a saucy spin on a comfort-food classic.
Old-school Italian
1. Aria Trattoria
It'd be remiss not to include at least one North End stalwart on this list. If you're looking for an old-school Italian experience, consider this: Chef/owner Massimo Tiberi's recipe goes back generations. His polpette della Nonna is a 50-50 veal-and-beef blend. Held together by bread crumbs, eggs, milk, salt, pepper, parsley, and garlic, they are then baked—not fried—for an hour, and then slow-simmered "with love" as Tiberi says, in sauce made with his own mother's recipe. (253 Hanover St., Boston)
2. Davio's Northern Italian Steakhouse
Good things come to those who wait at Davio's, where chef/owner Steve DiFillippo uses his mother's recipe—a multi-step process that takes about three days—for the top-selling American Kobe beef meatballs. "I love our Kobe beef meatballs because it's my mom's recipe, and we truly take pride in each one," he said. "We've perfected them at the restaurant and it's become one of our most popular dishes." Half Portuguese and half Italian, DiFillippo grew up watching his mom soaking a loaf of bread in milk to keep this appetizer juicy, refrigerating herbs, meat, and spices overnight, then simmering them in a delicate sauce for another overnight soak. Today, her meatballs are served as an appetizer on the antipasti menu with caciocavallo cheese; his "pro tip" is to make a mini sandwich using Davio's Asiago cheese popovers. (75 Arlington St., Boston; 55 Boylston St., Chestnut Hill; 1250 Market St., Lynnfield; 250 Granite St., Braintree)
3. Strega Ristorante
The meatballs at the North End's Strega Ristorante are among the hit dishes that started it all, especially since it's how restaurateur Nick Verano's Mama Rosetta used to get him to eat some veggies. Her meatballs include a blend of mushrooms, beef, and veal. Today, those at all of his locations are topped with a house-made pomodoro sauce, whipped ricotta, and fresh basil, for a decadent, herbaceous, and savory treat. (Strega Ristorante, 379 Hanover St.; Nico, 417 Hanover St.; Strega Waterfront, 1 Marina Drive, Boston; Strip by Strega, 64 Arlington St., Boston; Strega Prime, 100 Sylvan Road, Woburn)
4. Zef Cicchetti & Raw Bar

Worth a ride on the Red Line for the red sauce alone, chef/owner Leo Keka's handmade polpette are a hallmark of the cicchetti (small bites) side dishes that are popular at Venetian wine bars. Shareable over a glass and conversation, his recipe is of the traditional variety that his father Zef preferred: pork-and-beef meatballs with tasty San Marzano tomato sauce, sprinkled with pecorino. You can also enjoy them on top of Nonna's meatball pizette, with fresh ricotta, mint, and red-pepper flakes.
(1472 Hancock St., Quincy)
5. SRV

SRV—which stands for Serene Republic of Venice—is modeled after chef/partners Michael Lombardi and Kevin O'Donnell's travels throughout Italy. The South End hot spot is Boston's first Venetian-style bacaro and wine bar. The duo specializes in cicchetti, not the least of which is a classic pork-and-beef meatball with tomato sauce and topped with pecorino Romano. It may just be one of the city's best deals, too, as all but two of the cicchetti plates are less than $5.
(569 Columbus Ave., Boston)
6. Dante
Dante may be located inside the Royal Sonesta Hotel, but there's plenty of home cooking to be had thanks to chef Dante de Magistris, whose traditional half-pork, half-beef meatballs require a laborious process that results in some serious comfort food. He starts by rinsing the meat and then cooking the smaller-sized balls in a lightly simmering tomato sauce. There's no pan-frying here, as that would get rid of the delicate and juicy texture. He uses a meat thermometer to check for perfect done-ness at 160 degrees. When in season, Dante makes vegetarian-friendly eggplant meatballs, too. (Available at Dante, 40 Edwin H. Land Blvd., Cambridge; Il Casale, 50 Leonard St., Belmont; Il Casale, 1727 Massachusetts Ave., Lexington)
7. Tuscan Kitchen
Size matters at Tuscan Kitchen, where the giant meatball appetizer almost rivals the massive new 14,000-square-foot Seaport location. Besides being a great share item, polpettoni is a talking piece with beef, veal, and pork in caramelized tomato, all topped with an indulgent housemade burricotta—burrata stuffed with ricotta. (64 Seaport Blvd., Boston; 2400 District Ave., Burlington)
8. Capo
Chef Nick Dixon is known for his shareable plates—probably a vestige of growing up one of five kids—and Capo's cozy open-concept kitchen isn't that far-flung from the one he spent time in with his restaurateur dad. Enter a primarily Italian homestyle menu with traditional beef-and-pork meatballs served in tomato sugo. Grab them as an antipasti, with marinara sauce, Parmesan, and grilled bread; or on the meatball pizza with pickled peppers, housemade ricotta, and marinara sauce. (443 West Broadway, South Boston)
9. Sulmona
Chef Delio Susi's restaurant is named for his parents' hometown in Italy, and his family recipe is served in several dishes: spaghetti di nonna, named for his grandmother, with spaghetti alla chitarra, marinara sauce, and basil; a bar-menu meatball sub; and the Sunday meat sauce, a traditional antipasti dish made with braised meatball, sausage, and mini osso bucco. (608 Main St., Kendall Square, Cambridge)
10. Café Rustico
Located right near the Garden, this is the go-to for the Celtics' corporate catering. Fist-sized meatballs with a rich, savory sauce are enough to satisfy anyone who needs some extra oomph on the court—or simply to pregame. The space is small, but owner/chef Kiki Delafano's flavors are big, and it's fun to check out pictures of her with players towering almost two feet above. (85 Canal St., Boston)
11. Babbo Pizzeria e Enoteca
With a "lifelong pizza obsession," it's no surprise that chef Mario LaPosta loves Babbo's cheese bar and all its many varieties. Inspired by time spent with family in Naples and cooking abroad in both Rome and Piedimonte, LaPosta uses fontina in his traditional meatball appetizer. (11 Fan Pier Blvd., Boston)
New-school global influences
12. BLR by Shojo
Look to Chinatown, not the North End, for a mouthwatering twist courtesy of chef Mike Stark. His lionhead meatballs pop with pickled chilies, savory pork, spicy ginger, crunchy water chestnuts, and a housemade sticky glaze. Served with a side of fluffy rice, it's clear that not all varieties served with spaghetti are tops. (13A Hudson St., Boston)
13. Committee
They traditionally may be prepared on Saturdays and simmered overnight for a Sunday sup, but thankfully keftedakia chicken meatballs are served daily at Committee. These savory bites are served in a chickpea-olive stew, with fresh onion, garlic, salt, pepper, and herbs like oregano and mint, bringing a bit of sunny Sifnos Island to the Seaport no matter what time of year you go. (50 Northern Ave., Boston)
14. Sumiao Hunan Kitchen
Spain meets Asia with a "tapas" menu at Boston's first Hunanese restaurant, Sumiao Hunan Kitchen. Many of the eats are just as spicy as the decor, which features bold colors and modern art with just as much flair as one of the bestsellers on the small bites menu: twice-cooked avocado meatballs featuring ground pork, egg, tofu, green peppers, and fermented black soybeans. (270 Third St., Cambridge)
15. Lincoln Tavern
Though it may contain meatballs, this isn't your grandma's Italian wedding soup—Lincoln Tavern's take is decidedly Gallic. French onion soup meatballs are made of pork and beef, with crusty Gruyere cheese, garlic croutons, and a steamy French onion soup broth that has some serious soul. It's an appetizer, but eats like a meal if you don't share those spoons. (425 West Broadway, South Boston)
16. Café Med
Though the flavors are well-rounded, the shape is not—chef Marina Voutsa whips up her soutzoukakia meatballs in the oblong shape typical of the Middle Eastern-spiced treats she grew up making in the port city Thessaloniki. Its location on the Aegean Sea means there's millennia of Roman, Byzantine, and Ottoman history. Multilayered flavor profiles feature cumin and cinnamon—along with traditional garlic—served in a thick tomato sauce. (31 St. James Ave., Boston)
Correction 2/16/18: An earlier version of this article incorrectly stated that Babbo Pizzeria e Enoteca's meatball appetizer contains pickled chilis. We regret the error.