Food
6 new restaurants local chefs are excited about
Add these to your list, according to local chefs.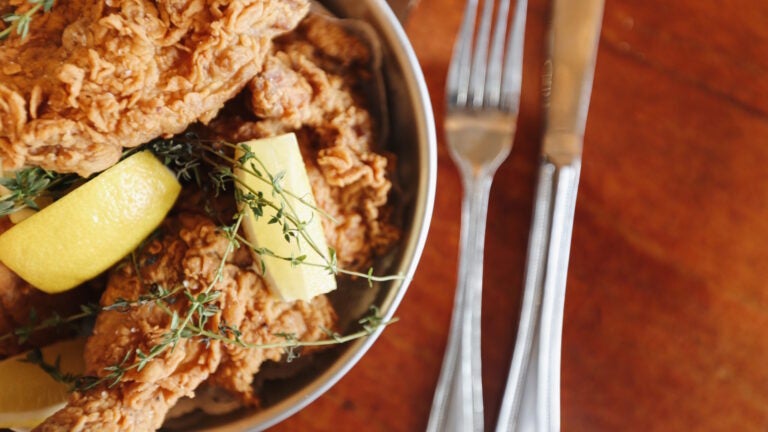 For an essential guide to the city, sign up for How to Boston, Boston.com's weekly culture and lifestyle newsletter.
With the changing of the seasons comes a changing of the cuisines. Kitchens move from the hearty, warming dishes of winter to the lighter, floral plates of spring, and diners slowly say our goodbyes to winter, welcoming a wave of new restaurants, plus some that opened while we were huddled under blankets at home.
To find out where you should be eating right now, we turned to a group of local chefs to get their takes on the new restaurants they're most excited about.
Kathy Sidell, the founder of Met Restaurant Group (Saltie Girl, Met Back Bay), said she's looking forward to Bar Lyon, a new French restaurant from chef/owner Jamie Mammano and Columbus Hospitality Group (Mistral, Sorellina, Teatro) set to open in the South End this spring.
"Beyond looking forward to Bar Lyon opening," Sidell said in an email. "I am having a moment with French food. I was in Paris back in November, and ate in a lot of local bistros. The food was unpretentious, beautifully seasoned, and beyond delicious."
Sidell also said she is a fan of Columbus Hospitality Group, which already has eight restaurants up and running in Boston.
"They run a class A operation across the board, delivering consistently great food and service over many concepts and many years," Sidell said.
Andy Husbands, owner/chef of The Smoke Shop, is a huge fan of cocktail expert Ran Duan and his newest venture, Brookline's tropical cocktail and Sichuan cuisine spot Blossom Bar.
"Ran Duan is a true cocktail master," Husbands said in an email. "I love everything he does."
Along with Blossom Bar, which opened in January, Duan is also behind Baldwin and Sons Trading Co., the intimate, 45-seat cocktail bar in Woburn is located upstairs from Sichuan Garden II, a Chinese restaurant owned by Duan's parents. Duan also runs Baldwin Bar, another cocktail spot located on the first floor of the same old colonial mansion that holds Sichuan Garden II and Baldwin and Sons.
The second location of Chris Coombs's acclaimed steakhouse is set to open in late March, according to The Boston Globe. The Globe also notes that along with the standard steaks you'd expect at Boston Chops, the new location will have oddities like oxtail croquettes and a baked potato loaded with poutine, as well as an "Instagram table" with special lighting for foodies and photographers that cost $10,000 to build.
Special table or no, Joshua Smith of Moody's Deli said in an email that Coombs "does amazing things with meat," while Husbands said that the he loves the space at 52 Temple Place, the historic Old Colony Trust Bank building that will house the new Boston Chops, and "can't wait to see what they've done with it."
"One spot I'm really excited about that just opened is Buttonwood, over in Newton," said owner/chef Jeremy Sewall (Island Creek Oyster Bar, Lineage, Row 34).
A casual, family-friendly American spot in Newton Highlands, Buttonwood is the third restaurant in Newton from owner/chef Dave Punch (Sycamore, Little Big Diner) and executive chef Franscico Millan, who served as the first chef de cuisine at Row 34.
"Dave Punch is a really talented guy," Sewall said. "I've been there a couple times, and it's really fantastic. They had an octopus dish that was amazing, and the pizza shop Greek Salad, which was phenomenal."
Justin Winters, the chef de cuisine at Cinquecento, said that he's looking forward to trying out Southern Proper, a South End spot with a thoroughly Southern menu slated to debut March 1. Chef Jason Cheek, a North Carolina native, told Eater Boston that the menu will be "heavily oriented toward chicken and beer." Winter said he's excited for some authentic Southern cuisine.
"I drive past it every day, since it's right down the street from my restaurant," Winter said in an email. "They do real southern food, which is hard to come by in the city. Now all I can think about is fried chicken and whiskey!"
Zoltan Kosa, the chef de cuisine at ReelHouse in East Boston, said that he's looking forward to Tusk (which stands for Trust Us Kitchen), a small plates and family-style restaurant set to open in Medford this summer.
"One that I'm super excited to see is Tusk, from one of my favorite chefs, Jay Murray," Kosa said in an email. "I've followed him for years at Grill 23. He always did amazing things with the food there, and I'm excited to see what he can bring to Medford."