Food
One of New York's hottest speakeasies is popping up in Boston this Sunday
It will appeal to multiple senses.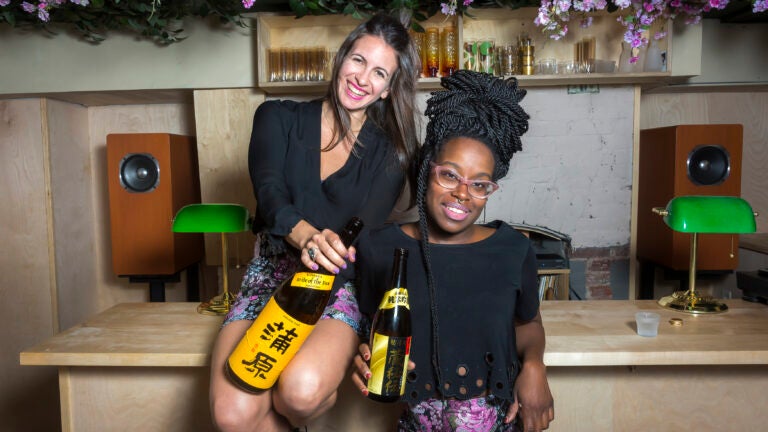 For an essential guide to the city, sign up for How to Boston, Boston.com's weekly culture and lifestyle newsletter.
This Sunday, a little piece of Japan — by way of New York City — is coming to Boston.
Tokyo Record Bar has been featured in The New Yorker, The New York Times, and Punch, and was recently named one of Condé Nast Traveler's "31 Best Restaurants in New York." On March 11, Bostonians will be able to take part in a version of the speakeasy experience, thanks to a pop-up at Fenway hotspot Hojoko.
The izakaya-inspired speakeasy is the brainchild of owner Ariel Arce, who debuted Champagne bar Air's Champagne Parlor in New York City's Greenwich Village to local acclaim in June of 2017. Tokyo Record Bar, whose website declares it an "homage to the jewel boxes of vinyl in Japan," opened its door (hidden at the end of Air's back staircase) in August of the same year. Guests at Tokyo Record Bar are invited to join one of two seatings per night, and the 16-seat space has hosted a slew of celebrities, from Sophia Bush to Olivia Wilde.
Part of what makes Tokyo Record Bar's concept special is a "vinyl jukebox experience" that allows guests to collectively build a playlist for the night by selecting songs they'd like to hear from a list of available records before the evening begins. The playlist is then compiled and spun by a DJ throughout the prix fixe dinner, encouraging guest participation and sake-fueled singalongs.
This Sunday at Hojoko, Tokyo Record Bar owner Ariel Arce, aka "DJ Bubbles," will spin the playlist, and beverage director Ashtin Berry also will be on-site to pour and discuss sake and other beverage pairings.
According to Alyssa DiPasquale, director of public relations for Cushman Concepts, Hojoko's parent company, the pop-up is the result of a shared interest in both music and Japanese culture.
"Music is really important to the pulse of Hojoko, and Tokyo Record Bar is equally committed to their jukebox experience," she said. "There are also parallels in our commitment to the translation of Japanese nightlife and sake. It's going to make for a great partnership — and a great party."
The pop-up will be held in Hojoko's cozy porch dining room, and there will be one seating, at 8:30 p.m. A family-style menu of izakaya-inspired fare will be served. Guests can purchase tickets to the dinner via Hojoko's website. Tickets are $80 per person and include dinner and one drink from Hojoko's usual bar list, which will be available throughout the evening. If you can't make it to the dinner, Hojoko's regular Sunday night karaoke party will kick off at 10 p.m., featuring a special Tokyo Record Bar-themed late-night a la carte menu.