Food
This Harvard chocolate scholar wants you to eat better chocolate
For Carla Martin, the ethics of a chocolate bar are as important as its flavor.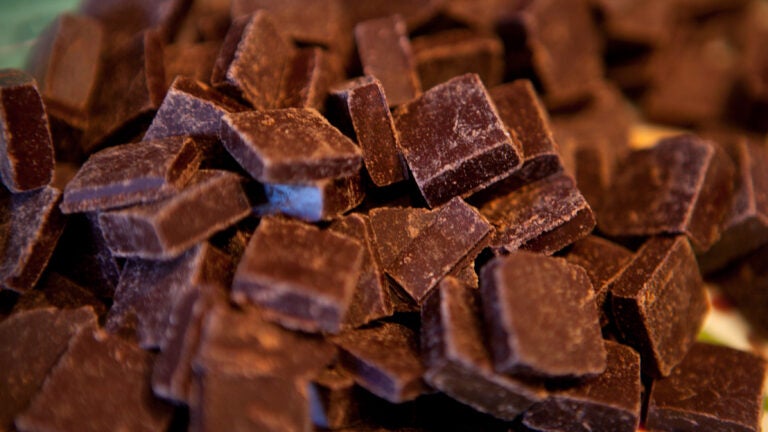 Carla Martin fondly remembers eating leftover chocolate mice after-hours at LA Burdick on Cambridge's Brattle Street, where her childhood best friend worked for almost a decade.
"I was fascinated," she said. "I remember thinking, 'Wow, this is so different from Halloween candy. What else is out there?'"
Today, the Weymouth native is a lecturer just around the corner, at Harvard, where her unsurprisingly popular class is titled, "Chocolate Culture and the Politics of Food." She's also the executive director of the nonprofit Fine Cacao and Chocolate Institute, which she founded in 2015 to focus on education and applied research.
Chocolate mice aside, human implications led Martin to dive headfirst into the history and social economics of the chocolate industry. While spending time teaching English in Cape Verde after college, Martin said she learned about labor abuses suffered by Cape Verdeans conscripted by the Portuguese government to work as indentured laborers on cacao and sugar plantations as recently as the 1960s.
"Many of them never came back," she said. "Or, if they did come back, they were crippled by the work."
In her course at Harvard and her consumer outreach with FCCI, Martin uses chocolate's draw to open up conversations about broader issues, like labor, politics, and human rights. Martin said her faculty position as a lecturer at Harvard has allowed her to develop a strong research and teaching program around cacao and chocolate, and she estimates that more than 1,000 students from ages 14 to 80 have taken her semester-long course, which is offered both through Harvard College and the Extension School.
At FCCI, a three-day class devoted to assessing the quality of raw cacao that she developed in collaboration with Colin Gasko, of Rogue Chocolatier, has been adopted by hundreds of organizations in 33 countries. The organization provides resources and information to farmers and laborers involved in the production of cacao, as well as classes, events, and educational resources for consumers, whom Martin sees as vital to her goal of changing the global inequalities of chocolate's supply chain.
"There's a lot of joy in the sensory experience of chocolate, and the social sharing of chocolate," she said. "Sharing in that together opens a door to then address that there's another side of [chocolate], one in which humans have made these really troubling decisions. This is a commodity that's typified by inequality, and how might decisions that we make as consumers change this?"
Boston has a long chocolate history, from Dorchester's Baker Chocolate Company, the oldest chocolate producer in the country, to Cambridge's Tootsie Roll factory. Although most of the smaller producers were purchased by commercial chocolate companies decades ago, Boston is seeing a new artisan industry wave, from chocolate makers to chocolatiers.
Here's where Martin suggests you shop for chocolate that's both delicious and socially conscious.
Taza Chocolate
Martin calls this Somerville chocolate maker a "thought leader in transparent sourcing and consumer education." In addition to ethical sourcing and consumer education, Taza was the first U.S. chocolate maker to establish a Direct Trade Cacao Certification program, a third-party certification that ensures quality and transparency, according to its website. The company also provides Annual Cacao Sourcing Transparency reports, which include information about how much the company pays its farmers.
"No one in the world provides more information about their supply chain than Taza," Martin said.
Taza was founded in 2005 and focuses on stone-ground chocolate, a process associated most closely with Mexican chocolate traditions that results in a product that's slightly gritty and often earthier than other chocolates. Martin suggests a visit to the Taza factory, which provides tours, events, and information for children and adults. Taza Chocolate is available for purchase at the factory, as well as at its Boston Public Market location and in Whole Foods stores nationwide.
Somerville Chocolate
Martin applauds this chocolate maker's Chocolate CSA, a riff on a farm produce share that instead sends its members a monthly delivery of chocolate bars selected to reflect different variations of chocolate production, such as roast profile, sugar content, or cocoa butter content. Located in the Aeronaut Brewing space, Somerville Chocolate is a "bean to bar" chocolate maker, meaning the cacao is roasted and processed on-site. Its Chocolate CSA lasts for one year, and it's $100 to join.
Gâté Comme des Filles
"[Owner] Alexandra Whisnant is just one of the best chocolatiers operating anywhere," Martin said. "Everything from the flavors she develops, to the quality of the chocolate and attention to origin, is very unique. She has a very creative, culinary approach to chocolate. When she moved back from San Francisco, it was like angels were singing."
Boston native Whisnant first launched Gâté Comme des Filles in Paris in 2012 after a culinary career that included time as a pastry cook at Alice Waters' famous Berkeley restaurant, Chez Panisse. Today, she works out of Somerville Chocolate's space, and she's slated to open a location in Union Square's planned Bow Market. Her chocolates are available for purchase at Somerville Chocolate in Aeronaut Brewing, at Formaggio Kitchen in Cambridge, and at George Howell Coffee in the Godfrey Hotel, where visitors can enjoy a cone of chocolate mousse infused with George Howell coffee.
Formaggio Kitchen
For a one-stop chocolate shopping experience that ranges from bars to confections, Martin suggests Formaggio Kitchen, whose "carefully curated" selection of chocolates from around the world is compiled by an "extremely knowledgeable" staff. Formaggio's Huron Village location has a wide chocolate offering, but the South End store keeps up with a core selection of bean-to-bar chocolates and candies.