Food
The must-know trend in Boston's evolving wine scene, according to one of the city's youngest sommeliers
Lauren Hayes of Pammy's in Cambridge believes in small lists and small-production wines.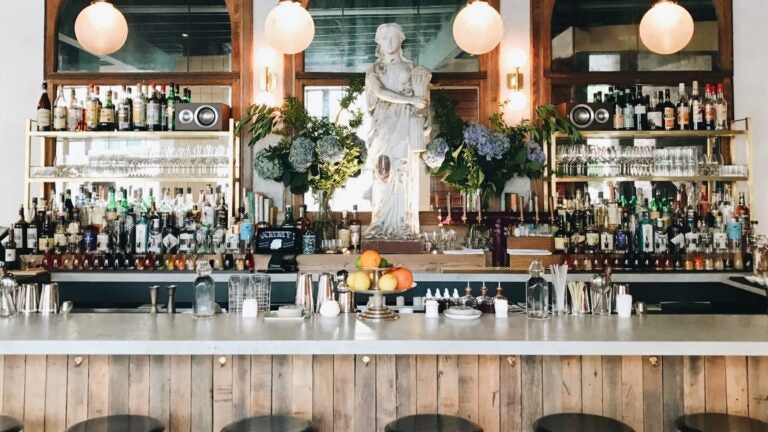 For an essential guide to the city, sign up for How to Boston, Boston.com's weekly culture and lifestyle newsletter.
There's no leather-bound wine list at Cambridge's Pammy's, the eclectic, Italian-inspired New American restaurant that opened on Mass. Ave. in 2017. Instead, you'll find a single, double-sided piece of 8½–by-11-inch paper declaring small categories of Italian and domestic wines with titles like "Refreshing & Mineral" and "Rustic & Bold."
"I wanted to create something approachable," said wine director Lauren Hayes. "Something that's easy to just sit down and have fun with."
Hayes, 28, is among the up-and-coming generation of wine professionals in Boston. She said the city's supportive wine community helps foster shared ideas and information, and her wine program is among a growing number that is ditching lengthy lists for smaller, more curated selections.
The wines Hayes selects for Pammy's are also all what are known as natural wines. Hayes defines natural wines as "small-production wines made sustainably in the vineyard, with minimal intervention in the cellar," and said they are a fast-growing category among restaurants in the Boston area.
Unlike organic wines, which can be certified by the USDA, natural wines are a bit of a gray area, with no official certification available.
Hayes said natural wines' artisanal production results in wines with more character; specifically, she said natural wines express more terroir, a term wine professionals use to assess how much a wine reflects its origins. Hayes said wines with distinct terroir stand out compared to more industrially produced wines.
"I truly think [natural wines] are the only way wine can be wholly delicious and authentic," she said.
Hayes also said that Boston's evolving dining population allows her to be more innovative with what she offers at the restaurant.
"Things have changed, just in the eight years that I've been [working] in restaurants," she said. "People are more curious, more open, with fewer preconceptions about what their experience has to be."
These are Hayes' favorite spots to sip, buy, and learn about natural wine in Boston.
Forage Restaurant
This cozy neighborhood bistro just outside Harvard Square is owned and managed by Stan Hilbert, the former general manager and wine director at Ten Tables in Jamaica Plain, where Hayes had her first taste of less conventional wines.
"Stan was my mentor in a big way," Hayes said. "There was never any pretense, never any shaming for not knowing something [about wine]. He's all about sharing knowledge."
Forage hosts weekly wine dinners every Tuesday night. A dinner of four courses paired with four wines is $50 per person, and reservations can be made by calling the restaurant.
The Wine Bottega
This little wine shop in the North End has been a bastion of natural wine in Boston for more than a decade. Hayes worked with the current general manager and wine buyer, Max Rose, at Ten Tables, and she credits him with helping foster her love for wine.
"It's so great to have another person who's as giddy about natural wine [as I am]," she said. "We were coworkers at a time when I was ready to learn, and it was so important to have that sounding board."
The Wine Bottega carries a wide selection of natural wines, ranging from classic French appellations to more esoteric regions like Slovenia. They hold free tastings at the shop from 5 p.m. to 8 p.m. every Friday.
Haley.Henry
It's the irreverence this cozy Downtown Crossing wine bar brings to the scene that Hayes appreciates the most.
"They're on the same kind of demystifying train I'm on," she said. "They're so fun, and I find their silliness so refreshing. If you're not following them on Instagram, you should."
Haley.Henry's wine list includes natural wines from all over the world, and their menu is an ode to Iberian tinned seafood culture, with a selection of charcuteries and small plates like marinated mushrooms and lamb tartare.
True to unpretentious form, Haley.Henry dubs every Wednesday night from 5 p.m. to 6 p.m. Weiner Wednesday, with a different themed hot dog on offer each week.