Food
Scallop prices could plunge. Get ready with 4 local chefs' favorite scallop recipes.
With the seafood's prices expected to drop, try a new dish (or four) at home.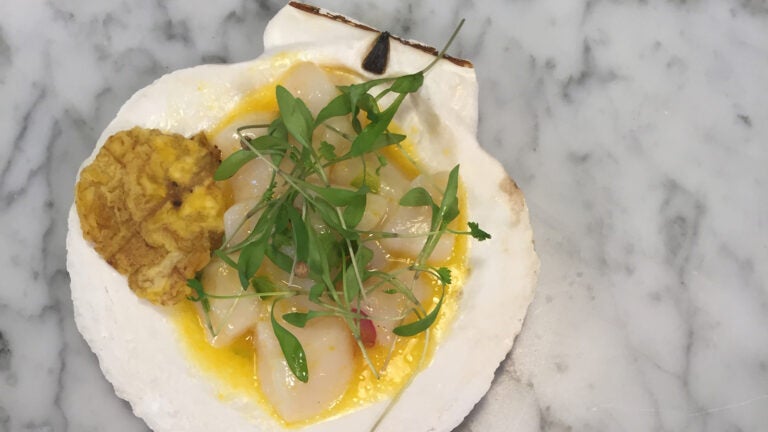 For an essential guide to the city, sign up for How to Boston, Boston.com's weekly culture and lifestyle newsletter.
In case you missed it, the price of scallops is expected to fall this year.
That's good news for scallop fans — and cooks. For those who want to embrace scallops at home while it's more affordable to do so, we asked four well-known Boston-area chefs to share their favorite scallop recipes. From pan-seared to ceviche, these recipes will help you explore your love of the shellfish during the drop at the register.
Gnocchi with scallops sausage and broccoli rabe
Courtesy of Chef Pino Maffeo, executive chef at Il Molo
"The biggest tip with this dish is to alternately add cheese and chicken stock until you create a creamy consistency," Pino said in an email. "It's important to dry the scallops to create a crust since a wet scallop will not sear properly."
Ingredients for the gnocchi (if you're short on time, store-bought gnocchi can be used):
2 pounds of russet potatoes (about 4 medium), scrubbed
6.75 ounces (1.75 cups) of unbleached all-purpose flour, plus more for kneading and rolling
1 teaspoon of sea salt
1 large organic egg yolk, lightly beaten
Kosher salt, enough to coat the bottom of a baking pan about an inch
Ingredients for the rest of the dish:
Half-bunch of broccoli rabe (peel the stem, blanch, and shock)
2 cloves of garlic (crushed, with the center green sprout removed)
1 dried Calabrian chili (whole)
1 tablespoon of extra-virgin olive oil
1 teaspoon of canola oil
12 each U15 true diver scallops
1 Italian sweet sausage (preferably house-made or bought from a local North End butcher)
2 sprigs of thyme
1 tablespoon of butter
Sea salt to taste
3 tablespoons of chicken stock
Grated Romano cheese (enough to create emulsion)
To prepare the gnocchi:
Put the unpeeled potatoes on a bed of kosher salt, which will prevent the potatoes from burning. Preheat the oven to 350 degrees. Partially cover the potatoes with tin foil, and cook potatoes until they are completely tender and easily pierced with a skewer, about 45 minutes to one hour.
Let the potatoes cool just enough that you can handle them, and then peel them. Cut them in half crosswise and pass them through a ricer into a large bowl.
Lightly flour a work surface. In a small bowl, mix the flour with the sea salt. Add the egg to the potatoes and then add the flour mixture. Mix with your hands until the flour is moistened and the dough starts to clump together. (The dough will still be a bit crumbly at this point.) Gather the dough together and press it against the bottom of the bowl until you have a uniform mass.
Transfer it to the floured surface and wash your hands.
Form the gnocchi into bite-size pieces; roll a fork over the surfaces for decorative lines.
To prepare the dish:
Place oil in a sauté pan and add add sausage and cook until browned. Add a half-garlic clove, lightly brown. Deglaze with chicken stock and remove the garlic clove. Add the Calabrian chili to the pan.
In a separate pan on high heat, add canola oil until smoking. Dry the scallops with a towel and sear one side only until dark brown. Flip, add knob of butter with the rest of the garlic and thyme; baste and reserve.
Add your gnocchi to boiling, salted water. When the gnocchi float, remove them and place in the pan with the sausage. Raise the heat to high and add the cheese and broccoli rabe to the scallops and gnocchi. Toss to emulsify, and serve on preheated plates.
This recipe serves four people.
•••
George's bank sea scallops ceviche
Courtesy of Chef Rich Vellante, executive chef/executive vice president of restaurants at Legal Sea Foods
For those who prefer their scallops raw, fresh lime and jalapeño accompany the meaty shellfish in this dish.
Ingredients:
1 pound of dry pack sea scallops
2 teaspoons of a puree of ají Peruvian peppers (can be bought in Peruvian market)
1/2 cup of fresh lime juice
1/2 cup of red onion
1 teaspoon of jalapeño pepper
Salt to taste
6 sprigs of cilantro
Plantain chips for garnish
To prepare the dish:
Cut the scallops into ½-inch pieces and place in a bowl. Lightly salt them and set aside in the refrigerator for 30 minutes.
Meanwhile, thinly slice the red onions and soak in a bowl of ice water for 30 minutes. De-seed the fresh jalapeño pepper and finely mince.
After 30 minutes, drain the onions well and add to the bowl with the scallops. Squeeze lime juice onto the scallops and add the ají pepper puree and jalapeño peppers. Mix all the ingredients and season with additional salt if needed.
Divide the ceviche between four scallop shells or small bowls and garnish with cilantro sprigs and plantain chips.
This recipe serves four people as an appetizer.
•••
Seared sea scallops with creamy turnip puree and crisp shiitake mushrooms
Courtesy of Chef Jeremy Sewall, chef/owner at Island Creek Oyster Bar and Row 34
"This is a great recipe that is perfect to make in the spring shoulder season while we're getting glimpses of spring ingredients," Sewall said in an email. "The creaminess of the turnip puree is perfect for a holiday table and I love having scallops at home any night of the week."
Ingredients for the creamy turnip puree (makes about 1 cup):
1 tablespoon of canola oil
1 shallot, sliced
1/4 cup of white wine
2 scarlet or regular turnips, peeled and cut into 1-inch pieces
3/4 cup of heavy cream
1/2 cup of vegetable stock
Kosher salt
Freshly ground black pepper
Ingredients for the rest of the dish:
16 large shiitake mushrooms with their stems removed
1/4 cup, plus 2 tablespoons, of canola oil
12 large sea scallops, about 1 1/2 pounds
1 tablespoon of freshly squeezed lemon juice 
Kosher salt
Freshly ground white pepper
Creamy turnip puree
1 tablespoon of thinly sliced chives
To prepare the puree:
In a medium saucepan, heat the oil over medium heat, add the shallot, and sauté until it begins to color lightly, about three to four minutes. Add the wine and simmer until the liquid is almost completely reduced. Add the turnips and cream and simmer until the turnips are tender but not falling apart, about eight to 10 minutes. Remove from the heat and let cool in the pan for five minutes. Set aside 1⁄4 cup turnips for use as a garnish. 
Transfer to a blender, along with the stock, and puree until smooth. Season with salt and pepper.
To prepare the dish:
With a sharp knife, very thinly slice the mushrooms. In a medium sauté pan, heat 1⁄4 cup of the oil over medium-high heat and sauté the mushrooms until crisp, about eight minutes, shaking and stirring constantly so they don't burn. Remove the mushrooms to a paper towel to drain.
There should be about 2 tablespoons of oil left in the pan. Warm the remaining oil over medium-high heat until it starts to smoke lightly. Season half of the scallops with salt and white pepper. Place the seasoned half in the oil. (Make sure the pan isn't crowded.) When the scallops are golden brown and release easily from the pan, about one to two minutes, flip them over and remove the pan from the heat. Let the scallops sit in the pan off the heat for one minute.
Transfer the scallops to a serving plate and drizzle with lemon juice. Wipe out the pan and add the remaining 2 tablespoons oil. Season and cook the second batch of scallops the same way.
Spoon 1⁄4 cup of the turnip puree on each of four individual plates. Top with the scallops and garnish with chives and the crisp shiitakes, and the reserved turnips from the puree.
This recipe serves four people.
Adapted from "The New England Kitchen: Fresh Takes on Seasonal Recipes" by Jeremy Sewall. 
•••
Pan-seared Atlantic scallops
Courtesy of Chef Jose Reyes, executive chef at The Barking Crab
Try pairing these soy ginger-glazed scallops with Jasmine rice and seasonal stir-fried fresh vegetables.
Ingredients:
3 tablespoons of soy sauce
2 tablespoons of chopped green onions
1 tablespoon of honey
1 tablespoon of chopped and peeled fresh ginger root
1/8 teaspoon of crushed red pepper
1 1/2 pounds of large sea scallops, about 12
1/4 teaspoon of sea salt
1/4 teaspoon of freshly ground black pepper
Olive oil
Green onions as a garnish
To prepare the dish:
Combine the soy sauce, green onion, honey, ginger, and red pepper in a bowl. Pat the scallops dry with paper towels and sprinkle them with salt and pepper.
Heat a large skillet over medium-high heat. Coat a pan with cooking spray or olive oil. Add the scallops to the pan, and cook for three minutes on each side until browned. Transfer the scallops to a platter. Drizzle with the soy sauce mixture. Garnish with green onions.
This recipe serves two people.