Food
Boston Calling's largest food lineup ever includes ramen, doughnuts, and the return of the meat-filled waffle cone
Have a look at the full menu.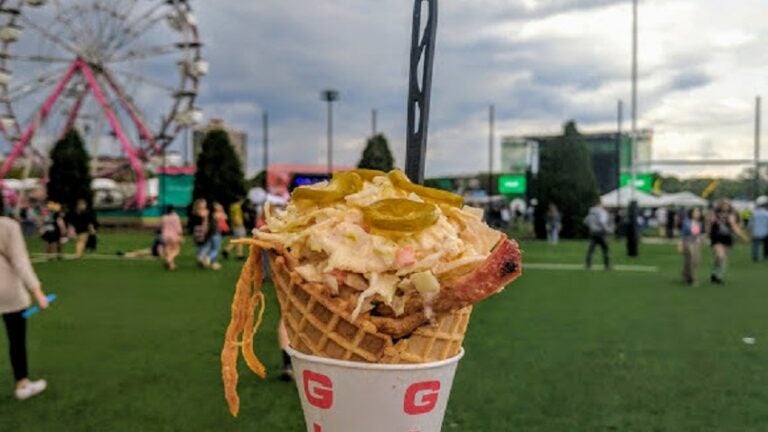 Between the music sets at Boston Calling, attendees are going to work up an appetite. Good thing the festival will provide an array of sweet and savory treats. Some of the city's most in-demand food vendors will congregate at the Harvard Athletic Complex in Allston from May 25-27.
With more than 150 menu items from more than 35 local restaurants and vendors, the 2018 food lineup will be the festival's largest to date. Eleven of the vendors, including Union Square Donuts, The Chubby Chickpea, and Area Four, are new to the Boston Calling scene.
The festival will also welcome back popular eats, such as Belgian waffles from Zinneken's, veggie bowls from Whole Heart Provisions, and the BBQ Bomb by The Smoke Shop — a waffle cone filled with pit beans, mac and cheese, coleslaw, and a choice of brisket, pulled pork, or smoked chicken. Tasty Burger will also return this year, but will expand its setup to include stations for hot dogs and tater tots.
VIP and Platinum ticket holders will have access to additional food items in the "Boardwalk Lounge" area. That menu will include braised pork, marinated chicken, and grilled vegetable tacos, sandwiches, and bowls from Puritan & Company's Chef Will Gilson, sliders from Ruth's Chris Steakhouse, and poke bowls from Love Art Sushi.
Platinum VIP attendees will be treated to the festival's ultimate gastronomical experience, with offerings curated by some of Boston's biggest names in the culinary field. Friday evening, for example, Island Creek Oyster will serve oysters, shrimp cocktail, and littleneck clams in an ice-filled island boat. On Saturday night, James Beard Award-nominated chef Tiffani Faison, of Sweet Cheeks BBQ and Tiger Mama, will serve up friend chicken sandwiches on Sweet Cheeks BBQ biscuits and a Tiger Cheeks shrimp and crab boil.
An assortment of beer and wine will be available for both VIP and general admission guests, including a range of Samuel Adams brews, a Mikkeller craft beer bar, and a selection of Barefoot Wines. VIP and Platinum ticketholders will also have access to specially curated bars stocked with spirits.
Last year, attendees at Boston Calling's new Allston venue complained about long lines, including those for the food. The additional food vendors should help combat the problem this year, according to organizers.
Check out the festival's 2018 menu below, and learn more on Boston Calling's website.
General Admission Food Menu
Arancini Bros
Classic ragu: Saffron risotto with tomato meat sauce, peas, and mozzarella
Bianco verde: Basil pesto with mozzarella
Bucatini fritti: Italian-style mac and cheese
Chicken parm bites: Ground chicken stuffed with tomato, basil, and mozzarella
Pizza ball: Margherita tomato, basil, mozzarella
Area Four
Supreme garlic knots
Supreme BBQ pork knots
Supreme Greek lamb knots
Bon Me
Signature Vietnamese sandwiches and soba noodle salads with choice of filling: spiced rubbed chicken; Chinese BBQ pork; roasted soy; paprika tofu
Chocolate chip sesame cookies
Caked Boston
Traditional cupcakes
Specialty cupcake of the day
Truffle balls
Chicken & Rice Guys
Rice plates (choice of protein)
Salad plates (choice of protein)
Cumato salad
Pita
Baklava
The Chubby Chickpea
Yemenite fried chicken sandwich
Falafel pita pocket
Vegetarian stuffed grape leaves
Commonwealth
Smoked turkey and bacon: avocado mayo, pepper jack, arugula
Italian stallion: salami, capicola, mortadella, provolone, hots, lettuce, tomato, oil and vinegar
Nookie's pastrami: house-made spicy mustard
Crispy eggplant: harissa goat cheese, slow-cooked green beans, arugula
Duck fat fries
CW cookies
Cookie DŌ
One scoop DŌ
Two scoop DŌ
Cookie DŌ sandwich
Cookies
CopperDome Crust
Artisan wood-fired pizza with choice of the following toppings: cheese, pepperoni, and spinach and feta
Deans Concessions
Chicken fingers and fries
El Pelon Taqueria
Taco plate: two tacos (steak or chicken) with fire-roasted salsa with Mexican rice and black beans
Burrito bowl (steak or chicken), flour tortilla, fire-roasted salsa with Mexican rice and black beans
Rice and bean plate: Mexican rice, black beans
Chips and salsa fresca
Chips, salsa, and guacamole
Firefly's BBQ
Pulled pork or pulled chicken with coleslaw
Chopped beef brisket sandwich with coleslaw
BBQ bowl with pulled Pork or pulled chicken, mac and Cheese, beans, and coleslaw
BBQ brisket bowl with brisket, mac and cheese, beans and coleslaw
Porked mac and cheese
FoMu Ice Cream
Ice cream scoops
Ice cream sandwiches

Jaju Pierogi
Mix and match flavors:
Potato and cheese pierogi
Kielbasa and red pepper pierogi
Sweet potato and caramelized onion pierogi
Jalapeño cheddar pierogi
Joe's American Bar & Grill
New England clam chowder
American mac and cheese
Gluten-free mac and cheese
Moyzilla
Katsu hand-folded Ccassic dumplings: pork and napa cabbage, soy ginger dipping sauce
Scallion Pie Quesadilla: Korean BBQ chicken, cheddar, sriracha aioli
Korean BBQ Chicken Noodle Bowl: rice noodle, edamame, pickled veg, lettuce, scallion, fried shallot, sweet chili sauce
Riceburg
Rice burgers and rice bowls with the choice of filling:
— Spicy sweet and sour crispy chicken
– Bulgogi steak
– Shiitake mushroom
Matcha green tea lemonade
Roxy's Grilled Cheese (two booths)
Big fig: sweet mission figs and balsamic drizzle on a three-cheese blend
Green muenster: house-made guacamole and bacon on a three-cheese blend
Classic three cheese: Vermont cheddar, muenster, fontina cheese on locally baked Tuscan bread
Hot honey bacon: crispy bacon and Mike's hot honey on a three-cheese blend
Ruth's Chris Steak House
Steak sandwich or salad
Lobster roll or salad
Chicken salad wrap
Prime beef sliders
Cape Cod potato chips
Saté Grill
Build your own: rice, noodle, or salad veggie bowl with chicken or tofu and side of veg dumpling or crispy roll
Banh Mi sandwich
The Sausage Guy
Sausage Guy sweet hot bourbon Italian sausage
Sausage Guy IPA beer brat
Sausage Guy all beef hot dog
Giant soft pretzel
Shoestring French fries
Shuck Food Truck
Oysters each/dozen
New England lobster roll
Lobster slider
Fish and chips
Fries
The Smoke Shop (two booths)
The BBQ Bomb: giant waffle cone filled with pit beans, mac and cheese, cole slaw, choice of brisket, pulled pork, or smoked chicken, topped with pickled hots and BBQ spices
The Pit Boss: all three BBQ Meats — pulled pork, brisket, and smoked chicken — plus pit beans, coleslaw, and mac and cheese
The BBQ sandwiches: choice of brisket, pulled pork, or smoked chicken
The cornbread with honey sea salt butter
The Sides: coleslaw, pit beans, or mac and cheese
Stone and Skillet
English muffin cheese pizzas
English muffin pepperoni pizzas
Tasty Burger (two booths)
Hamburger
Cheeseburger
Bacon cheeseburger
Veggie burger
Deep River potato chips
Tasty All Beef Dogs
Plain hot dogs
Chili hot dogs
Tasty Tots
Plain tots
Tots with cheese sauce
Tots with chili
Tots with the works (chili and cheese)
Union Square Donuts
Assorted doughnuts
Whole Heart Provisions
Veggie bowls with a choice of a base of greens or grains in the following styles:
—Tazon style bowl: pineapple, corn salsa, Korean black beans, smashed cucumber and tomato, red cabbage slaw, and lime vinaigrette with corn nuts
—Miso style bowl: roasted broccoli, shaved Brussels sprouts, smashed cucumber, pickled carrots, red cabbage slaw with orange miso sauce and toasted sesame seeds
—Viet style bowl: roasted broccoli, smashed cucumber, tomato, pickled carrots, savory green beans spicy peanut sauce, and peanut crumble
Seared avocado with tahini, za'atar, and crispy lentils
Food Should Taste Good chips
Yume Wo Katare
Yume ramen
Chashu stick
 
Zinneken's Belgian Waffles
Liege waffle
The Sin:  nutella, nanana
The Gourmand: Caramel, bananas, whipped cream
Fruit Delight: Belgian chocolate, bananas, strawberries
VIP Food Menu
Love Art Sushi
Shoyu ahi tuna poke bowl: Hawaiian marinated yellowfin in soy, sesame, chili, garlic, nori, with scallions over seasoned sushi rice
Spicy crawfish sushi bowl: Tender crawfish tossed in sriracha wasabi aioli, topped with panko over seasoned sushi rice
Avocado ponzu boatL Half an avocado surrounded by microgreens filled with citrus ponzu, topped with furikake over seasoned sushi rice
Puritan & Company
The choice of tacos, a bowl with grains and greens, or a sandwich with the choice of the following proteins:
—Grilled pork
—Free range chicken
—Grilled vegetables
Ruth's Chris Steak House
Prime sliders
Lobster or salad
Platinum Food Menu
Friday, May 25
Island Creek Oyster Shellfish Display
Island Creek oysters, shrimp cocktail and Littleneck clams
Chef Colin Lynch of Bar Mezzana
Little gem lettuce salad with anchovy dressing and Parmigiano Reggiano
Root vegetable salad with squash hummus and feta
Tomato and mozzarella Suppli (crispy risotto balls)
Porcetta sandwiches
Roasted cauliflower pita with yogurt and curry
Chicken wings with Calabrian agrodolce
Roman gnocchi with mushroom ragout
Saturday, May 26, 2018
Chef Tiffani Faison of Tiger Mama and Sweet Cheeks
Fried chicken sandwich biscuit bar:
—Sweet Cheeks biscuits, buttermilk fried chicken, and Nashville hot chicken, assortment of pickles, condiments, and spreads
—Fried green tomatoes: vegetarian option (fried chicken substitute)
Tiger Cheeks shrimp and crab boil:
—Spicy sweet boiled shrimp and crab, potatoes, corn, and rice, spicy soy butter
Selection of early summer salads:
—Watermelon Salad: cotija, mint, cilantro, spicy peanuts
—Mexican caesar salad: grilled little gem, crispy tortilla chips
—Hoppin' John salad: rice, black-eyed peas, jalapeño vinaigrette
Dessert
Nutter butter cookies
Dee's summer donuts
Hong Kong egg tarts
Sunday, May 27, 2018
Chef Chris Coombs of Boston Chops
Afternoon
Boston Chops Home Wrecker Hotdog loaded with bacon, pickled cabbage, house-made mustard, aioli, crispy onions
Veggie dog option, chips
Chops Cobb salad with herb vinaigrette, avocado, diced cheddar, tomato, and hard boiled eggs
Evening
Carving station for Bbef tenderloin sandwiches, horseradish cream, crispy onions
Moroccan spiced lamb and yogurt sauce, cucumber salad, grilled pita
Vegetarian summer rolls with peanut sauce, cucumber, herbs
Kale salad
Beer & Wine Menu
Beer
Samuel Adams Sam '76
Samuel Adams New England IPA
Samuel Adams Summer Ale
Miller Lite
Miller High Life
Sol
Angry Orchard Hard Cider, Rosé
Truly Spiked and Sparkling, Wild Berry
Pilsner Urquell
Peroni
Mikkeller Windy Hill IPA
Mikkeller Staff Magician N.E. Style Pale Ale
Mikkeller Rasberry Blush, Berliner Style Weisse-Bier
Mikkeller Beer Geek Breakfast, Oatmeal Coffee Stout
Mikkeller Passion Pool, Passion Fruit Gose
Mikkeller California Dream, Hoppy Pilsner
Mikkeller BC "Response" Keller Pilsner
Mikkeller "Significant Endowment" DDH Double N.E. IPA

Wine
Barefoot Pinot Grigio
Barefoot Pinot Noir
Barefoot Rosé
Barefoot Moscato Spritzer
Barefoot Sangria Spritzer
Barefoot Bubbly Brut Cuvée