Food
The essential guide to 21 of Boston's best food trucks
Wood-fired pizza, Japanese fried chicken, and candied bacon — you can find these and much more right on the road.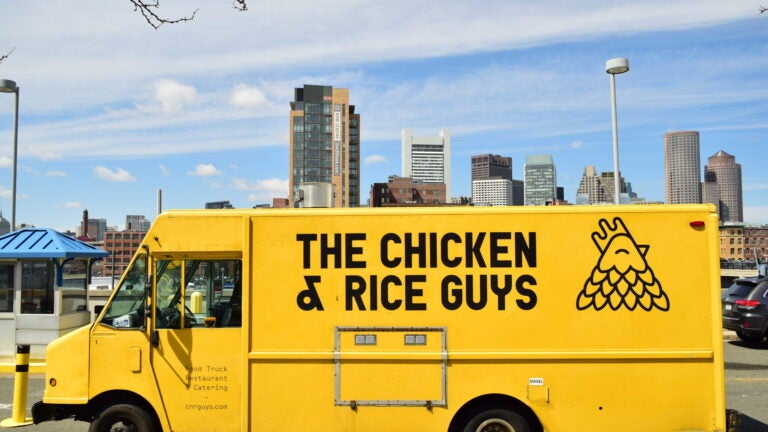 We're a few years separated from when food trucks felt novel and pioneering here in Boston, and dozens have come and gone. (City regulations don't exactly help.) While that shiny-new-object sensation may have passed, something more important has taken its place: experience. The following food trucks have withstood the test of time, and have earned their place in the local dining landscape just as much as any brick-and-mortar. A few have even kicked off stationary mini-empires of their own. You can locate the trucks below on any given day with the City of Boston's and City of Cambridge's food truck schedules.
(Note: We only included brands that started out on wheels, none that originated as brick-and-mortars and then expanded into the truck business.)
1. The Bacon Truck
The Bacon Truck offers eight hearty grilled sandwiches based around one central ingredient. (We'll leave the guessing up to you.) Selections range from a classic BLT with roasted garlic bacon mayo to the nap-inducing Pork & Mindy with bacon, braised pork shoulder, avocado, cheddar, havarti, and a smoky chipotle aioli. Dessert is available too, but this is the Bacon Truck, so prepare yourself for the eponymous meat in candied form or slathered in Nutella. Look for this truck around town, or stop by the brick-and-mortar cafe in Charlestown that opened in April 2018.
2. Big Daddy Hot Dogs
Don't go expecting a hipster-ized reinvention of the classic hot dog cart. Big Daddy Hot Dogs is a throwback to America's original street food. The menu includes beef hot dogs ranging from "small" to "Big Daddy," veggie dogs, burgers, Italian sausage, french fries, and chili cheese fries. Toppings, priced at 75 cents each or three for a dollar, cover the classic gamut from pickle spears to sauerkraut.
3. Bon Me
Bon Me was one of Boston's original food truck success stories. Since it first rolled out in 2011, the Vietnamese sandwich truck has opened eight brick-and-mortar locations around the Greater Boston area. But Bon Me has maintained its fleet of brightly colored trucks, which dispense crispy baguettes stuffed with fillings like spice-rubbed chicken and miso-braised pulled pork. You can also have proteins served over greens, rice, or noodles with your choice of sauce.
4. The Chicken & Rice Guys
These guys avoid complexity — the truck continues to produce just four choices (chicken, gyro, tofu, and a chicken-and-gyro combo) over yellow rice or salad. But as any of the CNR Guys cult can tell you, the real variety happens with the sauce. After receiving your to-go box, you'll be directed to enormous squeeze bottles of creamy garlic, barbecue, mint-cilantro-jalapeño, and hot or extra hot sauce. Squeeze liberally — you'll always wish you added more. Find them around town or visit their brick-and-mortars in downtown Boston and Medford.
5. The Chubby Chickpea
On the road since 2010, this Middle Eastern food truck is a member of the old guard and still going strong. It whips up four proteins — falafel, chicken shawarma, chicken schnitzel, and fried eggplant — in a laffa wrap or as part of a plate with sides like Greek salad or couscous. You can also count on scoring standalone sides like chickpea fries, stuffed grape leaves, or a regularly changing special.
6. Compliments
The brother-and-sister helmed Compliments truck follows a simple strategy: Serve a small selection of punny sandwiches on sourdough, such as Mr. Fun Guy (portobello mushrooms with spinach, tomato, and mozzarella) or Sea Ya Later (tuna melt with Cabot cheddar), and accompany them with sides like onion rings, french fries, and fried cauliflower. Desserts like homemade chocolate chip cookies are on hand to satisfy sweet tooths.
7. Cookie Monstah
Cookies and ice cream — served separately or together as an appropriately monsterish dessert sandwich — are the name of the game at Cookie Monstah. The truck's owner has spent two decades perfecting her cookie recipes, and the ice cream is available in a variety of classic favorites like chocolate chunk, salted caramel, and peanut butter. You can order your cookie in a cup with a scoop of Richardson's ice cream, or opt for an ice cream cookie sandwich like the Cup-o'-Joe (double chocolate cookies with coffee Oreo ice cream) or the Tahitian (oatmeal coconut cookies with coconut ice cream).
8. Daddy's Bonetown Burgers
If you're a burger minimalist, you might want to skip this one. Daddy's Bonetown Burgers tops specials with anarchic glee — expect fried eggs, thick-cut pastrami, and brine-fried jalapeño. Thick-cut french fries and tater tots with gonzo toppings like Doritos-infused salt or bacon gravy are available as sides.
9. The Dining Car
The Dining Car takes that perfect to-go food — the humble sandwich — to new heights. Menu selections include a freshly sliced lamb sandwich roasted in cabernet, and a chicken-and-goat-cheese number with truffle oil and wildflower honey on French bread. The Dining Car considers the outer portions of a sandwich just as seriously, going so far as to bake focaccia in the truck.
10. Frozen Hoagies
No, you won't find actual frozen hoagies here (thank goodness). What you will discover are ice cream sandwiches built with homemade cookies and ice cream from Lexington-based Rancatore's. This is a make-your-own affair, so choose between cookies like red velvet and Nutella-stuffed chocolate chip and dozens of ice cream flavors. If you're feeling truly ambitious, strive for the Double Decker made of two ice cream scoops and three cookies.
11. Jamaica Mi Hungry
Chef Ernie Campbell, a Jamaica native, launched Jamaica Mi Hungry as a catering service in 2012 before adding a food truck in 2015. (A seasonal brick-and-mortar shortly followed, and a second stand-alone will be opening in Jamaica Plain in the near future.) At the truck, entrees come with a main protein — jerk chicken, curry goat, oxtail, jerk tofu, and more — and two sides, like Ernie's rice and beans or mac and cheese. A handful of sandwiches are offered as well, such as the jerk pork sandwich served with dill slaw and plantains.
12. Mediterranean Home Cooking
True to its name, this truck has simple Mediterranean classics like falafel, chicken kebab, and slow-roasted lamb with rice pilaf. If you want to try something different, opt for the less-traditional "Mediterranean Burger" — strips of beef are prepared with spices and green peppers, topped by scratch-made tzatziki sauce, and served in a sub roll.
13. Moyzilla
This truck's slogan — "Make Way for Dumplings" — is marketing genius. Even better, Moyzilla — which recently opened its first brick-and-mortar within the Seaport's Innovation and Design Building — has got the goods to back up the clever catchphrase. The hand-folded dumplings come in pork-and-napa cabbage or veggie. ("Moyzilla Style" cheeseburger dumplings are an occasional special.) They're served alongside your choice of scallion rice or homemade garlic noodles. Japanese fried chicken is a daily non-dumpling offering, and other Japanese street foods like curry katsu also pop up as specials.
14. North East of the Border
The nine-tacos-strong menu at this food truck pays homage to Mexican street food, so expect to find more traditional fillings like barbacoa (slow-marinated brisket), chicken tinga (shredded chicken with smoky chipotle sauce), and carne asada. While tacos are the centerpiece offering, cochinita pibil (slow-cooked pork) and fresh-made guacamole round out the menu.
15. Papi's Stuffed Sopapillas
Papi's technically offers one item — sopapillas (crispy fried dessert bread) — but the truck can make up to 22 different varieties of it. The menu changes daily and might include the Original (covered in honey and powdered sugar) and savory, stuffed iterations like the Gruyere Green Chile Mac or Braised Buffalo Chicken.
16. Pennypacker's
This family-owned truck's claim to fame is its crispy porchetta, which is served as a sandwich with a daily-changing accompaniment. Other hearty offerings between bread include Nashville hot chicken and milk-braised turkey.
17. Riceburg
The "rice burgs" that this truck serves are exactly what they sound like: two cakes of seared rice abutting fillings like bulgogi shaved steak or mala spicy crispy chicken. If you're not quite ready to pick up a sandwich made of rice, you can also order your fillings over cilantro rice or greens.
18. Roxy's Grilled Cheese
Roxy's was Boston's first food truck to park on city streets, and the grilled-cheese-holding punk girl painted on its side is still a familiar sight on them today. Each Roxy's grilled cheese comes on soft pain de mie bread from Iggy's, and choices range from the un-fussy Three Cheese (Vermont cheddar, muenster, fontina) to the hearty Green Muenster (muenster, bacon, and homemade guacamole). Hand-cut truffle fries and the ever-changing lemonades turn a sandwich into a meal. In recent years, Roxy's has also accommodated lighter appetites by introducing veggie-packed salad bowls. Off the road, you can find them landlocked in Allston, Lynnfield, and Central Square.
19. Stoked Pizza
The people responsible for Stoked Pizza accomplished a marvelous feat of engineering: Somehow, they loaded a three-ton, wood-fired pizza oven into a vehicle. Enjoy the fruits of that labor in the form of personal-yet-large pizzas with charred, chewy crusts. You can choose from classics like pepperoni or Italian sausage and onion, or opt for one of the original creations, like buffalo Brussels sprouts. Brookline was stoked when Stoked planted some roots in Washington Square.
20. Taco Party
There's a taco party happening on this truck — and no meat has been invited. Vegetarians, vegans, or anyone just looking to take a break from carnivorism can nosh on delights like soy-marinated jackfruit, chorizo seitan, or chimichurri tempeh on a tortilla.
21. Teri-Yummy
This is the truck version of your favorite greasy teriyaki joint, oversized portions and all. Chicken, shrimp, beef, or some combination of them make up the entree choices, plus vegetarian delight and tofu. It's all served over white rice, fried rice, or noodles. Should you be feeling particularly peckish, extra protein can be added to bowls and additional rice or noodles can be ordered on the side.
Additional reporting by Erin Kuschner