Food
You can eat New York City's famous cookie dough for a limited time
By Chloe has teamed up with Dō Cookie Dough Confections to bring the safe-to-eat, gooey dough to Boston.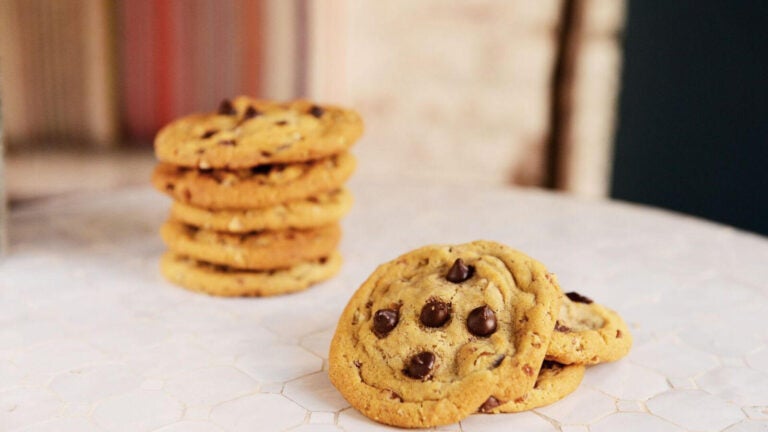 For an essential guide to the city, sign up for How to Boston, Boston.com's weekly culture and lifestyle newsletter.
Unbaked bakery Dō Cookie Dough Confections launched in New York City in 2014, serving up safe-to-eat cookie dough to sweets-loving patrons. Now, thanks to vegan food chain By Chloe (stylized as "by CHLOE."), Bostonians will be able to spoon up some Dō too for a limited time.
By Chloe's Manhattan offshoot bakery, Sweets by Chloe, and Dō joined forces to recreate three of By Chloe's popular desserts in cookie dough form. Two of these cookie dough flavors will deconstruct By Chloe's popular cinnamon espresso and old-fashioned chocolate chip cookies, and the third will reproduce its matcha chocolate babka cake flavor.
All three flavors will be available at By Chloe's Boston two locations: in the Seaport and in the Fenway. (A third Boston By Chloe is slated to open in the Back Bay this summer.)
Because By Chloe is a vegan restaurant, all three Dō recipes will be vegan. Dō already includes vegan cookie dough on its core menu, so it was just a matter of sharing ingredients for the correct flavor. A By Chloe representative said the butter and eggs used to make traditional cookies and cakes are replaced by ingredients such as coconut oil and soy products.
The cookie dough trio will be pre-packaged in ready to go pots, supermarket-style, and priced at $15 for the set of three. The three flavors will be available through May at By Chloe's Seaport and Fenway locations, as well as by Caviar online delivery service. (Caviar will offer free delivery for this item on May 1 and May 2.) But heads up: Limited edition means that once the packages are sold out, they're gone.
By Chloe; 107 Seaport Blvd., Boston, 100 Van Ness St., Boston; eatbychloe.com