Food
A local chef just won a James Beard Award
She's a first-time winner from a well-known restaurant.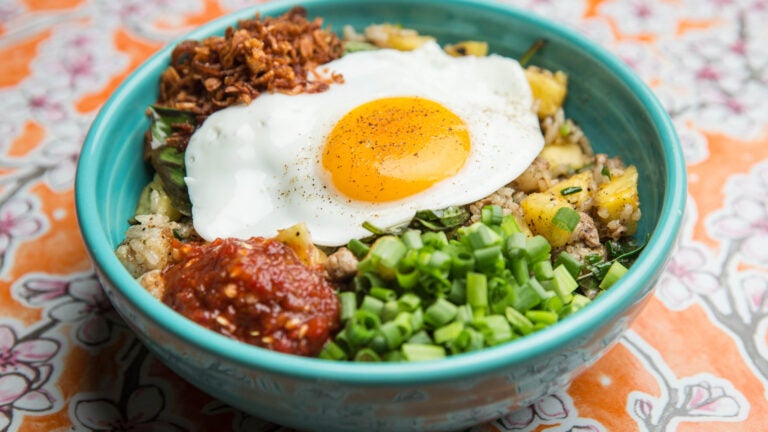 The winners of the 2018 James Beard Awards — aka the Oscars of the food world — were announced at a gala Monday night, and one local chef brought home some hardware.
Karen Akunowicz, a "Top Chef" alum and executive chef at South End Asian-inspired small plates restaurant Myers + Chang, won the award for Best Chef (Northeast) for the first time, after receiving nominations in 2015, 2016, and 2017.
Including Akunowicz, four of the category's five nominees work in Boston-area restaurants, with Akunowicz besting fellow local chefs Tiffani Faison of Fenway Southeast Asian spot Tiger Mama, Tony Messina of Back Bay izakaya Uni, and Cassie Piuma of Somerville Mediterranean restaurant Sarma.
Two other local finalists also received James Beard Award nominations but came up short Monday night: Ken Oringer (Coppa, Little Donkey, Toro, Uni) in the Outstanding Restaurateur category, and Maura Kilpatrick of Sofra Bakery and Cafe in Cambridge in the Outstanding Baker category.
Two locals did receive previously announced awards at the ceremony. Restaurateur Jody Adams (Porto, Trade, and Saloniki) was named an inductee into the "Who's Who of Food and Beverage in America," the foundation's de facto Hall of Fame. And North End pizza place Galleria Umberto, a no-frills, cash-only restaurant prized for its Sicilian slices, was named one of "America's Classics," an award given by the JBF to "regional establishments, often family-owned, that are cherished for their quality food, local character, and lasting appeal."
Here is a full list of winners from the 2018 James Beard Awards:
Best New Restaurant: JuneBaby, Seattle
Outstanding Baker: Belinda Leong and Michel Suas, B. Patisserie, San Francisco
Outstanding Chef: Gabrielle Hamilton, Prune, New York City
Outstanding Pastry Chef: Dolester Miles, Highlands Bar & Grill, Birmingham, Alabama
Outstanding Restaurant: Highlands Bar & Grill, Birmingham, Alabama
Outstanding Restaurateur: Caroline Styne, The Lucques Group, Los Angeles (Lucques, a.o.c., Tavern, and others)
Rising Star Chef: Camille Cogswell, Zahav, Philadelphia
Best Chef (Great Lakes): Abraham Conlon, Fat Rice, Chicago
Best Chef (Mid-Atlantic): Jeremiah Langhorne, The Dabney, Washington, D.C.
Best Chef (Midwest): Gavin Kaysen, Spoon and Stable, Minneapolis
Best Chef (New York City): Missy Robbins, Lilia, Brooklyn, New York
Best Chef (Northeast): Karen Akunowicz, Myers + Chang, Boston
Best Chef (Northwest): Edouardo Jordan, Salare, Seattle
Best Chef (South): Nina Compton, Compère Lapin, New Orleans
Best Chef (Southeast): Rodney Scott, Rodney Scott's BBQ, Charleston, South Carolina
Best Chef (Southwest): Alex Seidel, Mercantile Dining & Provision, Denver
Best Chef (West): Dominique Crenn, Atelier Crenn, San Francisco