Food
Mida chef Douglass Williams on what it's like to compete on 'Iron Chef America'
The episode featuring the local chef airs Sunday at 10 p.m.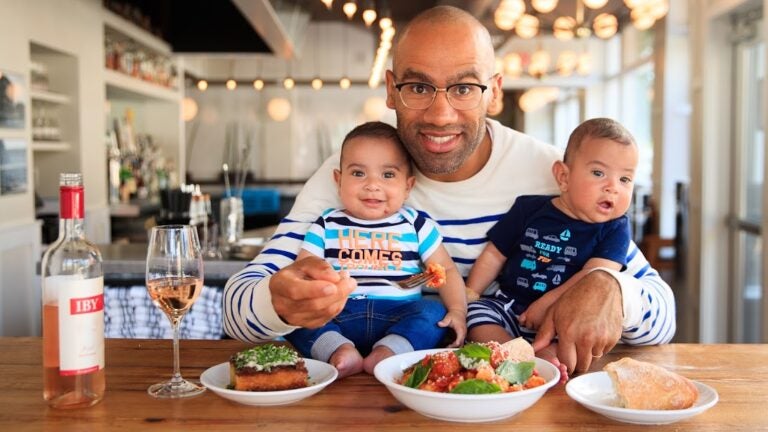 For an essential guide to the city, sign up for How to Boston, Boston.com's weekly culture and lifestyle newsletter.
This Sunday — Father's Day — new dad Douglass Williams, owner and chef at Mida in the South End, will compete on season 13 of Food Network's "Iron Chef America."
He'll watch the show at his Jamaica Plain home alongside his wife and four-month-old twin sons, whose births he'll forever link to the taping of the show.
Williams' wife, Debra Freeman, went into labor with the couples' sons, Raffa and Lev, as Williams prepared to fly to L.A. to tape the show in early February. Williams, 33, looks back on that chaotic, extraordinary time with wonder.
"All of my dreams felt like they were coming true in the same week," he said.
Williams, who has always wanted to be a dad, has also dreamed of competing against an Iron Chef since he was a teenager enthralled by the original Japanese version of the show. Several years ago, he attended an open casting in Central Square for a different Food Network show, and the network eventually reached out to ask if he'd compete on "Iron Chef America," he said.
"I was like, 'Oh my god, this is real, this actually going to happen,'" he said. "I used to sit on the couch and dream about what I would do if I was on the show."
Williams was allowed to bring two sous chefs to the competition and chose Peter Boboris, a New York-based chef he once worked with at Corton, and Seiza Imura, chef at Café Sushi in Cambridge. Boboris was in charge of timing, and Imura was in charge of small garnish work. The team took about six weeks before the show's taping to practice recipes and hone their skills.
As the group packed up 10 large duffel bags of supplies before heading to catch their flight, Williams's pregnant wife called. She thought she might be in labor. It was six weeks before her due date.
"I'm packing up, and we're still practicing dishes at this point," said Williams. "I was like, 'Oh my God.'"
After learning that Debra would be observed at the hospital for a few days and after making sure she had everything she needed, Williams pushed forward with his plan to fly out.
"I was like, 'Should I still go?'" said Williams. "She was like, 'Still go.' It's about our future. This is a big moment for us, not just me."
He taped the show and flew home with three days to spare before his sons were born on February 8.
Once on the set in L.A., with thoughts of his family on his mind, Williams strode into the iconic Kitchen Stadium.
"It feels like a spa," he said. "Because there's smoke everywhere. And I don't mean, like, kitchen smoke — like, fog smoke. And you feel like an angel. You are walking on this set, but you can't see your feet. You're like, 'I feel like I'm dreaming.'"
The kitchen is "dead silent," said Williams, but not for lack of action.
"There's cords everywhere," he said. "There's people swinging in with cameras, people swinging out. It's crazy."
It was in this setting that Williams and his team prepared an impressive menu — using a secret ingredient — in 60 minutes.
His competitor was Iron Chef Alexandra Guarnaschelli, the chef at Butter in New York City. Williams said he can't reveal the secret ingredient, saying only that it was "small, yet mighty" and he was "very, very prepared."
Williams arrived on set armed with 15 to 20 dishes that his team practiced relentlessly leading up to the taping. The recipes ranged from pasta to vegetarian to raw fish preparations.
"We had sauces in mind, too, that we thought were difficult," he said. "Easily adaptable sauce recipes that were progressive in their style but also relatable."
Williams can't reveal who won the competition, but he feels good about the entire experience.
"I've already won," he said. "Being on the show, getting the advice I've gotten, meeting the people I met, having that experience. That's what Alex told me: You've already won."
Catch this episode of "Iron Chef America" on The Food Network on Sunday at 10 p.m.