Food
How to become an expert coffee taster
Or, why you should drink coffee more like you drink wine.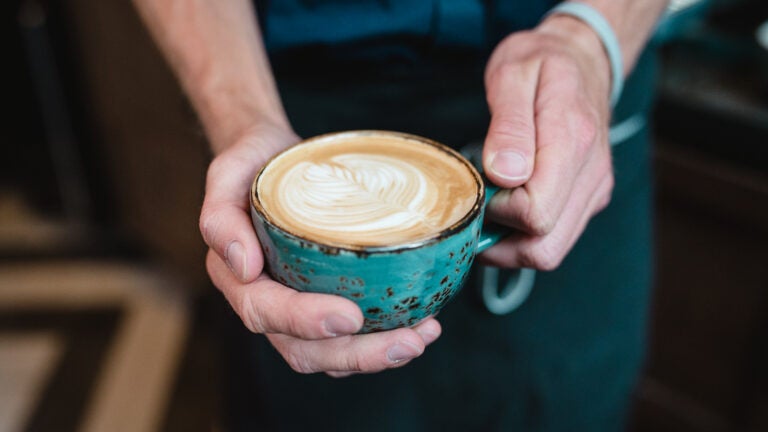 When it comes to coffee, Shaun Brideau wants you to think like a sommelier.
"You assess wine based on its color, its aroma, and its taste," said Brideau, a server, bartender, and unofficial chief coffee enthusiast at Watertown's Branch Line. "At Branch Line, we take the same approach to coffee."
Brideau, who has spent seven years as a barista and general manager in the Boston area, worked closely with Branch Line general manager Deena Marlette to craft a rotating coffee program for the restaurant.
Since opening in the fall of 2015, Branch Line has established itself as a haven for locals who don't just love their morning cup of joe, but also want to discover independent roasters.
"Cupping," the traditional method of tasting and categorizing coffee, can be "extremely meticulous," according to Brideau, so the team at Branch Line adopted a more casual, accessible approach to understanding what makes the good stuff really good.
"When you come in [to Branch Line], our staff is so educated that they're really able to start a conversation and share some awesome thoughts around learning about coffee," Brideau said.
Read on for Brideau's simple tips on how to become a bona fide coffee expert.
1. Get sniffing
When you're getting to know a coffee, you want to smell its beans right after you grind them, Brideau said.
"That's when the coffee releases its freshest aroma. Each stage of the process will showcase different characteristics," he said.
A simple sniff isn't enough, either. In the coffee world, many roasters rely on a flavor wheel to help break down different traits. Brideau said that Branch Line encourages its staffers to be as specific as possible when describing a particular coffee's smell.
"If staff is smelling something fruity, we want to really push them to identify what kind of fruit," he said. "You have to ask, 'OK, what kind of berry?"
In another case, a staffer might describe a cup of coffee as having a certain sweetness to its smell.
"Again, you have to ask, 'OK, what kind of sweetness? Maple syrup? Honey?"
Brideau said that blueberry and honey are the two core characteristics of the drip coffee currently being served at Branch Line.
2. Ask about a coffee's roots
Asking questions about where your coffee comes from is key to identifying what you like, according to Brideau.
For example, he said that the staff at Branch Line is given information about a coffee's region, climate, and terroir, which refers to the microclimate where the beans were grown, including factors such as altitude, soil quality, temperature, humidity, and access to sunlight.
Once you know those aspects of a coffee, you can start to recognize your preference by a certain region.
"We found out that Ethiopian Yirgacheffe is a staff favorite, for example," Brideau said. "Anytime we taste a Yirgacheffe coffee, it reminds us of blueberry pancakes or blueberry honey."
3. Experiment!
Brideau said that modern-day craft coffee has gotten to the point where it's relatively easy to detect certain flavors.
"It's not bold, dark roast, burn coffees anymore," he said. "It's delicate, single-origin coffees with unique characteristics."
Branch Line's rotating coffee roaster program is intended to encourage Bostonians to expand their palettes and learn more about the characteristics of coffees that appeal to them most.
"We're currently using Broomwagon out of Charleston, South Carolina," he said. "It's just exciting and refreshing to know that there are these cool brands out there."
Branch Line also has a retail operation, so patrons can come in and pick up a 12-ounce bag of beans to roast at home and get to know a coffee better on their own terms.