Food
You've been drinking all wrong
One of Boston's most inventive mixologists explains how to properly savor a cocktail.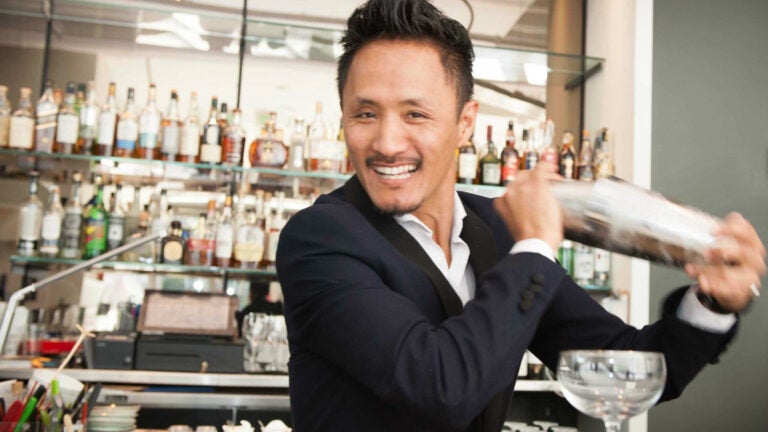 Sit down at Cambridge's ArtScience and you'll see a bevy of beverages line the sleek, white bar. Some feature fragrant aromas wafting out from plumes of liquid nitrogen, while others are adorned with cheeky monkeys inspiring immediate Instagram action.
"I want everyone to savor a drink with all their senses," bar director Tenzin Samdo said. "By introducing guests to far away flavors through something as easy to access as a cocktail, we are hoping to influence a greater understanding of the world."
The master mixologist, a refugee from Tibet who grew up in Northern India before coming to Boston, uses a little bit of chemistry, a moderate amount of herbs and spices, and a lot of artistry to create ephemeral experiences that evoke destinations as far-reaching as the Himalayas and Siberia. The current cocktail menu reflects flavor profiles from different altitudes and endangered species around the world.
"The Pika cocktail is reminiscent of my past, with the essence of smoke and ginger," Samdo said.
The drink is a sensory journey, offering a unique taste and smell with each sip. It's inspired by a Tibetan sand mandala where monks create intricate sculptures only to dismantle them. By consuming the cocktail, you're destroying the art, but you're left with the memory.
"It's a reminder that life isn't permanent, but it can be beautiful," Samdo said.
Alternatively, the Titi Monkey cocktail is a lighthearted drink, garnished with edible artwork of a primate in suspenders.
"When we post it on Instagram, or people see it at the bar, it starts a conversation," he said. "It opens up the door to talk about the environment through a playful cocktail."
Ultimately, Samdo wants dining out to be a community affair. Here are his tips for the best ways to fully drink in the moment and the cocktail.
1. Be mindful
"Use all your senses to immerse yourself in the sights, taste, and smells of the world around you and in the glass," Samdo said.
2. Be curious
"I'm happy to make a vodka soda, but why not try something new?" Samdo asked. "The risk is low. If you don't like it, we'll make a new drink." Above all, he stresses an interactive approach with the bartender so they can hear what you like and make drink that suits your style.
3. Consider the community
Samdo and team want patrons to think beyond the beverage in front of them and consider the consequences their actions have on the broader world. The restaurant banned plastic straws, and he urges others to discontinue using disposable plastic and paper items.
4. Imbibe with joy
"Going out for a cocktail should be a celebratory experience," Samdo said. "Similar to the pre-prohibition attitude; make it an event and enjoy a moment of happiness with friends instead of checking your email." He also promotes talking to strangers at the bar — though he said he realized that this is very uncharacteristic of Bostonians.