Food
Where to satisfy your sweet tooth, according to an award-winning pastry chef
Oak + Rowan's Brian Mercury talks about his favorite spots around the city for the best meal of the day.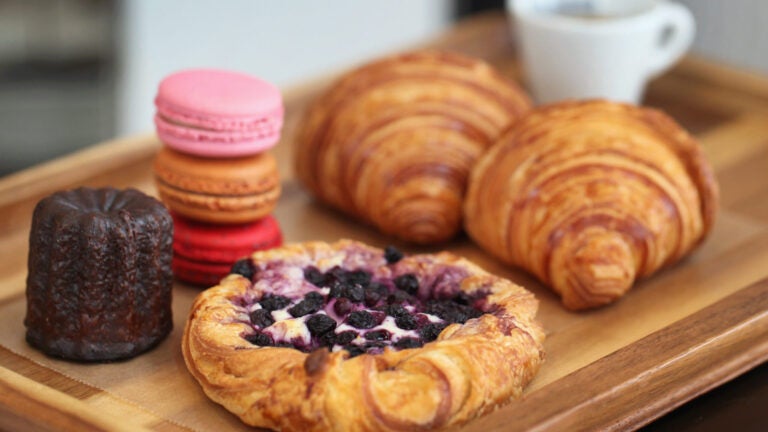 Dessert can come in many forms: a few scoops of ice cream, a morning croissant run, a handful (or three) of chocolate-covered almonds in between meetings, or, say, decadent pudding with caramel, shortbread, mascarpone, and Taza chocolate.
Brian Mercury, pastry chef at Fort Point's Oak + Rowan and winner of Food & Wine's People's Choice Best New Pastry Chef, East Region 2013 serves that last kind.
According to Mercury, there are more than a few places around the city to find really good desserts and baked goods –– we have a pastry scene on the rise, he said.
Read on for Mercury's favorite spots for croissants, ice cream, doughnuts, and more in the Boston area.
Cafe Madeleine
When it comes to bakeries, Mercury said he's a huge fan of Cafe Madeleine in the South End.
"Hana Quon over there, her croissants are amazing. They have perfect, buttery, flaky layers," he said. "She has a lot of fun with her pastry displays with fruit tarts or cream puffs. She always changes it up. It's an intimate space, and she puts a lot of focus on everything she does." (517 Columbus Ave., Boston)
Gracenote
Mercury is fond of pairing a good pastry with coffee, for which he currently prefers Gracenote near South Station.
"Their coffee is just amazing. I always do their cold brew," he said. (108 Lincoln St., Boston)
Honeycomb Creamery
"[Honeycomb's founder] Kristen [Rummel] has done a really great job from just doing her pop-ups," Mercury said. "It's really blown up for her. She's always having fun and being inventive with the ice cream tacos. They call them choco-tacos." (1702 Massachusetts Ave., Cambridge)
Mike's Pastry
Mercury said that for the quintessential Boston experience, it's Mike's Pastry.
"The lobster tails are honestly great," he said. "It's very touristy now, but my sister lives in England, and whenever she comes back, she gets the lobster tails from Mike's in the North End." (300 Hanover St., Boston)
SRV
"For classic dining and going to eat dessert in general, I'd have to say go over to see Meg Thompson," Mercury said of the head pastry chef at Italian restaurant SRV in the South End. "She's my very good friend, and we share a lot of interest in how we create our new stuff. If you want a great dessert on top of really great pasta, [SRV is] the place to go."
Mercury especially recommended SRV for Bostonians who are excited to try out-of-the-box dessert flavors like sweet pea and purple barley and not just the usual chocolate and vanilla. (569 Columbus Ave., Boston)
Three Little Figs
In Somerville, which is where Mercury used to live, Mercury said he recommends popular neighborhood café Three Little Figs, especially its doughnut muffins and toasts, like the ricotta and honey. (278 Highland Ave., Somerville)
Union Square Donuts
Mercury calls himself a true Union Square Donuts loyalist.
"Their brown butter hazelnut is just incredible," he said. "People always do the maple bacon, but the brown butter is by far better." (100 Hanover St, Boston; 409 Harvard St, Brookline; 20 Bow St., Somerville)