Food
30 essential Back Bay restaurants
Keep your hunger at bay with these classic and contemporary dining options.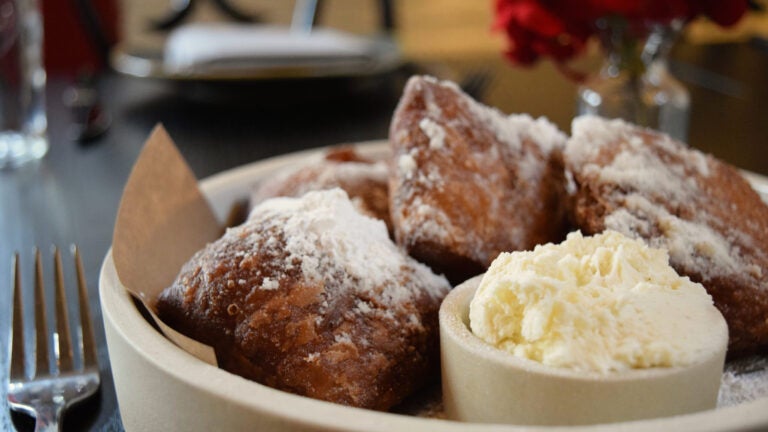 The Back Bay is a compact neighborhood, but it offers some of the city's best dining options. Neo-bistros, patio dining, and tequila options abound.
1. Abe & Louie's
Abe & Louie's marries land and sea with towering shellfish towers, entrees like a massive Maine lobster casserole (combining a two-pound crustacean baked with breadcrumbs), and juicy cuts of corn-fed, Midwestern beef. With just one sister restaurant (in Florida), this prime meat palace is unlike most others, especially with an extensive 600-variety wine list; the restaurant partners directly with select vineyards and winemakers for its own blends that aren't available anywhere else. (793 Boylston St.)
2. Atlantic Fish Company
Atlantic Fish has been putting forth Boston classics — lobsters, steamers, mussels, and more, all locally sourced from family fisheries — for four decades, served in large portions that don't disappoint the hungry. Want to wear that bib to crack open the shells? Go ahead: Despite the white tablecloths, the atmosphere is delightfully unstuffy, with some of the best views onto Boylston. (761 Boylston St.)
3. Bar Boulud
Boston gets the culinary respect it deserves as the home of celebrity chef Daniel Boulud's third Bar Boulud outpost (behind New York and London). Expect more seafood here, however, and a list of locally inspired signature cocktails. Don't miss out on the huge wine list; bistro classics like French onion soup, escargots, and steak frites; or pastry chef Robert Differ's unforgettable opuses, including Gateau basque, a crunchy-crusted almond custard cake. (776 Boylston St.)
4. Bistro du Midi
Chef Robert Sisca is back behind the stove as Bistro du Midi's executive chef, creating crudo plates so artful it seems a shame to dig into the delicate balance of light flavors and textures. Locally sourced fish and meats abound on a French bistro-inspired menu, but perhaps one of the most memorable reasons for dining here is the magnificent view of the Public Garden from both the upstairs dining room and more casual downstairs wine bar. (272 Boylston St.)
5. Bukowski Tavern
No need to worry: The juicy burgers, loaded tater tots, and apps like "white trash cheese dip" aren't nearly as salty as the prose of Bukowski's' namesake poet. Pair each with one of several local brews, as the pub is renowned for its Mug Club. If you imbibe all the beers required (upward of 100), you'll get a giant custom mug inscribed with a number and the name of the deceased author of your choice. (50 Dalton St.)
6. Buttermilk & Bourbon
The Bayou comes to the Back Bay thanks to chef Jason Santos, who brings barbecue shrimp, biscuits, oyster chowder, and hurricane cocktails on tap, along with a selection of bourbon-based tipples. The buttermilk comes in the form of a few choices for the fried chicken, including Southern-style or Nashville-style with sweet and spicy or white barbecue sauce. The oyster bar serves local varieties along with peel-and-eat shrimp. Laissez le bons temps rouler — white napkins are essentially a lost cause here with all the finger foods, and the 85-seat patio is a can't-miss destination in the summer. (160 Commonwealth Ave.)
7. Capital Grille
Coffee on steak? Yes, really. Diners here swear by the signature bone-in kona-crusted, dry-aged New York strip served with shallot butter. There's also an extensive menu highlighting local seafood and generous sides meant for sharing. Steakhouse aficionados will fondly recall the old location on Newbury Street, but are still faithful to the current spot on Boylston, conveniently located for visitors next to Hynes Convention Center. (900 Boylston St.)
8. Casa Romero
In a restaurant climate obsessed with whatever's new, Casa Romero still enchants and impresses after 25 years as Back Bay's favorite Mexican restaurant among locals. Tucked in an alley off Gloucester Street, you'd never expect to walk into a cozy dining room with bright talavera tiles from south of the border that are equally as vibrant as the flavors of ceviche or cocktails, including chili-infused mezcal. (30 Gloucester St.)
9. The Central Library in Copley Square
Formerly the Courtyard Restaurant, the Courtyard Tea Room is the Central Library's main dining attraction, where tea time is offered via two prix fixe menus that include savory sandwiches, scones, and petit fours. Also stop by the Map Room Tea Lounge, a cozy hideaway where bar bites are served alongside tea-inspired cocktails. (700 Boylston St.)
10. Citrus & Salt
Whether you're looking for a pop of color or just a pop via the extensive and creative cocktail list, Citrus & Salt heeds the call. Mexicali-inspired murals, warm woods, sexy light from candles and chandeliers, and colorful patterns all feed a festive ambience for parties of two or groups of friends. Share small plates like tequila- and chipotle-steamed mussels, crispy chicken wings with roasted green chiles, and fresh-made jalapeño kettle chips and guac. (142 Berkeley St.)
11. Deuxave
Wine lovers can rejoice at this fine dining establishment with a list that's almost as beautiful as the setting: Rich gray tones, stone, and marble surround expansive picture windows that offer views of Back Bay brownstones and the grand promenade of Commonwealth Avenue. With a warm fireplace, private dining nooks, a small seasonal patio seating only 30, and a menu honoring the finest of French cuisine, you had better plan ahead and make those special date-night reservations early. (371 Commonwealth Ave.)
12. Earls Kitchen + Bar at the Prudential Center
Earl's has plenty of options, from sushi to noodles and rice bowls, a build-your-own-steak with sauces and sides options, and zesty main dishes like Cajun chicken with garlic butter. Don't miss happy hour, during which offers specials like truffle fries for $5.75 and Korean hot wings for $11.75. The restaurant also has one of Boston's best rooftop patios. (800 Boylston St.)
13. Eataly Boston
Those seeking the flavors of the Bel Paese need not trek over to the North End any longer — Eataly's restaurants, cafes, and counters (including well-stocked seafood, cheese, wine, and meat markets) provide a smorgasbord from every corner of Italy. Whether it's the wood-fired grill at Terra, a La Piazza pop-up eatery, or La Pizza & La Pasta (which speaks for itself, of course), there's something for everyone at Eataly in the Prudential Center. (800 Boylston St.)
14. Grill 23
Want the quintessential steakhouse experience in a three-decade-plus Boston institution? Filets, porterhouses, and swordfish steaks are all cooked with aplomb at Grill 23, a true go-to spot for graduations, birthdays, and anniversaries, and countless numbers of business deals that have no doubt been inked over the winning drink list. Be sure to save room for the towering coconut cake, served with pineapple sherbet and coconut dulce de leche. (161 Berkeley St.)
15. Joe's American Bar & Grill
You might hear or smell Joe's before your Newbury Street stroll gets you there. Since opening in 1984, it's almost always busy and is a prime spot for al fresco dining in the Back Bay, with huge open windows that let in the fresh breeze. As a passerby, it's hard not to peek in to admire the action, including a bustling full bar. At Joe's, the name of the game is "classics," including burgers, lobster rolls, clam chowder, and grilled chicken sandwiches. (181 Newbury St.)
16. La Voile and 1855 Bar à Vins
Tuck into La Voile, a cozy French bistro on Newbury Street, for risotto, mussels with fries, and French onion soup between bursts of shopping. Upstairs, the newly-opened sister spot 1855 Bar à Vins boasts more than 350 bottles of French wine on its shelves, plus classic dishes of poached pear and foie gras. (La Voile, 261 Newbury St.; 1855 Bar à Vins, 259 Newbury St.)
17. Lolita Cocina & Tequila Bar
Sexy, sultry, and savory, Lolita has dim lighting, an extensive tequila list, and a Mexican menu that make for a hot night out. Velvet wallpaper, black leather booths, and flickering candlelight are all the hallmarks of Chris Jamison and Mark Malatesta, COJE restaurant group manager partners, who have also raised the small plates bar in Boston at hot spots like Yvonne's and Ruka (along with Matadora tapas in Woburn). (271 Dartmouth St.)
18. Met Back Bay
It's a worldwide burger journey at the Met, where feasters can customize their patty (with the Met's special beef blend, sliders, turkey, or falafel), select a bun or put it on top of arugula, and then pick a city for a blend of toppings that scream Tokyo (wasabi), Paris (brie and fried egg), Mexico (jack cheese with jalapeños), and beyond. Appropriately enough, there's also a french fry bar with international toppings. The cushy booths and brick townhouse façade are a favorite setting among locals and visitors alike. (279 Dartmouth St.)
19. Mistral
Chef Jamie Mammano's menu here may not change much, but it doesn't need to. Pan-roasted Cornish game hen, the rack of Colorado lamb with feta and olives, and the thin-crust pizzas have been staples here for years, and so have many of the diners who come in for the extensive French and Italian wine selection and dim lighting fit for a special occasion. (223 Columbus Ave.)
20. Moody's Delicatessen & Provisions
In a neighborhood with some of the city's most chichi bites, Moody's hits the spot with toothsome sandwiches, hearty salads, and grain bowls. Meat lovers, however, will want to check out some of the 1,000 to 2,000 pounds of artisanal charcuterie produced for the Boston and Waltham locations; it's well worth it to try the Ultimate Italian, with its house-made salami, coppa, and bologna. (500 Boylston St.)
21. Mooncusser Fish House/Cusser's
There are a few different experiences to be had at Mooncusser. An intimate 60-seat third floor highlights some of the city's most artful presentations of local fish a la carte or as part of an epic five-course tasting menu — don't miss the house-made bluefish pâté appetizer. The downstairs horseshoe-shaped Moon Bar is decidedly less formal, though in addition to beer and wine it also offers Mooncusser's full menu. Finally, Cusser's is a takeout window with North Shore-style roast beef sandwiches, hot dogs, and fish tacos. (304 Stuart St.)
22. Oak Long Bar + Kitchen
Far beyond the typical hotel cocktail lounge, Oak Long Bar + Kitchen is a destination in and of itself at the Fairmont Copley Plaza. Grab a tipple with one of the veteran bartenders at the 30-seat bar and admire the view of a massive renovation that added several seating options. Summer brings a special treat, with a new outdoor patio featuring a frozen-drink machine, tequila popsicles, and bottled specialty cocktails. (138 St. James Ave.)
23. Porto
You won't hear the clang of sailboats in the harbor here, but the warm woods, blue water glasses, and mesh lighting accents meant to evoke fishing nets will transport you to the seaside — along with Jody Adams' Mediterranean menu, of course. Whole-roasted branzino and seafood stew are stunners on the "mains" menu. Landlubbers will be won over by the mezze menu's crispy pork belly with pomegranate glaze, as well as the grilled lamb chops. (Ring Road)
24. Saltie Girl
Whether it's fried whole-belly Ipswich clams or tinned seafood dishes like sardines or scallops, Saltie Girl puts a decidedly New England spin on seafood that's sourced in Boston's backyard and abroad in Portugal and Spain, where canned, tinned, and smoked fish are part of the everyday culture. The cocktails to pair these plates with are bright and herbaceous, with grapefruit, anise, and rhubarb that can be imbibed at an intimate, beautifully tiled bar. (281 Dartmouth St.)
25. Santouka Ramen
Ramen portions are huge here, but luckily, the price point is not, making for an ideal meal for college kids or just about anyone looking for a steamy escape from a frigid Boston day. Flavor options are plentiful (including a soy-based vegan broth), but the biggest hit is the signature tonkotsu broth, simmered with pork bones for 20 hours. (66 Hereford St.)
26. Select Oyster Bar
It's fitting that Select is a fixture on Gloucester Street, with the same name as the city where the freshest of seafood has been plucked from local waters for centuries. That said, this bistro-style oyster bar offers a contemporary, international menu with ceviche, Basque-style bites, and French classics like bouillabaisse. (50 Gloucester St.)
27. Sonsie
There may be no people-watching spot in Boston more traditionally cited than that by the large picture windows at Sonsie on a Sunday afternoon. Head back further into the buzzy space, however, and you'll find a pizza oven that serves as a warm hearth — this is especially great in winter, when the windows are closed. Chef Jason Hanelt, a longtime institution at the former Hamersley's Bistro, is now behind the stove leading a menu revamp that includes five-spice ramen and bone marrow with crispy mushrooms. (327 Newbury St.)
28. Stephanie's on Newbury
Stephanie's has the quintessential Back Bay patio thanks to its spot at the corner of Newbury and Exeter streets. The menu is also pretty eye-popping. Brunch may very well be the most popular meal, although there's an extensive beer and cocktail menu, too. Check out the brunch cocktails, to pair with sweet cinnamon monkey bread (a share plate), and a savory shakshuka or carnitas scramble. (190 Newbury St.)
29. Top of the Hub
It's a feast for the eyes at Top of the Hub, where soaring views of Boston from 52 floors above have been admired by countless romantic couples. Whether they're nibbling from shareable plates like Cajun-seared ahi tuna slices, or New England-centric seafood plates like lobster flatbreads, fish and chips, or seared scallops, there's plenty of pecking to be had. Don't miss the extensive signature cocktail list or nightly musical entertainment in the lounge. (800 Boylston St.)
30. Uni
Small plates equal big flavors at Uni, a contemporary izakaya helmed by Executive Chefs Ken Oringer and Tony Messina. You'll find Asian-inspired street food, sushi, an extensive sake list, and a late-night menu. True devotees swear by the ramen, available Fridays and Saturdays after 11 p.m. (370A Commonwealth Ave.)
Correction 7/20/2018: A previous version of this article incorrectly stated that Uni's ramen is also available on Thursday nights. We regret the error.