Food
23 essential places to eat and drink in Somerville
Innovative sit-down spots, mom-and-pops, and more places that make Somerville shine.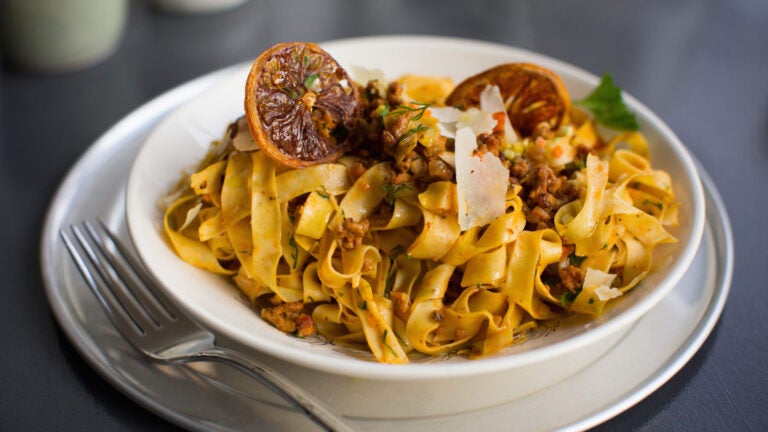 The days of "Slummerville" are truly behind Boston's neighbor to the north, replaced by some of the area's most creative dining and drinking destinations. Upscale small plates restaurants are balanced by beloved neighborhood haunts, resulting in a food scene with a strong independent streak and winning options for every budget.
1. Bergamot
The tables may be covered in white linen, but there's nothing stuffy about Bergamot. It's the kind of neighborhood mainstay that draws in regulars with a thoughtful wine list, house-made charcuterie, and a regularly updated "progressive American" menu including grilled swordfish, roasted lamb, and more. (118 Beacon St.)
2. Backbar
Backbar's eclectic charms have far outlived the neo-speakeasy heyday. The atmosphere is more lounge than bar, and once you've lasted the typical line, you'll discover an always-in-flux cocktail menu full of unfamiliar ingredients and refreshing whimsy. A small menu of cheeses and charcuterie, plus funky snacks from its neighbor Field & Vine, make for great inter-beverage snacking. (7 Sanborn Ct.)
3. Bronwyn
Communal wooden tables, footlong bratwursts, and towering steins filled with malty beer… That Oktoberfest trip you never took still awaits at Bronwyn. While the heavy German favorites and pork belly-topped burger have won acclaim, the menu here also touches on often overlooked Central European flavors like Serbian cheese spread or pierogi. An outdoor beer garden exists, but it's a tiny one — expect to jockey for the best seats. (255 Washington St.)
4. Casa B
The mixed South American/Caribbean background of Casa B's founders — one is a native of Colombia, the other Puerto Rico — has produced a sharing plates menu that features everything from rabbit stew empanadas to fish-filled arepas. A space full of mismatched mirrors and living walls only adds to the offbeat charm. (253 Washington St.)
5. Dave's Fresh Pasta
Wines, charcuterie, tinned fish — just about anything can be found at Dave's. But most folks come for the freshly made pastas (which are cut to order in a variety of shapes) or the delightfully overstuffed sandwiches on hearty, pressed-by-request slices of bread. (81 Holland St.)
6. Ebi Sushi
What Ebi Sushi lacks in flashy decor or a buzzy backstory, it makes up in neighborhood loyalty. Frequent patrons come for the well-executed sushi rolls (including a tuna tartare on tempura-fried nori "Somerville special") and Japanese street snacks like yakitori skewers and octopus pancakes. (290 Somerville Ave.)
7. Field & Vine
Former pop-up Company Picnic set down roots in Union Square as Field & Vine with an often-changing small plates menu based on sustainable and seasonal sourcing. Typical choices range from roasted sunchoke hummus to a cast iron cheddar cornbread with slow-roasted pork shoulder. Local beers and ciders and a globe-trotting wine selection are primed for pairing. (9 Sanborn Court)
8. Five Horses Tavern
Five Horses Tavern is anything but understated: The tufted banquettes are oversized, the comfort food dishes (think: fried chicken-topped pizzas and pork belly tacos) are generous, and the beer selection is outrageous. More than 150 selections — 37 by draft and 100 by the bottle — cover local and international brewing, and 150 whiskies from across the globe give brown spirit aficionados something to celebrate, too. (400 Highland Ave.)
9. Foundry on Elm
The red leather booths and tile floor at this Davis Square spot conjure up Lost Generation vibes, and a comforting menu of brasserie favorites like steak frites and coq au vin quash appetites. On the less French side, pizzettas, poutine, and a burger with truffle horseradish aioli are on hand to please just about any palate. (255 Elm St.)
10. Highland Kitchen
Gently priced classic cocktails and just-funky-enough twists on American comfort food have earned Highland Kitchen a fierce cult following. Take in its funky decor, which includes a mounted steer head and a jukebox, while feasting on a plate of buffalo fried Brussels sprouts or coconut curried goat stew. (150 Highland Ave.)
11. The Independent
This 16-year-old mainstay — recently refreshed by a 2017 renovation — capitalizes on Union Square's place in history with colonial-inspired digs. Its food and drink focus is more modern, featuring American comfort food, local classics, and a cocktail menu that's heavy on Negroni variants. A daily late-night menu served until midnight offers buttermilk fried chicken sandwiches and poutine with Guinness gravy. (75 Union Square)
12. Juliet
This small Union Square spot with whitewashed walls is really three concepts in one. On Wednesday through Saturday evenings, Juliet serves a themed, monthly changing prix-fixe menu, while a separate a la carte menu is also available for walk-ins. Weekend brunch transforms the restaurant into Juliet's Cafe, with breakfast tacos and smoked salmon toast. And finally, Sunday night marks the emergence of Romeo's, with a pasta-centric "Sunday Supper" menu. (257 Washington St.)
13. Kirkland Tap and Trotter
Craigie on Main's more casual sister restaurant serves grill-centric pub fare as imagined by Tony Maws, including fried pickles, swordfish skewers, and a bacon-wrapped chicken liver and bone marrow pate. While it hasn't quite eclipsed the Craigie burger, the kimchee Russian dressing-topped cheeseburger at KT&T has earned a following of its own. (425 Washington St.)
14. La Brasa and Fat Hen
La Brasa may stand apart from the mom-and-pop ethnic spots of East Somerville, but it's anything but fancy. The space is dominated by rough-hewn woods and a tremendous fire pit that turns out wood-fired oysters, cilantro chimichurri skirt steak, and an 18-ounce T-bone. Next door is the connected Fat Hen, which delivers a small menu of antipasti and pastas like a pistachio pesto linguine or squid ink bucatini in lobster broth. (124 Broadway, Somerville; 126 Broadway)
15. The Neighborhood Restaurant
The fact that Neighborhood Restaurant is decidedly un-hip is perhaps its best selling point. This family-run restaurant was in Union Square long before small plates and serves hearty, affordable American diner fare for breakfast and simple Portuguese dishes for lunch. A leafy patio strewn with umbrella-topped tables proves an excellent venue for picking over French toast or linguica. (25 Bow St.)
16. Parlor Sports
Parlor Sports is close to being the platonic ideal of a neighborhood sports bar. There are flat-screen TVs (and not much else), and they aren't obnoxiously oversized. There's a small menu of bar food classics that includes the expected nachos and burgers, plus some left-field surprises like buttermilk fried curds and a fried beet sandwich. A well-curated beer menu features everything from 'Gansetts to sours, and a smattering of classic cocktails are offered at reasonable prices. (1 Beacon St.)
17. Posto
A wood-burning oven that hits 850 degrees turns out the Neapolitan pizzas at Posto, which cover classic (margherita, spicy sausage) and less classic (roasted apple, lemon arancini) territory. On the non-pizza front, pastas like crab tortellini and mains like rib-eye steak with shallot-marrow sugo are served. (187 Elm St.)
18. Rosebud
The actual Rosebud diner — built in 1941 and placed on the National Register of Historic Places — is just one section of this modern incarnation, which includes a much larger dining room and bar space. The menu pays homage to the place's diner origins with griddled cheeseburgers, but also counts barbecue joints and Asian cuisine among its inspirations. Expect half racks of St. Louis Ribs and an Asian BBQ Hog Head that serves two to four. Rosebud's pies, made in homey varieties like Dutch apple and strawberry rhubarb, fill an oft-neglected hole in the local dessert scene. (381 Summer St.)
19. River Bar
River Bar, operated by the same group behind The Independent and Foundry on Elm, is an independent gem among Assembly Row's big-box chain fare. Its menu is split between small plates like smoked salmon toast and short rib empanadas on one hand, and fried chicken sandwiches and burgers on the other. The glass box of a dining room contains only a minority of the restaurant's seating — much more can be found on the heated, fire pit-filled patio. (661 Assembly Row)
20. Sarma
Sarma brings cuisine inspired by the Turkish meyhanes, or taverns, to an obscure corner of Somerville. Its menu of small plates draws inspiration from across the Mediterranean and Balkan regions, resulting in dishes like harissa barbecue duck, artichoke spanakopita, and a seven-layer hummus served with falafel crackers. Just leave room for off-menu dishes, like the acclaimed Turkish fried chicken, that are provided to diners via roving trays. (249 Pearl St.)
21. Spoke Wine Bar
This intimate neighborhood wine bar serves a small menu of thoughtful small plates like buffalo skate wings, lamb tartare, and spicy asparagus with smoked mussel aioli. Complimenting the edible fare is a list of 50 wines by the glass and a cocktail menu that makes great use of sherry and vermouth. (89 Holland St.)
22. Tasting Counter
Tucked away within the mammoth Aeronaut Brewery, Tasting Counter is a 20-seat oasis with ticketed, nine-course dinners around an open kitchen. For a lighter-on-the-wallet option, attend one of the ticketed three-course lunches, or drop by between 10 p.m. and 1 a.m. Wednesdays through Saturdays, when Tasting Counter turns into a wine bar with $8 glasses of natural wine and $5 small plates. (14 Tyler St.)
23. Trina's Starlite Lounge
Funky cocktails, throwback diner decor, and cheap, stick-to-your-ribs grub like Ritz cracker mac 'n' cheese have earned this dimly lit Inman spot a loyal following (and a second location in Amesbury). It's also a hit with the industry crowd, thanks to its famed Sunday-to-Monday brunch that includes overstuffed breakfast sandwiches, house-made pop tarts, and gonzo drink specials. (3 Beacon St.)
Correction 

8/3/2018

: An earlier version of this article stated an incorrect address for Five Horses Tavern. Boston.com regrets the error.