Food
Another huge food hall is coming to Boston next year
The Financial District project is expected to open in mid-2019.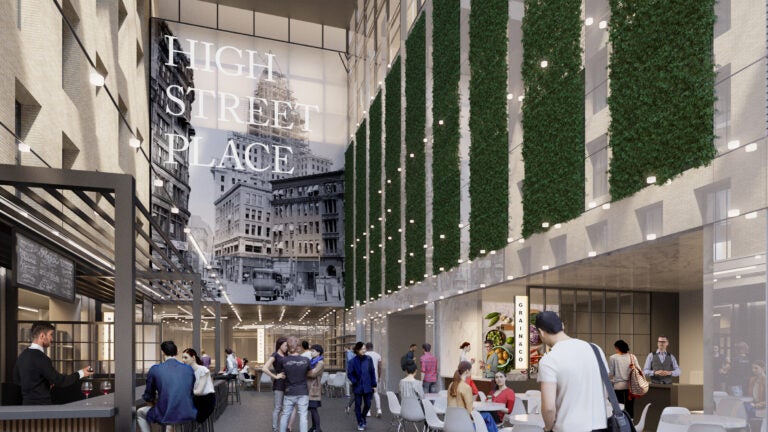 If you work or hang out in the Financial District, your dining options are about to grow a whole lot.
Next year, the area will become home to High Street Place, an 18,471-square-foot food hall that will unite the buildings of 160 Federal St. and 100 High St.
There will be 22 vendor spaces, approximately one-third of which have already been leased, according to a press release. High Street Place won't start releasing exactly what it will offer until the fall, but each vendor is expected to sell something different. High Street Place also plans on obtaining a liquor license so that guests can enjoy beer, wine, and cocktails.
"We seek out vendors that share our love of Boston and our focus on and passion for food, beverage and hospitality," Michael Morris, principal at Canadev, said in the release.
Between the art-deco Federal Street building and five-story atrium connecting it to High Street, the food hall will be able to offer communal seating for more than 500 guests. The space will also feature a "green-wall," a retractable projection screen, and area for live music.
The venture is a joint effort between Canadev, Rockhill Management, and Rockpoint Group, which have teamed up with a design team including the Greater Boston team at Gensler and Philadelphia's Groundswell Design Group.
Construction for the project is underway. High Street Place is slated to open mid-2019, as are most of its vendors. A majority of the stalls will be in operation Mondays through Thursdays from 11 a.m. to 8 p.m., Thursdays through Saturdays from 11 a.m. to 10 p.m., and Sundays from 11 a.m. to 7 p.m.