Food
Polar Seltzer is bringing back its mythical flavors
And it's adding two more.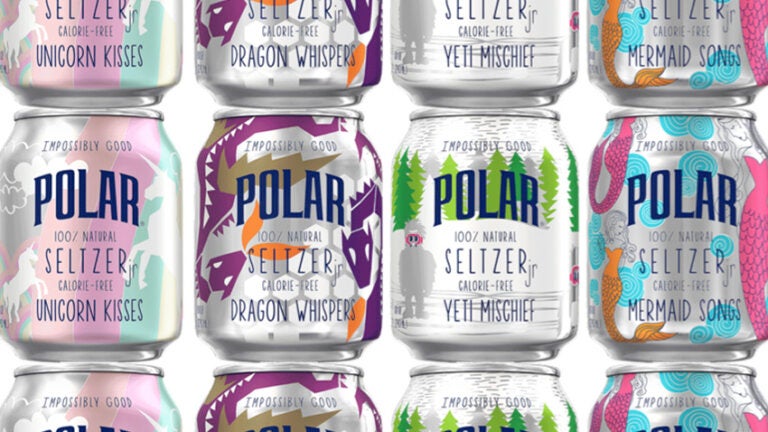 For an essential guide to the city, sign up for How to Boston, Boston.com's weekly culture and lifestyle newsletter.
You may remember the frenzy that Polar Selter's limited-edition Dragon Whispers, Mermaid Songs, Unicorn Kisses, and Yeti Mischief caused as locals hunted the bubbly beverages down last summer. Now the mythologically-inspired flavors are hitting stores "for keeps," according to an emailed announcement from the company.
What's more, the Worcester-based beverage company has added two brand-new flavors — Mighty Minotaur and Pixie Lights — to what it calls its "mythic menagerie." The six flavors are sold in six packs of 8-ounce junior cans.
We already know what the previously-released fantastical flavors taste like.
Here's what the company wrote on Mighty Minotaur's can: "Fearing only his own thirst, the mighty Minotaur hides deep within his labyrinth maze built solely from Polar Seltzer cans. His love of bubbles is matched only by his savage determination to steal yours. Drink quickly!"
Boston.com reporter Kevin Slane reported sweet citrus and tangerine notes, reminiscent of the orange pattern on the can.
As for Pixie Lights, the company wrote on the can, "Where there is sparkle there is twinkle, thanks to the endless work of the Pixie Army. With effervescence and speed, the Polar Pixies deliver light and tingle to every seltzer. Shhh… listen. You can hear them working."
Slane reported berry fruit flavoring.
According to the emailed announcement, "The first batch of Polar SeltzerJR's are heading to stores now and should be appearing in stores in the next few weeks."