Food
Bon Appetit names a tiny Cambridge spot one of the 10 best new restaurants in America
The hidden gem tucked away in the Porter Exchange Building caught the attention of the national food and drink magazine.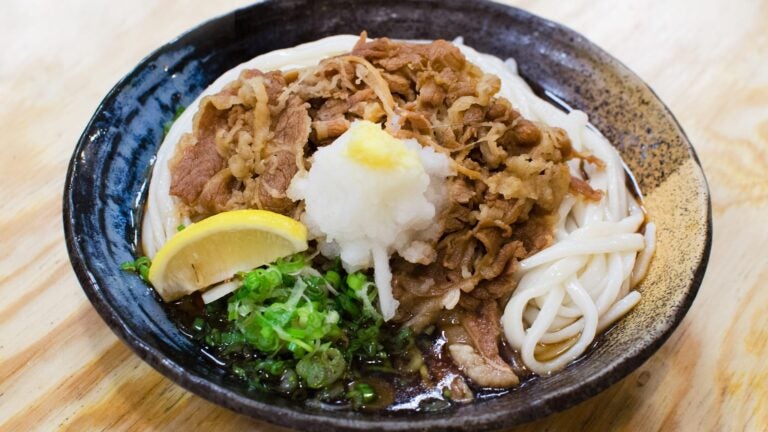 A tiny Cambridge noodle spot is one of the 10 best new restaurants in America, according to Bon Appetit.
On Tuesday morning, the food and drink magazine released the final edition of its 2018 "Hot 10," honoring America's best new restaurants. Yume Ga Arukara, a Porter Square eatery that opened in fall 2017 and specializes in savory beef udon bowls, nabbed the No. 8 spot on the list. The restaurant is down the street from another noodle spot with the same ownership team, popular ramen restaurant Yume Wo Katare.
Tucked in the back of the Porter Exchange Building alongside a number of small Asian eateries, Yume Ga Arukara only serves one dish on a regular basis: niku udon, or udon noodles beef. The sole variations offered on the dish are extra beef, extra noodles, double extra noodles, and no beef, and chef-owner Tsuyoshi Nishioka makes just 100 bowls per day.
Nishioka told Bon Appetit that he opened Yume Wo Katare because, at the time, ramen was "the only thing I craved." But when he tried the niku udon at a famous udon restaurant in Osaka, Japan, he became obsessed and almost closed Yume Wo Katare so he could focus all of his energy on making the perfect niku udon at Yume Ga Arukara.
"Whenever I make udon, I get this feeling, like when you find the person you like," Nishioka told Bon Appetit. "It's hard to say, but it just gives me goose bumps. Every day I eat about four bowls of niku udon. Minimum. I'm always thinking about how to create the best tasting version. And every day it gets better, so I never get tired of it."
Yume Ga Arukara reacted to the Hot 10 news with an Instagram post Tuesday morning.
"Congrats to all of the 2018 Hot 10!" the restaurant wrote in its caption. "We'll keep working hard to show Udon to the world!"
The Cambridge spot wasn't the only New England restaurant to make Bon Appetit's Hot 10. Drifters Wife, a wine bar serving New American tapas in Portland, Maine, earned the No. 9 ranking, with the magazine declaring, "There's no better place on the planet to drink natural wine than right here." In fact, Bon Appetit named the entire city of Portland its 2018 Restaurant City of the Year last week.
Two New England restaurants that were among the 50 finalists for the Hot 10 list that didn't make this last cut were Pammy's, a family-owned spot in between Harvard Square and Central Square in Cambridge that offers a variety of house-made pastas, and Rose Foods, a modern Jewish deli in Portland renowned for its bagels.