Food
Tiffani Faison's newest restaurant opens in the Fenway this week
The James Beard Award-nominated chef wants her adult snack bar to be your gastronomical "hit-and-run."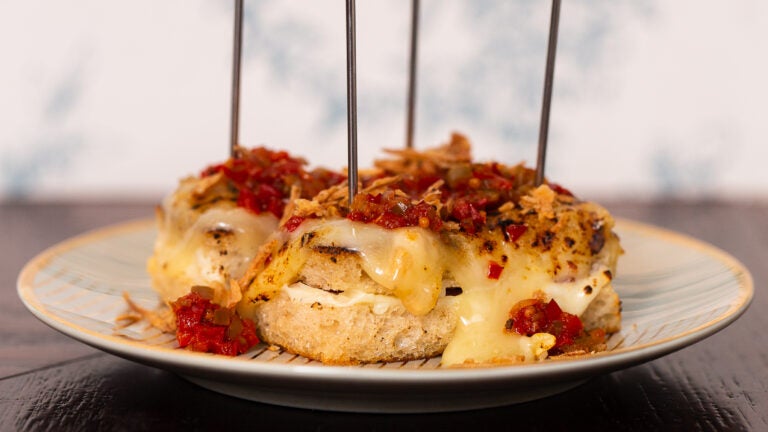 When you enter the newest joint from "Top Chef" alum Tiffani Faison and her wife and business partner, Kelly Walsh, you can expect small bites, inventive libations, and playful decor. Just don't expect to grab a seat.
"It's really tiny," Faison said. "If we put stools in it, it would feel really serious in a way that we didn't want it to feel. We wanted it to feel like your hit-and-run."
Fool's Errand, billed as an adult snack bar, is slated to officially open Thursday smack-dab between the James Beard Award-nominated chef's two other Boston projects, barbecue spot Sweet Cheeks and Asian-fusion restaurant Tiger Mama, on Boylston Street in the Fenway. And yes, it's standing room only. At 400 square feet, the space accommodates 20 to 30 people at a time. By comparison, Sweet Cheeks and Tiger Mama provide interior seating for 106 and 140, respectively.
"We wanted it to feel like a place that you could just pop into, grab a drink, a couple snacks, and then go somewhere else, or pop by on the way home," Faison said of Fool's Errand.
The venture is inspired by Faison's fond memories of tapas bars around Paris and Spain. The first section of the menu is full of what Faison calls "luxe tea sandwiches" and croquettes such as a ham and cheese with raclette and ham cradle scraps.
The remaining offerings are split into two: "Bites & Snacks" and "Ocean Friends." However, Faison said that "even the larger items are pretty tiny."
Bites & Snacks offerings allow guests to mix and match American, French, Creole, and Southern tastes, all presented on mismatched plates of gold and crystal. These include sour cream & Royal Imperial caviar, ham & jam on Ritz, and artichokes in a jar. Items in the Ocean Friends section include New School Caviar Service — a pot of caviar topped with sour cream and served with a bag of Lays, as well as chilled mussels with fennel, burnt lemon, and champagne vinaigrette.
Beverage and Hospitality Director Daniel Motsinger is behind the drink menu. Guests can order cocktails such as Heart of an Artichoke, a dressed-up, citrusy martini garnished with a house-preserved artichoke. The cocktails are joined by a rotating list of wines, fortified wines, and aperitifs, which are sourced from all over the world. Fool's Errand will feature crystal glassware Faison and her mother collected in Germany during the 1980s, as well as wine glasses Faison said are similar to the shape of a sifter.
"We just want to take this idea of any intimidation or pomp and circumstance with wine away from it so it's really fun," she said.
Although the definition of a "fool's errand" is an undertaking that's less than likely to succeed, Faison hopes that her restaurant's charm and small square footage will lend itself to a friendly environment between guests.
"It's such a different concept in the city — asking people to stand, asking Bostonians to open up and get to know their neighbor, asking people to pass the butter between them," Faison said of the snack bar's name. "We're making fun of ourselves before anyone else can."
Fool's Errand; 1377 Boylston St.; 5 p.m.-1 a.m. daily; foolserrandboston.com