Food
25 dishes every Bostonian must eat
We asked chefs, athletes, TV anchors, and more for their favorite meals in the entire city.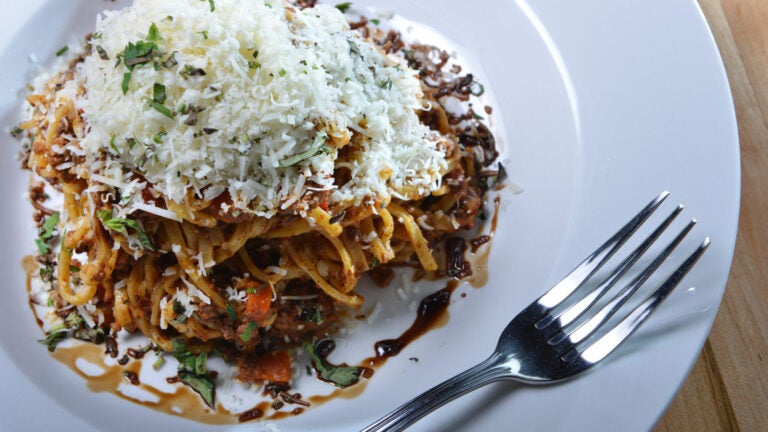 Imagine you had one night left in Boston before you had to leave the city forever. It's a terrible thought, we know, but just go with it. In this nightmare scenario, what meal in the Boston area would be your last?
What dish do you find yourself coming back to again and again, telling every one of your friends that they absolutely must try it?
We reached out to prominent Bostonians, ranging from acclaimed chefs to TV anchors to athletes, and asked them to name that one special dish they think every Bostonian must eat. Here are their answers.
Every Bostonian must eat…
1. The bison Bolognese at The Abbey
"They stack fresh linguine with a beautiful and delicious pile of Romano cheese and bison meat. It's amazing and it gets my vote as the best Bolognese in the city." —Tom O'Keefe, founder of Boston Tweet
2. The chicken wings at The Smoke Shop BBQ
"Their chicken wings are the best wings I've ever had. They are smoked and then fried super crispy. When I eat them, I literally have a tear running down my face, they're so good." —Jason Santos, chef at Abby Lane, Buttermilk and Bourbon, and Citrus and Salt
3. The butter cake with vanilla ice cream and homemade whipped cream at Mastro's Ocean Club
"Best dessert on the planet." —Matthew Slater, New England Patriots special teamer
4. A Fenway Frank at Fenway Park
"One billion percent, a Fenway Frank with the spicy mustard — mustard underneath the hot dog and mustard all over the top of it. As much mustard as possible. And only after the third inning, because you need to settle in a little bit. I prefer two, not just one, because then you really get the flavor of the hot dog. And then once you really get into it, you don't want it to be over, so you hit the second one. I've been eating them there since I was a little kid, and there's really nothing better." —Maria Stephanos, WCVB anchor
5. The $1 oysters at Russell House Tavern
"They do it every night after 11 o'clock. It's an awesome variety of oysters. It's just the perfect thing. If you are in the restaurant industry and you work late, you can go there every night of the week and get your oysters, and they're so fresh and great." —Greg Coote, beverage director at City Tap House
6. The spicy tuna salad with cucumber wrap specialty hand roll at Oishii
"It's filled with a spicy tuna tartare, and then they top it with a shower of crispy, crunchy tempura bits. You just sort of pick it up with your hands and eat it like you're eating an ice cream cone, and it's so delicious." —Michael Schlow, chef at Tico Boston and Alta Strada
7. Tagliatelle al tartufo at Tuscan Kitchen
"They do house-made pasta that's cooked tableside in a two-year-aged Parmigiano-Reggiano wheel. If you know anything about that cheese, the more it ages, the more incredible it tastes. They come over to you, make the pasta in a bowl for you, and then put the pasta in the Parmigiano-Reggiano, and top it with truffles. … It's the most mouth-watering, decadent dish I've had, and I think everyone in Boston should try it." —Jenny Johnson, co-host of "Dining Playbook"
8. The watercress and farro salad at Flour Bakery + Cafe
"It is divine. I typically want a salad with protein on it, but the radish, pickled beets, goat cheese, candied pistachio, and crouton elements made for a hearty salad with an awesome mix of textures and flavors." —Christine Koh, founder and editor of Boston Mamas
9. The green bean noodles at Sichuan Gourmet
"It has some of the most tongue-tingling, burn-your-face-off Sichuan food in the area, and the service is so warm and kind. Green bean noodles are my favorite — they're actually green bean powder, boiled to form a shimmering jelly. They're doused in hot oil and tossed with peanuts — crunchy, spicy, addictive." —Kara Baskin, Boston Globe food reporter  
10. The Sicilian slices at Galleria Umberto
"Umberto's is old Boston at its finest, and for cheap eats, there is nothing like waiting in line with locals for a slice or two of some of the greatest Sicilian pizza in the Boston area, if not the entire country." —Marc Hurwitz, founder of Boston's Hidden Restaurants
11. Doubles at Singh's Roti Shop
"It's like an international sloppy joe. It's a messy, messy dish. You eat it like a burger. Good luck. It doesn't stay together." —Tiffani Faison, chef at Fool's Errand, Sweet Cheeks, and Tiger Mama
12. A Greek salad at Esperia Grill
"Normally, I wouldn't say go eat a salad. But their salad dressing they make in-house is unique. It's absolutely delicious. Normally, I don't think most people would go to a restaurant for the salad dressing, but everyone goes to this restaurant for the Greek salad dressing." —Sarah Wade, chef at Lulu's Allston
13. The crab and red lentil kibbeh at Sarma
"A mainstay on the menu, I love this dish. The green papaya and coconut curry hit all my favorite notes." —Karen Akunowicz, chef at the forthcoming Fox and the Knife
14. The fried shrimp at Momi Nonmi
"I can't have gluten, so there's a lot of things I don't get to have anymore that I really miss. All of the fried stuff there is tempura-style, so…it's gluten-free. The fried shrimp there is a dish I literally dream about." —Jackson Cannon, bar director at Eastern Standard, The Hawthorne, and Island Creek Oyster Bar
15. The wok-charred udon noodles at Myers and Chang
"It's like a fantastic sort of Asian chicken noodle soup. It's a comfort food." —Jody Adams, chef at Porto, Saloniki, and Trade
16. The Fiesta bowl at Ruta Juice Bar
"The smoothies are [also] great and it's tasty and the type of food I'm looking for." —Rob Gronkowski, New England Patriots tight end
17. The mini juicy dumplings with pork at Gourmet Dumpling House
"Dumplings are just one of my favorite things to eat. There's just something so satisfying about the delicious pork tender with the juice and the ginger inside. It's something I always love." —Anna Perna, chef at Blackbird Doughnuts
18. The fish and chips at The Industry
"There's a restaurant in Adams Village in Dorchester. It actually has one of the liquor licenses that was made possible through my efforts with the council and the mayor and the legislature to reform the state's liquor license laws. This restaurant, The Industry, is incredible. The ambiance, the customer service, the culinary offerings. … Try the fish and chips. It's up to [you] if [you] want to do truffle fries or steak fries. Either way, you can't lose." —Ayanna Pressley, Boston city councilor and Democratic nominee for the 7th Congressional District
19. The lobster roll at Neptune Oyster
"It's a classic dish, and hits all my requirements: giant, tasty, sublime, filling." —Andy Husbands, chef at The Smoke Shop BBQ
20. The lobster ravioli at Rino's Place
"Their ravioli is not like the average lobster ravioli, with barely any shredded lobster meat.  It has big chunks of lobster, the tomato cream sauce with brandy is delicious, and it's a huge portion. It can't be beat." —Mike Wyatt, beverage director at Ward 8 and Bodega
21. The pan-roasted lobster from Summer Shack
"Jasper White literally wrote the book on New England lobster, and this is his signature dish. The lobster is roasted in its own juices right in the pan with the addition of bourbon, chives, and lots of butter. This was one of Julia Child's favorite dishes, and probably the dish I'd request for my last meal on Earth." —Dan Andelman, host of "Phantom Gourmet"
22. The hot buttered lobster roll at Row 34 (Apparently lobster is popular around these parts!)
"It's insanely awesome. They sell it cold as well. But the hot butter is definitely the way to go. They don't try to win you over by trying to give you some outlandishly large portion. Some restaurants try to win you over with pure bulk. It's so good. The hot butter makes it." —David Wade, WBZ-TV anchor
23. Omakase at Cafe Sushi
"It's not a dish; rather, it's the chef's tasting menu. Seizi and Kenshi Imura are the chef/owners of Cafe Sushi, which has been in their family since the 1980s. … I think it's fair to call it an 'institution.' It's not your Boston lobster roll or clam chowdah, but it's certainly a 'must' on my list for anyone visiting town." —Tracy Chang, chef at PAGU
24. The bone-in ribeye at Davio's Steakhouse
"I took my girlfriend and my family just the other day to Davio's, and I was reminded that I love the bone-in ribeye, and that I could have it every day. It's just ridiculous. I don't know what [Davio's Boston executive chef Eric Swartz] does to it, I don't know how he ages it, I don't know how he flavors it, but it's absolutely to-die-for." —Billy Costa, co-host of "Dining Playbook"
25. The chicken sandwich from Little Donkey
"In the Harvard area, there's this little spot called Giulia's. But for my favorite dish, I'm going to have to go with the chicken sandwich from Little Donkey. It is amazing." —Dwayne Allen, New England Patriots tight end
Responses have been edited for clarity and grammar.