Food
50 places in Boston to get good food fast
The city is full of options to keep you going on days when cooking seems absolutely impossible.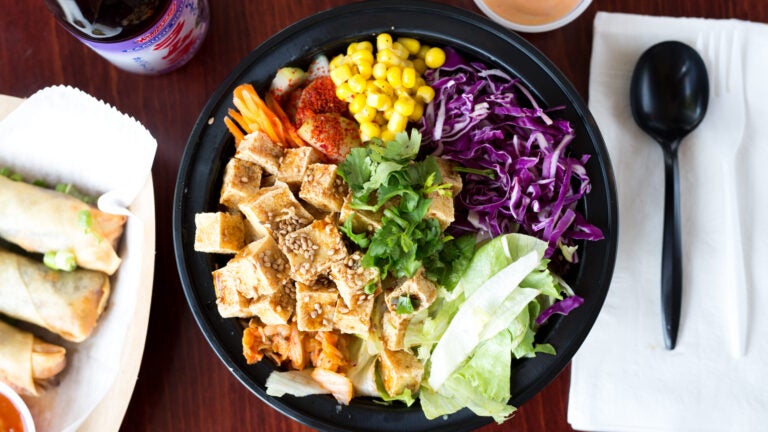 Say you're rushing to South Station to catch a train, or you had the most exhausting day at work and just can't imagine cooking dinner. It can be tempting to scarf down an energy bar and call it dinner.
But in a city with as many fast-casual options as Boston has, there's no need. Whether you're craving a California roll or you're really just in the mood for a big slice of cheese pizza, here are the best options in the area for grabbing good food in no time.
1. Al's Café
At Al's, a "small" sub is a hefty portion of slow-cooked roast beef or honey ham that can take you through most of a busy workday, and a "large" is probably enough to share. (112 State St., Boston; 179 Essex St., Boston; 600 Tech Square, Cambridge)
2. Anna's Taqueria
The staff at Anna's makes quick business of working its way through lines at the busiest times of the day, which means you can grab an al pastor burrito or a Mexican bowl with tender grilled chicken even if you only have 15 minutes to spare. (Multiple locations in Brookline, Boston, Cambridge, Newton, and Somerville)
3. Armando's Pizza and Subs
It's no secret that Armando's does the classic pizza pie better than most places in Cambridge. Its thin, crispy crust and sauce-to-topping ratio is hard to come by these days. (163 Huron Ave., Cambridge)
4. Avana Sushi
Tucked inside a food court in Chinatown, Avana's walls are plastered with Styrofoam plates bearing illustrations from past guests. (A second restaurant now stands in Downtown Crossing, as well.) Expect very good basics like salmon, tuna, and California rolls. (42 Beach St., Boston; 58 Franklin St., Boston)
5. Bess's Cafe
At Bess's Cafe in Brookline, the only thing that'll hold you back from a speedy lunch or dinner order is decision paralysis. The chicken and Napa cabbage are satisfying in a way that non-pork dumplings often are not, and the spicy shredded beef salad is just the right amount of protein for a light meal. (224 Cypress St. Brookline)
6. Boloco
If you're in the mood for a burrito, you could go to Chipotle or Qdoba, but a true Bostonian has a real soft spot for Boloco. The Bangkok Thai is for peanut sauce fanatics, and the Late November (available in the fall) is a Thanksgiving sandwich taken to the next level. Polish it off with a Boloco classic: the Nutella milkshake. (Multiple locations in Boston)
7. Bon Me
Bon Me is where vegetarian, vegan, gluten-free, and dairy-free options are all possible, and actually taste good. The miso-braised pulled pork is a staple for classic banh mi fans, but the soy and paprika tofu is a fantastic substitute that won't leave you hungry. Track down a Bon Me food truck on a hot day and snag a cup of the thai basil limeade. (Multiple locations in Boston and Cambridge)
8. The Chicken and Rice Guys
Contrary to the name, you can actually find tofu and lamb and beef at The Chicken and Rice Guys. That said, it's really all about the rice, which is heavily seasoned with just the right amount of spice mixed in. Throw some of the mint, cilantro, and jalepeño sauce on top for a satisfying lunch. (85 Bedford St., Boston; 280 Washington St., Boston; 64 Salem St., Medford)
9. Clover Food Lab
Clover is famous for making meatless alternatives fun for carnivores and vegetarians alike (exhibits A, B, and C: the barbecue seitan sandwich, the famous Impossible meatballs, and the Mayor Menino soy BLT). Almost everything is less than $10, and you can easily throw together a filling meal out of a combination of a few sides, like the cucumber, vidalia onion, and dill salad, or the falafel. (Multiple locations in Boston and Cambridge)
10. Compliments Food Co.
This family-run business is food truck only, but once you track it online, you'll be able to enjoy the tuna melt on fresh sourdough and fried cauliflower bites. (Track the food truck)
11. Dado Tea
The accommodating menu makes Dado optimal for vegans, vegetarians, and gluten-free patrons. On a cold winter day, order the spicy dado noodle soup with mushrooms and noodles. Any of the sandwiches or wraps work well on the go. (50 Church St., Cambridge; 955 Massachusetts Ave., Cambridge)
12. Darwin's Ltd.
Even if you've lived here for years, you can probably find a Darwin's sandwich you haven't tried yet. Go for the Rindge for a filling vegetarian option packed full of sprouts, apple, and hummus, or the Magazine for a decadent roast beef, sundried tomato-pesto-mayonnaise delight. (313 Massachusetts Ave., Cambridge; 148 Mt. Auburn St., Cambridge; 1629 Cambridge St., Cambridge)
13. Dave's Fresh Pasta
Dave's has generous samples of tapenades and spreads in-house, a staff willing to help with wine selection, and fresh pasta to pick up for dinner. But when you want good food fast, opt for the amazing deli sandwiches for lunch. (81 Holland St., Somerville)
14. El Pelon Taqueria
You can get excellent burritos and tacos at El Pelon, but the biggest draws have to be the taquitos with shredded beef and the carnitas enchiladas coated in cheese and crema. Also grab a bag or three of the chips and guacamole — more if you intend to share. (2197 Commonwealth Ave., Boston; 92 Peterborough St., Boston)
15. Esperia Grill
At Esperia, there's rarely a wait, but that's not because the food isn't worth lining up for. Try the lamb kabob on a Greek salad or the orzo with chicken. Your food will be ready quicker than you expect, and a welcome change if you've been eating one too many sandwiches for dinner or lunch. (344 Washington St., Brighton)
16. Eventide Fenway
Boston's fast-casual offshoot of the Portland cult-classic oyster joint offers a "greatest hits" version of the original menu. Highlights include beautifully Instagrammable crudos, the famously addicting brown butter lobster roll, and the fried chicken katsu sandwich. (1321 Boylston St., Boston)
17. Flour Bakery + Cafe
Chef, owner, and James Beard Award winner Joanne Chang is a household name in this city, and so are Flour's sticky buns. For lunch, the roast beef sandwich covered in crispy onions and the watercress and farro grain bowl are can't-miss options. (Multiple locations in Boston and Cambridge)
18. Garlic 'n Lemons
At fast-casual Garlic 'n Lemons, try the spicy beef shawarma for an extra kick (when they say spicy, they mean spicy), or the kefta burger, if for nothing else but a generous cut of homemade halloumi cheese. (133 Harvard Ave., Allston)
19. Grainmaker
Attention, everyone who hasn't tried the kale and pork meatballs over cauliflower rice at Grainmaker. Mindful eating is at the core of this fast-casual spot's ethos, but not at the cost of tastiness. For a midday snack, order the plantain chips with thai guacamole or mango salsa. (91 Summer St., Boston)
20. Gre.Co
After a long day of shopping on Newbury Street, tuck into the classic beef bifteki with spicy whipped feta or the classic lamb or chicken gyro at Gre.Co. For dessert, pick up an order of Loukoumades (fried Greek street doughnuts). (225 Newbury St., Boston)
21. Hi-Rise Bread Company
If the smell of freshly baked bread doesn't lure you into Hi-Rise, the kale salad with buttermilk dressing will. (208 Concord Ave., Cambridge; 1663 Massachusetts Ave., Cambridge)
22. Inna's Kitchen
A tiny stall tucked deep inside the Boston Public Market, Inna's is where locals who know what's what go for hummus and falafel pockets for $8.50. Hopping on the shakshuka trend? Give the popular Middle Eastern egg dish a try at Inna's, as well. (100 Hanover St., Boston)
23. Jim's Deli and Restaurant
Beloved by students and locals alike, the surprisingly large menu has everything from omelets to grilled pork chops. (371 Washington St., Brighton)
24. Lemon Thai Cuisine
Sometimes the night just calls for some heavily breaded, crispy chicken on top of chewy noodles. That's when you request crispy chicken pad thai at Lemon Thai Cuisine, which runs a very busy delivery business, especially on weekends. (215 Highland Ave., Somerville)
25. Life Alive
When you feel like you've gone one too many days without eating a vegetable, head to Life Alive for a wrap or grain bowl. In Cambridge, you can even get a "demi" portion of anything on the menu if you're feeling peckish but don't want to commit to a full meal, or a smoothie, like the Love Alive with blueberries, strawberries, and dates. (888 Commonwealth Ave., Brookline; 765 Massachusetts Avenue, Cambridge)
26. Manoa Poké Shop
At this Beacon Street poké shop, the Ahi Shoyu and Salmon Shoyu are classics, and if you're not into seafood, you can pair the fried chicken plate with a house side of rainbow slaw. (300 Beacon St., Somerville)
27. Mei Mei
One of the city's most beloved food trucks (which became a brick-and-mortar restaurant, too), Mei Mei makes magic with scallion pancakes, like through the Double Awesome sandwich, which has two oozy eggs and green pesto, and the Gabby, with black bean spread and maple-roasted sweet potato — perfect for the fall. (506 Park Dr., Boston)
28. Olitoki
If you've ever wanted to pack a ton of kimchi into a burrito or a quesadilla, Olitoki is for you. The fried tofu "wings" may sound more healthy than indulgent, but if you order them dripping in house Olitoki sauce, you'll forget about what the standard version tastes like. (76 Brighton Ave., Allston)
29. Our Fathers
The takeout shop at Our Fathers serves, arguably, one of the best pastrami sandwiches on the coast, and you can give it a try before you get into fights with New Yorkers about it. The matzo ball soup comes in two sizes to-go, so grab the larger of the two (obviously) and get ready for a night in. (197 North Harvard St., Allston)
30. Piperi Mediterranean Grill
Piperi's mezze rice plates impact the "fast-casual bowls" game for the better. You can fill up with creative toppings like Moroccan carrots and white bean and kale with green harissa. (1 Beacon St., Boston)
31. Pita Cambridge
Pita Cambridge churns out classic lamb and chicken, ground beef shish kabob plates, and a grape leaves salad filling enough to change any negative feelings you previously held toward salad. Make sure you opt for extra tahini sauce — it makes everything good. (12 Springfield St., Cambridge)
32. Punjabi Dhaba
If you're looking to experiment beyond chicken tikka masala, look no further than Indian roadside café Punjabi Dhaba. The roti is just as tasty toasted the next morning for breakfast, and the tender, modestly spiced lamb biryani, is lamb good enough for people who aren't used to ordering lamb. Make sure you arrive with cash (or order online), as this spot doesn't accept credit cards. (225 Hampshire St., Cambridge)
33. Puritan Trading Company
If you don't have time to stop by Puritan and Company's Inman Square homebase for classic New England fare, download delivery app Caviar and order gourmet dishes to your front door. The street food-style seared udon noodles with chicken and cauliflower and the Jonah crab rangoons travel especially well, but the entire menu is optimized for delivery. (Only available via Caviar)
34. The Real Deal
It's hard to pin down the best sandwich at The Real Deal, but if you can only try one (and you're really hungry), go for the Texan. With a chicken cutlet, bacon, and more than enough cheese, it's the kind of meal that'll make you feel silly for ever having paid $14 for an avocado toast someplace trendier. (1882 Centre St., West Roxbury; 736 Centre St., Jamaica Plain)
35. Red's Best
Bostonians take their clam chowders and lobster rolls seriously, and so does Red's Best, located inside the Boston Public Market. The staff is always willing to talk about how their catch is sustainably sourced from New England fishermen, and you might just walk away with some bluefish or cod to try whipping up at home once you've grabbed a bite to eat from the market. (100 Hanover St., Boston)
36. Rhythm 'n Wraps
Catch the Rhythm 'n Wraps food truck (or stop by the restaurant in Packard's Corner)? The smoked tempeh bacon in the Wrappers Delight wrap is crunchy and flavorful enough that you'll think it's the real deal, and the trucks' curried lentils in the Tadka Dahl Stir Plate are the epitome of healthy comfort food. (1096 Commonwealth Ave., Boston)
37. Roast Beast
Arrive hungry, leave stuffed — that's the deal at Roast Beast. A "mega" sandwich (don't take the name lightly) is $11. Go for the jerk turkey on an onion roll, and don't skimp on the Secret Beast sauce. (1080 Commonwealth Ave., Boston)
38. Roxy's Grilled Cheese
Roxy's started off as a food truck and then developed a cult following, eventually opening two brick and mortar locations. For $5, you can get an ooey, gooey, melted cheese sandwich with Vermont cheddar, muenster, and fontina. For $3 in the colder months, you can nab roasted tomato soup. (485 Cambridge St., Allston; 292 Massachusetts Ave., Cambridge)
39. Ruckus
Chinatown restaurateur Brian Moy's fast-casual noodle joint is perfect for cold, winter nights when you don't have a ton of time to spare, but still want a dinner to brag about. The braised short rib is melt-in-your-mouth good, and the spicy miso broth has just the right amount of kick. (5 Tyler St., Boston)
40. Sabroso Taqueria
At Sabroso, the key to a filling meal is pairing an order of tacos and a small bowl of hearty chicken tortilla soup or chili. Also consider the tender, can't-miss carnitas. (2 Oliver St., Boston; 475 Revolution Dr., Somerville)
41. Saloniki
Jody Adams' Saloniki is all about the pita, whether you get a Niko wrap stuffed with chicken or a bowl with some pita on the side. Find yourself near a location at brunch time? Grab one of the Greek yogurts with fruit preserves for a treat. (4 Kilmarnock St., Boston; 181 Massachusetts Ave., Cambridge)
42. Saus
Fans of condiments will enjoy Saus, known for its fries and creative dipping sauces. The hot beer mustard mixes especially well with the truffle ketchup. The roasted garlic is heavy on the garlic, so make sure you don't have plans afterward. And Saus's veggie burger is complete with creamy scallion slaw and, of course, Secret Saus. (33 Union St., Boston)
43. Sofra Bakery and Cafe
Part of the same restaurant group as beloved Middle Eastern spots Oleana and Sarma, Sofra is a way to sample chef Ana Sortun's and pastry chef Maura Kilpatrick's creativity without a formal sit-down meal. Try a platter of five mezes for $9, and make sure to order the whipped feta cheese with sweet and hot peppers and stuffed grape leaves. (1 Belmont St., Cambridge)
44. Spike's Junkyard Dogs
Whatever you've ever wanted to put on a hot dog, from bacon to pizza sauce, those dreams can come true at Spike's. You'll also find pizzas, chicken sandwiches, and burgers. (108 Brighton Ave., Allston)
45. Tasty Burger
A sack of five Big Tasty burgers will run you roughly $31, and the Fenway and Harvard Square locations are open until at least 2 a.m. every day. (Harvard Square is open until 4 a.m. Thursdays through Saturdays.) Tasty Burger is there for you when you need it most — at the very end of a long night. (Multiple locations in Boston and Cambridge)
46. Tatte Bakery and Café
Most famous for picturesque pastries and halva bombs, Tatte is the kind of bakery where you can spend hours snacking, working, and people-watching. While founder Tzurit Or really shines when it comes to sweet treats, don't sleep on Tatte's BLAT sandwich, served on crispy challah bread, or the fattoush salad, with za'atar croutons and tons of feta cheese, or even a quick meal of shakshuka. (Multiple locations in Brookline, Boston, and Cambridge)
47. Tenoch Mexican
Go ahead and try more than one hefty taco at once. The slightly spicy carnitas also get a lot of well-deserved street cred. (3 Lewis St., Boston; 24 Riverside Ave., Medford; 382 Highville Ave., Somerville)
48. Whole Heart Provisions
Whole Heart is all about the vegetables — not just the kales and the cauliflowers of the world, but the beets and the cabbages. You can build your own bowl, or play it safe with mainstay options like the Miso Style with roasted broccoli and shaved Brussels sprouts and the Mission with shiitake mushrooms and tahini dressing. (487 Cambridge St., Allston; 298 Massachusetts Ave., Cambridge)
49. Zaftig's Delicatessen
Zaftig's is legendary among Brookline locals for its smoked fish and latkes, but the cheese blintzes and brisket deserve more than just an honorable mention. The place can get packed, so take advantage of the option to order online to keep your pick-up process as short as possible. (335 Harvard St., Brookline)
50. Zo Greek
Aside from the usual gyro and bowl topped with chicken and pork, Zo offers a comforting and rotating menu of soups, like lamb chili, veggie lentil, and creamy tomato. (92 State St., Boston; 3 Center Plaza, Boston; 355 Revolution Dr., Somerville)