Food
A South Boston savory pie shop just permanently shuttered
The owners of KO Catering and Pies are focusing on the Shipyard location.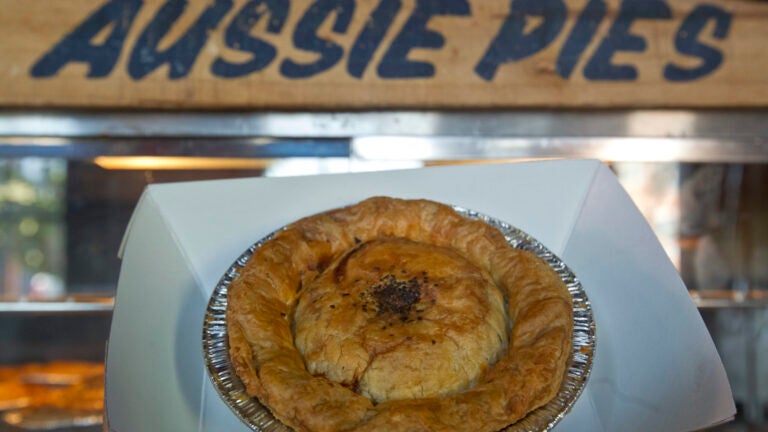 After shutting down for an "extended break" in April this year, popular Australian pie shop KO Catering and Pies officially closed its original South Boston location on Tuesday.
The Boston Harbor Shipyard location will remain open, as will the company's catering operations.
"[I]t is somewhat bittersweet to announce that we have sold our building on A street and will not be returning to our original home," owner Sam Jackson wrote in a Facebook post on Tuesday. "We cannot express our thanks and appreciation enough to all the incredible customers that we had over the past 8 years. Same for all the wonderful staff that helped make our little pie shop what it was. Southie certainly is a lot different to when we swung the doors open in 2010 and we are forever grateful for the opportunities that little shop allowed for us, including our expansion to the shipyard."
Jackson and his business partners bought the South Boston building and launched the shop eight years ago, selling meat and vegetable pies along with sausage rolls and salads. The concept took off, and they opened a second (and decidedly larger) location at the East Boston Shipyard in 2012.
The move to sell the Southie building was a business decision, Jackson told Boston magazine.
"I don't want anyone to feel sorry for us," he said. "We owned the building, we sold the building. It's nice to go out on our own terms."
According to the publication, the focus of KO Catering and Pies is now on the catering operation and the Shipyard outpost, which sits in a growing neighborhood that is also home to the new ICA Watershed museum. The Shipyard KO offers an expanded menu — fish and chips, spicy shrimp, chicken schnitzel — and a patio for eating Aussie pies al fresco.
KO Catering and Pies at the Shipyard, 256 Marginal St., Building 16; Wednesdays–Sundays from noon to 10 p.m.; kocateringandpies.com