Food
Better Sorts Social Club opens this week with wildly inventive cocktails
One of the city's best bartenders is behind the creative drink menu.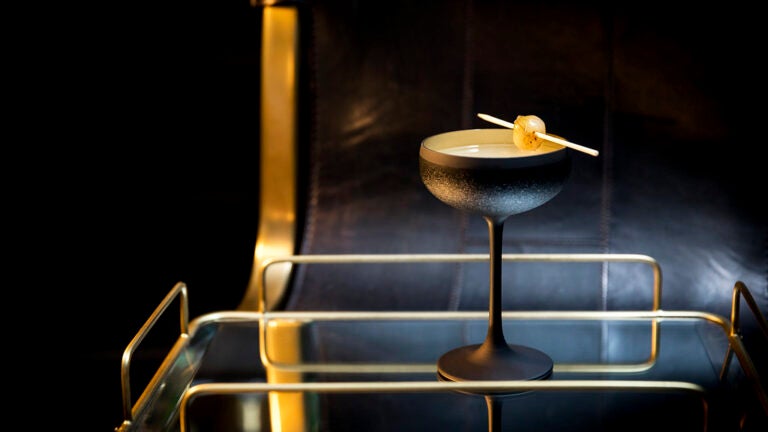 There's a certain stigma associated with most hotel bars. Typically pretentious and overpriced, the hotel bar is not a place where you can let your proverbial hair down. Naomi Levy, beverage director at Kimpton Nine Zero Hotel's new Better Sorts Social Club, is hoping to change that when the bar and lounge opens Thursday.
"We want to take care of our guests that are here in the hotel, but ultimately we're also here to serve the neighborhood," she said. "That's our goal: to be a place in Boston that people are excited to come to."
Housed on the second floor of the Downtown Crossing hotel, Better Sorts invites guests in through a separate street entrance marked by a neon sign depicting a pointer dog, which allows people to head directly into the bar without walking through the hotel lobby.
Outfitted by design firm PUNCH, the lounge is decorated with jewel-toned velvet seating arrangements for both small and large groups and anthropomorphic paintings that depict animals dressed in human attire.
But it's the wildly creative cocktail list designed by Levy that should draw the most attention.
On the menu, culinary-driven drinks go beyond the standard old-fashioned or Sazerac. There's the Caccio e Pepe Martini, a drink that Levy created while competing in a challenge during Diageo's World Class Competition this year. (Spoiler alert: She won that challenge.) Made with Ketel One vodka, gouda-infused Dolin dry vermouth, and black pepper pasta water syrup, it's meant to mimic the flavors of the classic Italian pasta dish.
"This is a really fun cocktail, " she said. "People have been really receptive to it. For me, the future of cocktails is going to skew more culinary. I think there are so many wonderful techniques that bartenders have started to borrow from their friends in the kitchen."
Levy, who got her start at the now-closed Hungry Mother in Cambridge before becoming bar manager at Eastern Standard Kitchen and Drinks in Kenmore Square, also came up with the cocktail Fifteen Minutes, which uses peanut Basil Hayden's bourbon, collards aquafaba, lemon stock, and hot pepper jelly, and was inspired by the Southern food served at Hungry Mother.
"When we think about these ingredients and how they function in a cocktail, we have to think a little bit more about what they bring to the table outside of just their actual flavors," she said. "Bitter greens are great in cocktails because…it's a beautiful balancing ingredient."
The cocktail menu is neatly divided by ingredients and eras: Pear, Squash, Greens, Classic, Modern, Contemporary. Small plates and breakfast items, courtesy of chef Steve Hamilton, will also be available, with dishes like fondue, fries, charcuterie plates, a signature burger, and a lobster roll on the menu. (The breakfast offerings are just as indulgent, including vanilla bean pancakes and a smoked salmon plate.)
Thirsty yet? Take a look at some of the Better Sorts cocktails that will be offered when the bar opens on Thursday:
Better Sorts Social Club, 90 Tremont St., Mondays from 6:30 a.m.–10 a.m., Tuesdays and Wednesdays from 6:30 a.m.–10 a.m. and from 5 p.m.–midnight, Thursdays and Fridays from 6:30 a.m.–10 a.m. and from 5 p.m.–2 a.m., Saturdays from 7 a.m.–noon and from 5 p.m.–2 a.m., Sundays from 7 a.m.–noon; bettersortsboston.com