Food
One of Boston's best bartenders just wants to make you happy
"When I'm behind the bar, I'm my best self," said Naomi Levy, whose Better Sorts Social Club opens inside the Kimpton Nine Zero Hotel this week.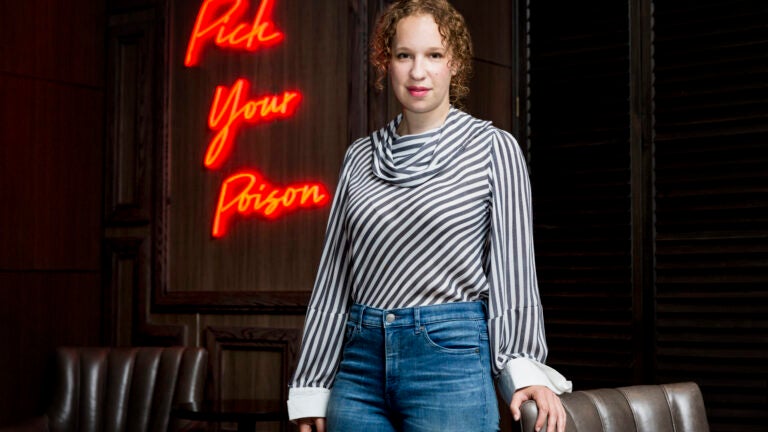 Naomi Levy has been crafting drinks for thirsty Bostonians her entire adult life, diving into the restaurant and bar industry at the age of 17 and joining the opening team at Hungry Mother in Cambridge back in 2008. In 2010, she started bartending at Eastern Standard Kitchen & Drinks, where she worked her way up to bar manager. That's when the accolades started coming in. During her tenure, the Kenmore Square restaurant and bar won Tales of the Cocktails' Best High Volume Cocktail Bar in 2012 and Best American Restaurant Bar in 2015, among other awards, while Levy also started winning individual competitions.
Now, the lauded bartender has moved on to a new project, one that looks to the kitchen for creative drinks.
At Better Sorts Social Club, Levy's new bar that opens inside the Kimpton Nine Zero Hotel on Thursday, the cocktails are inspired more by what she sees in the culinary world rather than a specific spirit or anything behind the bar. Drinks feature ingredients that one might find on a grocery list: kale, hot pepper jelly, gouda, squash.
"When I eat something really delicious, I think, How can I take these flavors and turn them into a cocktail?," Levy said. "And so when guests read my menu, it may seem a little wacky, but they've probably had those flavors together at one point or another."
Incorporating gouda into a cocktail is a bold move, and after working in the industry for 15 years, it would be natural to assume that Levy has had her fair share of epic miscalculations while experimenting with new drinks. But she can't put her finger on one — and she cops to knowing that makes her sound like a jerk.
"All 15 of those years I've been a vegetarian, which means a lot of the time I can't rely on tasting food to figure out what [the dish] might be like to explain to a guest," she said. "I've been forced to conceptualize it and listen to what other people are saying and to think about the ingredients and what it tastes like. There are always tweaks you're going to need to make for balance and things like that, but it's very rare that I'll just absolutely scrap a cocktail."
One of the ways she's been able to gauge the success of her creativity has been through competitions — many of which she has won (Boston Speed Rack in 2012, the National Bärenjäger Bartender Competition in 2013, and the national Tequila Herradura Legends Competition in 2017, among others). This year, she won a challenge during Diageo's World Class Competition with her Caccio e Pepe Martini — now on the menu at Better Sorts — but her days of crafting a drink in front of judges might be coming to a close.
"I've said that I'm retired. I just think it's time for me to take a step back from [competing] and make way for the next generation," she said, noting that she hopes to be a resource for other women bartenders who want to compete. "Boston has actually done really well in cocktail competitions. I still feel like we're the little guys, like we're over here saying, Hey, we're actually really awesome. But we do really well. I want that to continue."
In fact, Levy thinks that Boston's bar scene is not only among the best in the country, but the best in the world. There's still room for improvement, though. At her new bar, she's hoping to push the boundaries of what a cocktail can be without all the fanfare of a bougie lounge.
"We have a lot of great casual bars [in Boston]," she said, "but for the most part, you go right from casual to high end, and there's not much that's bridging the gap. That's what we're hoping to do."
After making a name for herself through craft cocktails, Levy's favorite part of her career hasn't been the competitions or the exciting travel or even making well-developed cocktails each night. It's the interactions with guests she loves the most, she said, and the part she gets to play in giving them an experience to remember.
"When I'm behind the bar, I'm my best self," she said. "I'm nicer, I'm smarter, I'm funnier. And by being my best self, that allows me to give the best service I can possibly give, and that's the part I love."