Food
What makes Joe Froggers a Marblehead taste tradition
The history behind the molasses-rum cookie.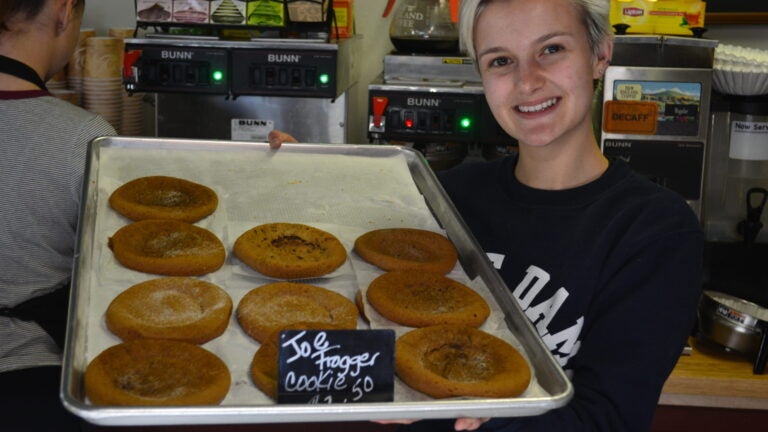 As a kid growing up in Salem a long time ago, I never heard of Joe Froggers. We ate hermits, cinnamon-spice cookies with raisins and walnuts, a New England classic.
Joe Froggers are strictly Marblehead. This molasses-rum cookie, purportedly invented in the early days of the nation by Lucretia Brown, was named for her husband, Joe, and the large frogs found in nearby Black Joe Pond. The legend says that Marblehead fishermen took the cookies with them when they went out on the water for days at a time.
Marbleheaders still enjoy the cookie today.
I discovered Joe Froggers and Joseph Brown by chance recently. Intrigued, I made my own batch of cookies, following a recipe I found online. But that wasn't enough. So, my wife, Carol, and I decided to visit Marblehead to taste this local treat and to learn about the story behind it.
Our quest started on busy Washington Street at the Muffin Shop, a brightly decorated restaurant where colorful murals showing sidewalk cafes from around the world adorn the walls. We ordered a Joe Frogger and split it. The cookie was enormous, moist, chewy, with a strong molasses flavor. Carol liked that it wasn't overly sweet, and I enjoyed the tangy ginger taste. By contrast, the cookies I made at home were drier, cakier — and definitely more rummy.
What's the secret for a perfect Joe Frogger?
"Good quality rum and light molasses,'' said Luisa Capasso, owner of the Muffin Shop. The wiggle room comes in with the spices: cloves, nutmeg, allspice, and ginger to give zest. "No dairy, no eggs,'' she added.
That means they practically never go stale. Which, I guess, is why they were so popular with fishermen.
The Joseph Brown story is as interesting as the Joe Frogger cookie. Brown was an African-American resident of Marblehead, who fought on the side of the patriots in the American Revolution. For years, he ran a tavern, now a private residence, on Gingerbread Hill, near the pond that now bears his name. His wife, Lucretia (Aunt Crese), is credited with inventing the molasses cookies that grew to be part of Marblehead lore. Both Joseph and Lucretia were born into slavery and later freed.
The Browns became part of Marblehead lore themselves, as the first stanza of this poem by Wallace D. Weed, from a 1923 publication, attests:
Old Black Joe lived on Gingerbread Hill,
At the end of Gingerbread Lane,
With his wife, Aunt Crese, he kept good cheer,
And welcomed all comers from far and near,
With 'lection cakes and home made beer,
Through election week, in May each year,
At his home on Gingerbread Lane.
The most tangible reminder of Joseph Brown in Marblehead is Black Joe Pond, located in the 43-acre Steer Swamp Conservation Area run by the Marblehead Conservancy. This green oasis in the north end of Marblehead not far from Little Harbor features woodland, meadows, a small area of marsh, and several well-marked trails. This is Joseph Brown's old neighborhood.
We arranged to meet Bob French, president of the Marblehead Conservancy, for a walking tour of Steer Swamp.
We entered the Conservation Area at the Barry Road entrance, near Black Joe Pond, a spring-fed basin created by dams in Joseph Brown's time. Standing at the western end, we could look across to the private house on Gingerbread Hill that once was Black Joe's Tavern. The water was glassy smooth, but I didn't see any frogs.
Along the aptly named Black Joe Trail, French led us among black walnuts, sassafras, maples and cranberry bushes, while red wing blackbirds sang in the brush. It is a lovely spot that allows you to forget you are in a densely packed town.
Long ago, this area was all pasture land, French said. The trees all around us were second growth, including invasive plants, such as multiflora rose and phragmite. Today, the Conservancy plants native species as part of their stewardship of the area.
We asked French about early Marbleheaders.
They were a tough lot, he said. "God-fearing, but not God-obeying,'' he said. "They were very independent.''
Many were fishermen going out to sea, never certain they were coming back, he added.
No wonder they needed cookies made with plenty of rum.
For some Marbleheaders of a certain age, Joe Froggers were a part of growing up.
"My mom liked to bake, and she made Joe Froggers,'' said lifelong resident and assistant harbormaster Bob Jackson.
Jackson said that they would often take Joe Froggers with them on his father's sailboat during racing Saturdays.
"Great memories of childhood,'' he said.
Today, Joe Froggers are for sale at the Muffin Shop, Becky's Gourmet on Bessom Street, and Marblehead Community Store on Beacon Street.
The Froggers at Becky's had a nice ginger zest and subtle molasses flavor. Becky's Froggers are baked on the premises, but they are prepared elsewhere, and the recipe is a secret.
Owner Maria Torres said Joe Froggers are "something truly Marblehead.''
Speaking of recipes, Muffin Shop owner Capasso will only say that she got her recipe long ago "from a lady,'' but that she has tweaked the recipe into her own, especially the proportion of spices. She makes hers from scratch in her shop, usually for special occasions. When they are soft and warm, she stamps them in the middle with the Muffin Shop stamp.
After our tour of Steer Swamp, we walked up Orne Street to the Old Burial Ground to pay our respects to the Browns. The top of the hill offers sweeping views of Marblehead Harbor and the sea. Here, we encountered a mystery. An 1873 reference listed Joseph and Lucretia as buried at Old Burial Ground. Today, a tombstone with Joseph Brown's name sits at the foot of the hill near Redd's Pond. But nothing for Lucretia.
We later learned there is a stone marker for Lucretia at Waterside Cemetery on West Shore Drive. Both markers are memorials. The truth is nobody really knows where they actually are buried.
Their memory lives on with a recipe of good rum, molasses, and lots of spices.