Food
'Stranger Things' is invading a Back Bay restaurant in time for Halloween
A Barb-themed drink and waffle sliders are on the menu.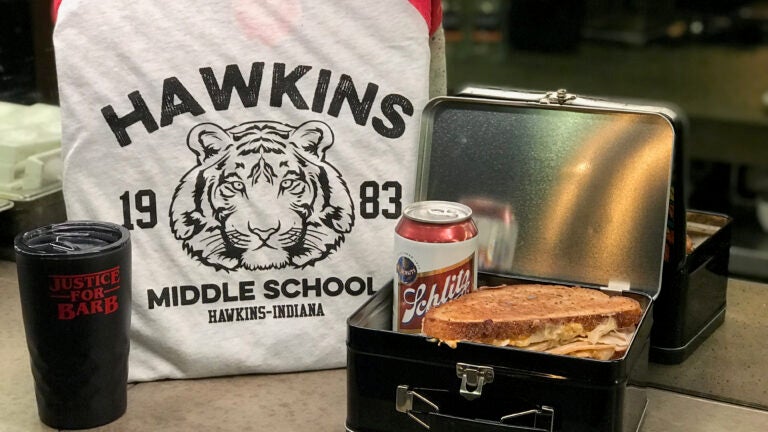 Ever since "Stranger Things" debuted on Netflix in the summer of 2016, bars and restaurants across the country have taken to transforming their spaces into the Upside Down for Halloween. Two years and two spooky seasons later, the trend is still going strong. Beginning on October 26, Precinct Kitchen + Bar in Back Bay will transform into Hawkins, Indiana — the small town setting of "Stranger Things" — with an '80s-themed pop-up bar that will continue until November 16.
Snacks will be inspired by some of the show's characters, so you'll find Dustin's Pizza, 11's Sliders (deep-fried chicken, malted waffle, maple-bourbon butter), and Dart's TV Dinner (bacon-wrapped meatloaf, mashed potatoes, green beans, and crispy onions) on the menu.
Though most of the "Stranger Things" kids are underage, Precinct's cocktails will be part of the fun, too, like the Justice for Barb: barrel-aged Laird's Applejack and Woodford Reserve bourbon, served in its very own Barb souvenir cup.
Along with '80s decor and classic video games, the pop-up, which runs nightly on the bar and patio, will include a DJ playing decade-appropriate tunes every Friday and Saturday. Costumes are highly encouraged, of course, and not just on Halloween night.
It's enough to keep us at least mildly satisfied until season three returns in summer 2019. So what are you going to be? A Demogorgon or an Eggo waffle?
Precinct Kitchen + Bar, 154 Berkeley St., Sundays–Thursdays from 4 p.m. to 11 p.m., Saturdays from 4 p.m.–midnight, precinctkitchenandbar.com.