Food
Chef Karen Akunowicz on what she'd eat 'if I could only have one sweet until I die'
Plus, the James Beard Award winner shares her favorite breakfast sandwich, karaoke spot, and her new tattoo.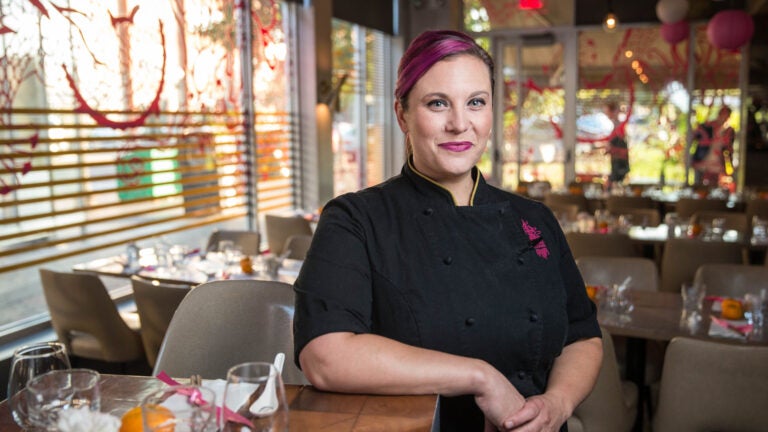 "It's been a wild ride," said chef Karen Akunowicz, reflecting on the past few months since she left Myers + Chang.
At the end of June, the James Beard Award winner and "Top Chef" alum bid farewell to the Asian-inspired small plates restaurant in the South End, where she had worked for seven years — gaining national acclaim and co-authoring "Myers + Chang at Home" with co-owner and chef Joanne Chang along the way — and began working on her new project, Fox and the Knife. Housed in the former Maiden space in South Boston, the Italian enoteca is slated to debut by the end of the year.
Opening a restaurant is a herculean feat, but Akunowicz credits her team for keeping her grounded.
"Alexandra Hayden is our general manager and wine director," Akunowicz said. "She makes every day just joyful and everything a lot easier on me. [Sous chef] Tessa Bristol — she's the person I always want by my side cooking."
She also expressed gratitude for the warm welcome she's received in South Boston.
"I hit the jackpot," she said. "I feel so, so lucky to have landed in such an amazing community."
The chef may be busy with her first solo project, but she knows how to make the most of this city. We chatted with Akunowicz about her favorite road trip destinations, tattoo parlor, and breakfast sandwich, plus the new wine bar she's fangirling over right now.
Wine and (grilled) cheese
"I love Haley.Henry's wine list," Akunowicz said of the vino at the Downtown Crossing, female-owned wine bar. "You walk in and feel enrobed in that space. There have been nights where I've walked in and [managing partner] Kristy [Weiss] is like, You need a grilled cheese and a glass of wine."
Italian vibes
Akunowicz mentioned restaurants in both Cambridge and the South End when it comes to evoking Italy in Boston: "I have a lot of places that bring Modena back for me. One is Giulia — Mike Pagliarini's food really brings me back to my travels in Italy. And Coppa really gives that enoteca vibe that I'm looking for."
Breakfast bliss
"City Feed and Supply has kept my head straight for 10-plus years now," she said of the Jamaica Plain grocery and cafe. "[I get] a B1 breakfast sandwich, on a baguette instead of brioche, and a cup of Mind, Body and Soul coffee. They're wonderful people, and I love their sandwiches and I love what they do. I'm just always so happy to be there."
Sugar rush
"I'm not a big sweets person, but if I could only have one sweet until I die, it would be the carrot cake at Flour Bakery + Cafe," she said of the local chain owned by her former partner Chang. "Oh my god. I can't even talk about it, it's so good."
Artichoke ink
"I get tattooed at Brilliance Tattoo, which is a very cool female-owned tattoo shop," she said. "The [artist] I was just working with is Dia Moeller. I got two different artichokes: One is an artichoke with a stem on it, the other is a scientific illustration of an artichoke."
Road tripping
"We go to Maine a lot — my in-laws had a vacation home there for a while. [My spouse, LJ Johnson,] and I got married in Boston. We didn't tell anyone," Akunowicz said. "Two days later we drove up to Maine, and we had a big wedding and celebrated at Eventide [Oyster Co. in Portland] with oysters and champagne." 
Bad day dive
"For a dive bar, I like Delux [Café] in the South End," Akunowicz said. "You walk in and immediately feel cozy. I love the lighting, ambiance, and I think the folks that work there are awesome. If I'm having a bad day, I go there."
Guest recs
"I always send out of town guests to Sarma," she said of the Somerville Middle Eastern restaurant. "It's one of my most favorite restaurants of all time. Everything that [Chef Cassie Piuma] makes is incredible."
Karaoke queen
"For karaoke, I've been going to Midway Cafe in Jamaica Plain for years. My going-away party at Myers + Chang was a karaoke party. I can't tell you what my songs are — I haven't had enough to drink yet," she joked.
Favorite new spot
"My favorite new place is Rebel Rebel in Somerville," Akunowicz said of another female-owned wine bar. "I'm very lucky that I worked with [owner] Lauren Friel at Oleana. What she's created is a really special little spot."