Food
Visit the Boston Public Market farmer's market at not two, but three locations this year
The offerings range from fresh produce to frozen custard.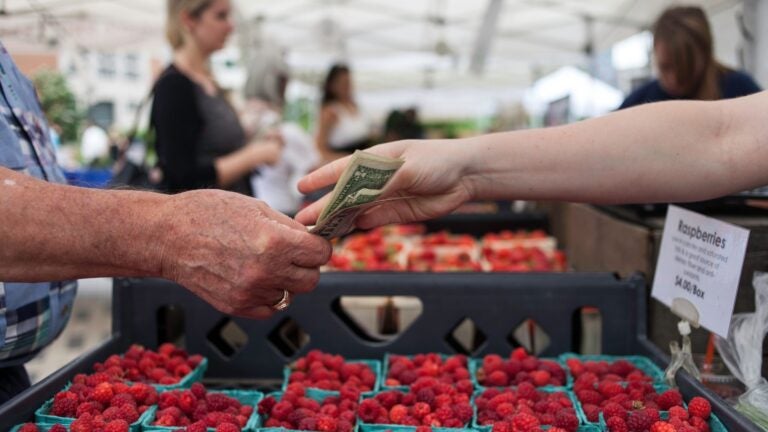 This season, the Boston Public Market is making it even easier to diversify your lunch options, curate a summertime picnic menu, or pick up a sweet treat for the afternoon slump.
In addition to the return of outdoor markets in the Seaport and at the Greenway's Dewey Square, the BPM will  add a new location on City Hall Plaza. Billed as an extension of the indoor year-round market on Hanover Street, these markets source from more than 20 New England vendors offering fresh produce, meat and poultry, seafood, bread and baked goods, flowers, and an assortment of specialty offerings ranging from frozen lemonade and hard cider to vegan Egyptian street food.
Both the Dewey Square market, opening May 14, and the City Hall Plaza location, opening May 21, will run every Tuesday and Thursday through Nov. 19 from 11:30 a.m. to 6:30 p.m. The Seaport edition, now on the Seaport Common, opens June 5 and will repeat each Wednesday through Oct. 30 from noon to 7 p.m.
"We are so grateful for the opportunity to work with The City of Boston, the Greenway Conservancy, and Boston Seaport to offer these farmers markets and continue our mission to nourish the community with local fresh food," Boston Public Market CEO Cheryl Cronin said. "We appreciate that our partners share our goal of supporting New England producers and can help us bridge the gap between these small food businesses and the Boston community."
Select vendors will accept SNAP/EBT and HIP, as well as WIC and Senior Farmers Market Nutrition Program coupons.