Food
40 Seaport restaurants for every occasion
From seafood stands to fine dining, the burgeoning Seaport/Fort Point area has it all.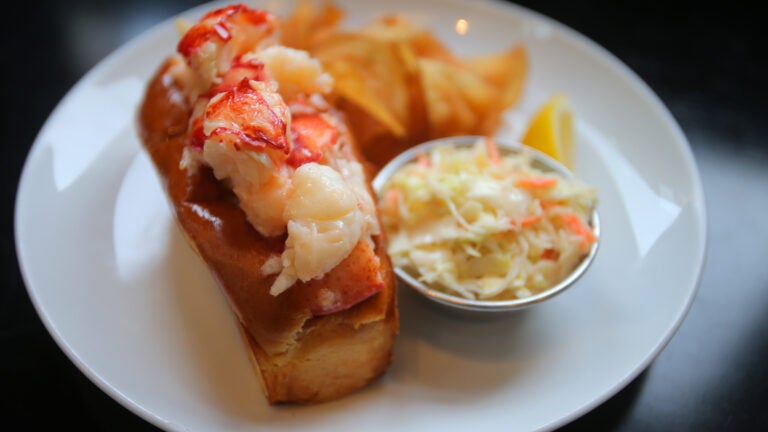 Parties, pizza, craft cocktails, fine dining — Boston's ever-growing Fort Point/Seaport District offers an abundance of food experiences in one concentrated area. The restaurant-heavy heavy-hitter has become the go-to destination for innovative fare. Here's where to go when light on cash, looking to destress after work, or celebrating something special.
Note: We're using Google Maps' boundaries to differentiate between the Seaport and Fort Point below, knowing full well that not everyone agrees. Just don't call the area SoBo.
For gathering with friends
The Barking Crab
This year-round waterfront watering hole is a Boston mainstay, with picnic tables, paper napkins, and bibs quite necessary for cracking open a lobster or two. Delightfully casual with a menu that's mostly New England seafood classics, the Barking Crab offers an atmosphere that is jovial and hoodie-friendly. And you're bound to make new friends — those long communal tables are often shared between parties. (88 Sleeper St., Seaport)
Empire
With seating for up to 600 imagined by Boston-based restaurant guru Peter Niemitz of Peter Niemitz Design Group, the delights of Southeast Asia come to life in a bar and lounge, salon, two large dining rooms, private dining and meeting rooms, and a large center kitchen. Despite that capacity, a line still snakes out the door on the weekends, as guests wait for large sushi rolls and drinks, like the four-serving Big Kahuna: Grey Goose, watermelon punch, mint, and ginger, all served in a watermelon rind. Don't miss all-you-can-eat sushi on Wednesdays, a bargain at $29 per person. (1 Marina Park Drive, Seaport)
Harpoon
Raising a glass and saying "prost" will come intuitively at Harpoon, where the German beer hall vibe is strong. Grab a seat at long picnic-like tables with some long tasting flights, or, if you already know what you like from this Boston-based company, grab a tall one. You can also choose from several varieties of dipping sauces for pretzels straight out of Oktoberfest, and buy collectible glasses and other branded swag. Tours are offered daily. (306 Northern Ave., Seaport)
Hopsters Brewing Company
This recent addition to Fort Point is already the toast of the town for its stellar 18 or so draft brews and a menu that goes far beyond pub grub. It's also a cool spot to hit up for larger friend gatherings, such as bachelor/bachelorette parties. Guests can learn to brew their own beer and then imbibe while watching the game on multiple TVs and taking in great views of the city's skyline. Bonuses: The kid-friendly space also has a value-priced children's menu — Hopsters is only a hop away from the Boston Children's Museum — and nine-to-fivers can take advantage of an express takeout lunch, with items ready in 10 minutes or less. (51 Sleeper St., Fort Point)
Kings Dining + Entertainment
Looking for an oversized 34-ounce beer and a huge TV to watch the Pats? Check out Kings' Draft Room, where made-from-scratch fare like the nacho platter, fried mac 'n' cheese bites, and pizzas are sure to please a crowd. Just grab extra napkins before you hit up the bowling lanes or BARcade, which has foosball, air hockey, and arcade joystick classics. (60 Seaport Blvd., Seaport)
Scorpion Bar
Pick your poison at Scorpion Bar, where the long drink list includes sangria, margaritas, and scorpion bowls, all served in mega sizes. Grab a bite beforehand from the Mexican-inspired menu: The "pupu" platter is great for sharing and includes a mini nacho order, taquitos, and chicken empanadas. (58 Seaport Blvd., Suite 200, Seaport)
Tony C's
Want to watch the game — or all of them? There are plenty to choose from at Tony C's, named after Sox legend Tony Conigliaro. You and your friends will get much more than a Fenway Frank with comfort food classics, homemade sauces, hand-cut french fries, a craft beer list, and American wines by the glass. (250 Northern Ave., Seaport)
Tuscan Kitchen
Sun-soaked and spacious at 14,000 square feet, the newest Tuscan outpost brings warm woods, white tablecloths, and plush seats and banquettes with enough room for the entire group to spread out. And spread out you may need to, because the menu here is meant for sharing, with crispy arancini rice balls, house-cured salumi with imported Italian cheeses, and Sunday family-style lunches that include house-made pasta with massive eight-ounce meatballs and spit-roasted sirloin. (64 Seaport Blvd., Seaport)
For top-notch drinks
Committee Ouzeri + Bar
Whether you're looking for standard cocktails like an old-fashioned, large-format fun like the Fountain of Youth with vodka and cassis (which serves four), or a spirit with a twist like Mediterranean ouzo, Committee serves up innovative fun in a sleek brick and metal space. Beverages are just right for pairing with Greek-inspired small plates like keftedakia chicken meatballs in a savory chickpea-olive stew, or at brunch, the shakshouka. There's a DJ for Sunday service, and during the summertime, a nice outdoor patio. (50 Northern Ave., Seaport)
City Tap House
More than 60 craft beers on draft await at City Tap House, including both local and hard-to-find international brews, alongside kombucha. The outdoor patio's a hit during the summer (especially for kids to run around while enjoying the under-12 menu), but in the winter, the pours pair perfectly with a comfort food-filled menu. Think: oven-roasted chicken, maple-brined pork chop, and brick-oven pizzas. (10 Boston Wharf Road, Fort Point)
Drink
If you like being surprised, it's worth raising a glass at Drink, where some of the city's most creative barkeeps let their talent shine. Tell them whether you prefer herbal, sweet, or citrus, and they'll whip up something from behind the industrial-chic wooden bar, chipping away at a 50-pound ice block, muddling greens, and all the while conversing with whomever's lucky enough to score a seat in the first-come, first-served space. Save room for the award-winning Colorado wagyu burger. (348 Congress St., Fort Point)
Lolita Cocina & Tequila Bar
Double the space means double the fun at Lolita, where the new sibling to this Back Bay favorite brings sexy back with dim lighting, red chandeliers, dark woods, and murals. The menu is bigger, too, thanks to greater kitchen space that serves up scrumptious house-made flour tortillas. Sip and savor almost three dozen varieties of oak-aged anejo, perfect for a post-dinner tipple, or go all in for curated tequila flights. (253 Summer St., Fort Point)
Rosa Mexicano
Looking for some of the Seaport's best people watching, with a side of guacamole? Rosa Mexicano occupies prime real estate with a seasonal wraparound porch in front of the cruise dock, so it's easy to spend a few hours here munching on tableside-smashed avocados, homemade chips, and one of more than a dozen oversized agave cocktails. Long tables in the bar area make this a great after-work space for the happy hour menu, but parents can also hang here thanks to a Young Amigos menu, high chairs, and crayons. (155 Seaport Blvd., Seaport)
Temazcal Tequila Cantina
Beach tacos get an elevated waterfront makeover at Temazcal, where 250 tequilas beckon novice sippers and aficionados alike. Admire the grand scope of the harbor with open-air views at the first of four Bay State locations (Seaport opened in 2011), or warm up in colder climes with anejo, adobo-braised short ribs, or earthy chicken mole. (250 Northern Ave., Seaport)
Trillium Fort Point
With a new beer garden and taproom coming to Fenway and an upcoming relocation and expansion of its Canton facility, Trillium continues to make major moves. Its latest project is Trillium Fort Point, a three-story beer garden and restaurant with a rooftop bar and lower-level patio. While the tap list changes regularly, expect to find a wide selection of their creative brews, from sour ales to hoppy IPAs. The cheese and charcuterie trays here provide a nice excuse to nosh between sips, particularly the sausage and wurst tray with kielbasa, cheddar bratwurst, and linguiça. (50 Thompson Place, Fort Point)
For elevated fare
Bastille Kitchen
The classic French bistro goes contemporary in Fort Point at Bastille Kitchen. Downstairs, the Chalet brings a hunting-lodge vibe with plaid couches and antler chandeliers for a comfortable and cool setting, perfect for enjoying cocktails such as a Bastille 75, Paris Saint-Germain, or Parisian Mule. Upstairs, French fare — including moules frites, escargot, and imported-cheese plates — is served in a warm wood and brick space. It's thankfully unstuffy — though you will be stuffed. (49 Melcher St., Fort Point)
Chickadee
Chef John daSilva celebrates New England and Mediterranean fare at this modern restaurant within the Innovation and Design Building, where branzino crudo sits on the menu alongside sweet pea gazpacho and roasted porchetta. The cocktails are all cheekily named after birds — try the Wren in Rome, with cinnamon-sweet vermouth, Meletti Amaro, and root beer — and pastry chef Kate Holowchik offers guests sweet delights like chocolate semifreddo and rhubarb sorbet. (21 Drydock Ave., Seaport)
Menton
With a price point more meant for celebrating a birthday, anniversary, or promotion, you're probably not going to hit up one of Boston's most notable fine-dining establishments without making plans way in advance — but they are plans worth making. Butter-poached lobster with dill sauce, Parisian gnocchi with truffles, and foie gras mousse have all made their way onto the chef's whim and à la carte menus, plated as artfully as the sleek space is designed. It's easy to see (and taste) why this Barbara Lynch restaurant was named among Bon Appétit and Esquire magazines' best new restaurants when it opened in 2010, and also earned a James Beard Foundation Award nomination for Best New Restaurant. (354 Congress St., Fort Point)
Morton's The Steakhouse
"Flintstones"-sized ribeyes, crab cakes, honey-glazed salmon, and sirloin with mashed potatoes would have made Morton's prime time for Don Draper and his "Mad Men" posse, especially when paired with oversized martinis. Dine like a boss at night or at lunch — hefty three-course lunch selections cost a bit more wallet-friendly $30. There's also an awesome $7-$9 bar bites menu for after work, with a slider trio, short rib steak tacos, and iceberg wedge bites. (2 Seaport Lane, Seaport)
Oak + Rowan
Yes, the signature cheese boards, tartine with house-made bread, and main dishes like lobster stew with chili broth and yogurt are all delectable, but those pressed for time can also grab a lunch box Monday through Friday with a salad, sandwich (on the same house-made loaves), and cookie. Those on the company account — and with more time for a multicourse experience — would be well-advised to make a dinner reservation for lobster spaghetti, roasted and confit lamb with parsnips, duck with rye spätzle, and a long wine list. Remember to save room for a dessert here, too, from pastry chef Brian Mercury. (321 A St., Fort Point)
Sportello
Anything in Barbara Lynch's empire is sure to impress, but Sportello's setting is thankfully as unfussy as the menu. Arrive in business casual Monday through Friday for a trattoria-inspired prix-fixe menu: a soup or salad, choice of two made-in-house pastas, and cannoli, sorbet, or gelato. An à la carte menu is also available. (348 Congress St., Fort Point)
Strega Waterfront
Boston-based restaurateur Nick Varano marries the best of his group's "by land" and "by sea" offerings at Strega Waterfront, where there's a filet topped with 10 ounces of Maine crab meat, a bone-in filet drizzled in tequila sauce, and a 24-ounce bone-in ribeye. House specials pair a veal ribeye with homemade fusilli pasta, and lobster fra diavolo rests gently on top of house-made angel hair. (1 Marina Park Drive, Seaport)
For the best views
Del Frisco's Double Eagle Steakhouse
Though Del Frisco's has a stunning art collection, it will be hard to tear yourself away from the views of the Boston Harbor. Floor-to-ceiling windows mean you get some of the best of them. There's plenty to feast your eyes on on the menu, too, with bourbon maple-glazed bacon, dry-aged steaks and lamb, and the Del's Potato with melted fontina, chives, and shaved truffles, plus a can't-miss Prime Pair Sundays menu with three courses of Del Frisco's faves. (250 Northern Ave., Suite 200, Seaport)
Legal Harborside
You better bust out of work early on Friday afternoon if you want to grab a spot at the rooftop bar here — Legal's third-floor promenade deck is a four-season lounge with a retractable glass roof and walls, and the views make this space a coveted place to end the work week. There's a sushi and small-plate menu to pair with more than two dozen wines and specialty cocktails. Alternatively, you could try the other floors of this 20,000-square-foot flagship property for elevated seafood on the second level and a more casual menu and oyster market on the first floor. Seafood aficionados can also check out Legal Test Kitchen down the block. (270 Northern Ave., Seaport)
Lookout Rooftop and Bar at the Envoy
With some of the Seaport's best skyline views and people-watching, Lookout provides a clever but not overwrought cocktail menu from master mixologist Brian McDougall, as well as a hip yet relaxed vibe. Try to grab a seat in the corner to snap one of the city's best rooftop selfies, or in the winter, gather up to nine of your besties for an igloo experience, where heated geodesic dome-like structures light up when you press the call button for a beverage. Progressive American noshes from executive chef Tatiana Rosana are available in non-winter months on the rooftop, or check out the same fare at Outlook Kitchen and Bar — also at the Envoy Hotel — year-round. (70 Sleeper St., Seaport)
Yotel Sky Lounge
Like the candy bar that shares its name, Sky Lounge is pretty sweet — running the whole length of the building with views from high atop the 12th floor, whether you're at the bar and lounge area or rooftop terrace. After taking in the panoramic view, grab a bite from the short bite menu, or swing by during brunch on weekends for more toothsome options. After the sun goes down is when the real party starts, with movies on the rooftop terrace and couch lounging. (65 Seaport Blvd., Fort Point)
For weekend brunch
Gather
It's good anytime night or day, but with floor-to-ceiling windows looking out over Boston Harbor, lazing away a Saturday or Sunday at Gather with its great brunch view is as much a feast for the eyes as for the stomach. Don't miss out on Waffle Sunday, including one that comes with real maple syrup and optional add-ons like bacon, strawberries, or Nutella for a small fee. Although that's already a kid's dream, there's also a children's menu and an abundance of gluten-free options, too. (75 Northern Ave., Seaport)
75 on Liberty Wharf
In one of the few parts of the city where it's possible for restaurants to go big or go home, it's comforting to find one that's still intimate and feels like a hidden gem — despite most of its walls being made of glass. With seating for only 60 (until summer, when seats double thanks to the waterfront patio), there's a nice buzz going here without an all-out din. That said, you certainly can get your buzz on during Saturday and Sunday brunch service and 75's extensive Bloody Mary bar. (220 Northern Ave., Seaport)
For freshly-caught seafood
DryDock Cafe
You definitely won't leave hungry from DryDock, where the classic fisherman's platter — with fried clams, mussels, haddock, and shrimp — can feed at least two. Grab a couple of paper napkins for this no-frills experience and enjoy all of the New England standards in addition to some rotating specials like the haddock Reuben. (7 Drydock Ave., Seaport)
Luke's Lobster
What's not to love about Cape Cod potato chips served alongside some fresh Maine lobster? This third Boston outpost brings the traditional seafood shack a bit more upscale, with sustainable sourcing, fresh craft sodas, and a dairy- and gluten-free-friendly menu. Luke's Trio of a half lobster roll, half crab roll, and half-shrimp roll is a year-round winner, or check out rotating seasonal surprises, like a crab and gruyere grilled cheese. Lobster tails can be added to any meal for $5. (53 Northern Ave., Seaport)
No Name Restaurant
Its moniker may throw off visitors, but No Name's address at Fish Pier makes the product of choice clear. Broiled lobster and seafood chowder are the signature staples, recipes that haven't changed in more than four decades despite the rapid development of the surrounding area. And don't miss out on dessert. There are about as many Boston standards on this menu as on the main one, including Grape-Nut pudding and Boston cream pie. (15 1/2 Fish Pier St. East, Seaport)
Row 34
Mouthwatering menu items like roasted monkfish with hazelnut, squid ink Casarecce pasta with basil and jalapeño, and one of Boston's best lobster rolls define seafood haunt Row 34, as does its extensive wine and beer program. Belly up to the sleek wraparound bar for some fine entertainment in the form of oyster shucking and craft draft pours, or sit outside on the deck during summertime for a fine view of the foot traffic. (383 Congress St., Fort Point)
Yankee Lobster Co.
Wondering where to bring your out-of-town friends for a lobster roll, or trying to catch a bite before a concert at neighboring Blue Hills Bank Pavilion? Yankee Lobster is a must-do for most locals, who know well enough to get in line early to grab one of only a few tables and belly up for freshly caught whole belly fried clams, fish and chips, a bucket of crabs, hearty fish stew, or a blackened tuna wrap, one of the newer additions to the menu since this family-run restaurant and market opened as Commercial Lobster in 1950. "Diners, Drive-ins, and Dives" host Guy Fieri prefers the lobster mac 'n' cheese and crab cakes. (300 Northern Ave., Seaport)
For exactly what you're craving
Asian: Blue Dragon
Chef-owner Ming Tsai delivers inspired Asian-fusion street food at Blue Dragon, where there are plenty of stools and booths to settle into. The tiki cocktail menu delights with plenty of colorful goblets, ceramic pineapples, and scorpion bowls to sip from, but there's also a curated selection of rotating beers on tap. Bartenders are friendly and knowledgeable not only about the drinks but also the bites, which include pork belly bao and Thai barbecue short ribs. (324 A St., Fort Point) 
Pastry: Flour Bakery + Cafe
Anyone in Boston with a sweet tooth is likely already familiar with owner and chef Joanne Chang, but what they might not know is that this location is what helped put the Fort Point/Seaport area on the map as a must-visit shop for brioche, apple snacking cake, and indulgent sticky buns with caramel and toasted pecans. Savory options include home-baked bread, perfect for office crew-pleasing sandwiches. Just around the corner from the Children's Museum, Flour's artisan cookies have no doubt put thousands of smiles on tiny faces over the years. (12 Farnsworth St., Fort Point)
Fried chicken: Fuku
David Chang's Fuku rolled into the Seaport in 2018 with spicy fried chicken, both in sandwich form and as part of a larger meal. The fiery poultry is customizable with sauces like Fuku mayo, ssäm sauce, and honey mustard, and a bevy of snacks and sides includes macaroni salad, slaw, loaded fries, and cheesecake. Don't leave without slurping down a blood orange slushie. (43 Northern Ave., Seaport)
Bar Burger: Lucky's Lounge
The original spot for late-night fun in Fort Point, Lucky's still often has a line snaking down the sidewalk into the wee hours of the night, despite the dizzying boon of the area. Expect dim lighting, red leather booths, chairs à la '50s Vegas, and Rat Pack photos in every corner. Comfort-food classics like burgers, mac 'n' cheese, and meatloaf pair well with over a dozen beers on draft or the dive bar's classic cocktails like the gin-and-lemon-tinged Seaport Sling. (355 Congress St., Fort Point)
Pizza: Pastoral
When the brick pizza oven fires up at lunchtime, so do the local office workers — the smell lures them toward wood-fired pies and puccia, calzone-like dough pockets filled with Italian cold cuts, and chicken salad with pesto and arugula. There's a small but mighty bar program with craft beers, but brace yourself when trying to enter the intimate space after 5 p.m. on a Friday; by then, it's already going to be elbow-to-elbow. (345 Congress St., Fort Point)
Barbecue: The Smoke Shop
Beale Street comes to Boston with Memphis-style ribs that helped garner owner and chef Andy Husbands and his crew the honor of being the first Northeastern team to win the Jack Daniel's World BBQ Championship. There are plenty other low-and-slow styles to try here: North Carolina and its tangy sauce, Texas brisket, and a slew of sides that leave little room for dessert — though you should try to leave some space for the delightfully simple Southern butter cake. (343 Congress St., Fort Point)
Soft serve: Taiyaki NYC
If you find yourself with a hankering for soft serve (or a good shot for your Instagram), stop by Taiyaki NYC in the Seaport. The dessert chain's cones are modeled after taiyaki — Japanese fish-shaped cakes that are commonly filled with custard or red bean paste. Choose from soft serve flavors like matcha, chocolate, and mango, and get playful with toppings that range from unicorn sprinkles to rainbow mochi. (119 Seaport Blvd., Suite B, Seaport)