Food
Coffee and mayo are secretly making chocolate cake better
Your chocolate cake recommendations were intriguing. So I tried a few for myself.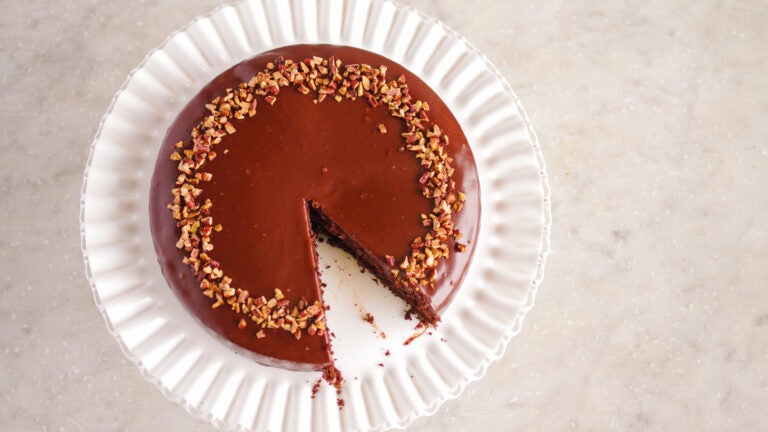 your favorite chocolate cake in honor of National Chocolate Cake Day. After receiving more than 50 recommendations, it seemed only fair to try a few for myself. Eating cake is obviously a great personal sacrifice, but it's one that I was willing to make. We received several recipes, baking tips, and local shops, including Mike's Pastry (six votes) and Modern Pastry (five votes). I will not be weighing in on which of the two is my favorite; I moved to Boston three years ago and still terrified that making a wrong call will get my 'honorary Bostonian' status revoked.
Ahead are some reader recommended recipes, tricks, and tips for living your best life with chocolate cake.
My favorite by far was the King Arthur Flourless Chocolate Cake, as recommended by reader Abby Wells. Full disclosure: I have a strong personal bias toward flourless chocolate cake, but still had my doubts. How reliable is a flourless cake recipe from a flour company? But after tasting the results, I was blown away. Even without the glaze (just two ingredients!) the cake was thick and fudgy, and had a pleasantly crisp top. Even better, it took all of 15 minutes to make. (I didn't count baking time, because I spent it catching up on emails.) 
I also tried my hand at Mrs. Orr's Chocolate Cake, as recommended by reader Nancy Webb, whose mother had cut out the recipe from The Boston Globe in the 70s. The cake was impressively moist and flavorful, and forgiving in the hasty and haphazard way in which I made it after returning to my apartment late in the evening. Learn from my mistake and add the dry ingredients slowly, or the flour will not mix and you will be left with tiny globs of flavorless white powder sinking to the bottom of your otherwise smooth and even cake. 
Now for a tip from Limor Pickholz of @cakesbylimor that can be applied to any chocolate cake to enhance flavor: Add coffee. At first I was skeptical. I did not feel equipped to tackle a chocolate mocha cake. However, one tablespoon or so of espresso powder (the only coffee my heavily-caffeinated roommate keeps on our shelves) made the chocolate taste more chocolatey, without any residual coffee flavor or grounds-like texture.
Pickholz also recommended baking with ingredients at room temperature for even distribution within the batter. Pro tip: Allowing the butter sit out for 30 minutes doubles as a way to procrastinate. 
If you are pressed for time or intimidated by baking a cake from scratch, Boston.com readers also have some suggestions for boxed cake mixes. Magnolia Mac suggested adding one tablespoon of unsweetened cocoa, two tablespoons of "just add water" cocoa mix, and one tablespoon of mayonnaise to any boxed cake mix. This hack will help the cake taste less like the cardboard box that it came in. 
Another piece of advice: Use the right size baking dish. A dish that's too small will take the cake longer to cook in the middle, while a dish that's too large will make it burn faster. If you're a student, like me, with only one or two baking pans, I would suggest picking the closest one in size, adjust your baking time accordingly, and watch it like a hawk.
For those of you uninterested in baking, but still looking for a chocolate fix, our readers have some ideas. Mike's Pastry and Modern Pastry came in as top recommendations. Other mentions include chocolate cake from The Cheesecake Factory, Tatte, Georgetown Cupcakes, and Magnolia Bakery. For vegan options, readers love the black forest cake from Red Lentil in Watertown and cakes from Veggie Galaxy in Cambridge. If you're looking for an allergen-free chocolate cake (we're talking no wheat, gluten, milk, eggs, peanuts, tree nuts, shellfish, sesame, or soy), another reader recommended Annie May's Sweet Cafe in Newtonville. And for those seeking a chocolate ice cream cake (honestly, who isn't?), reader Victoria Kichuk suggested the Death by Chocolate at FoMu. 
Have you tried any of these cakes? Have another tip? Want to critique my technique? Let me know in the comments below or at [email protected].