Food
What appetizer should officially represent Massachusetts? This is what nearly 800 readers said.
Calamari doesn't even come close.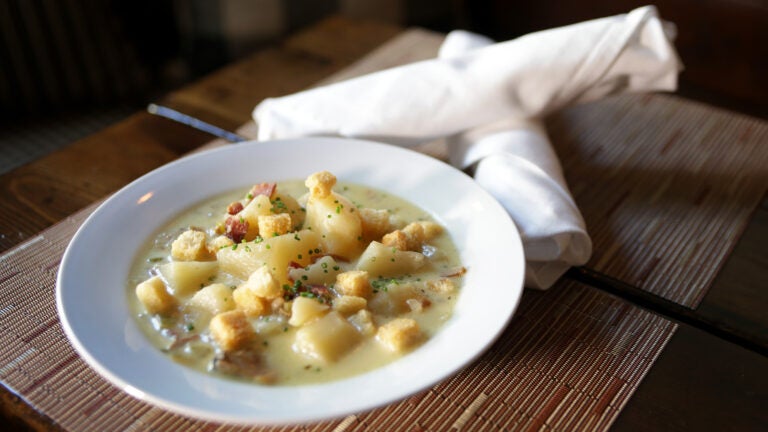 Whether you favor a Quahog or a littleneck, one thing is certain: New Englanders love to eat clams. They can be stuffed, fried, steamed, or chopped up and thrown into a chowder — New England clams go through a lot just to be devoured by locals.
The overwhelming admiration of clams became apparent when we asked our readers last week what dish should represent Massachusetts as an official state appetizer, following Rhode Island's viral 'calamari cameo' moment at the virtual Democratic National Convention.
Nearly 800 votes poured in. So what did the Bay Staters choose? Was it fried clams or stuffed quahog? Where did oysters or baked beans rank?
Almost 70% of the 773 readers who responded voted for clam chowder. One reader wrote, "CLAM CHOWDER! No CONTEST!" Of the clam chowder votes, 17 made sure to include oyster crackers. "A cup a chowdah with side of oystah crackahs," another wrote. Westminster Oyster Crackers is a preferred brand, though as one reader pointed out, "even though they are now made in Vermont." According to readers, the optimal New England clam chowder is best served not too thick, perhaps with a dash of black pepper, and definitely no celery.
In second place was fried clams, which got 6.3% of the vote. Several readers specifically recommended Ipswich fried clams.
In third place at 4.4% of the vote was oysters — raw and on the half shell. If you're wondering what kind to get, Wellfleet and Duxbury were recommended by several readers.
Behind oysters were votes for two other versions of clams: steamed clams (2.8%) and stuffed quahog (2.2%).
The 14.4% "Other" category accounted for submissions that individually received less than 1% of the vote — and while these submissions were fewer, they were no less interesting.
Some "Other" submissions included:
Bacon-wrapped scallops
Boston brown bread
Boston baked beans
Buffalo wings
Clams casino
Corn chowder
Crab cakes
Cranberry brie
Lobster bisque
Potato skins
Shrimp cocktail
If you're looking to find the best cup of local chowder, we asked readers months ago for their favorite places to enjoy the creamy soup. Here were the places worthy of making the list.
Get Boston.com's browser alerts:
Enable breaking news notifications straight to your internet browser.