Food
Bartender and writer Haley Hamilton reflects on New Year's Eve and a post-pandemic Boston
"Everybody smiles because you're all thinking the same thing: We made it."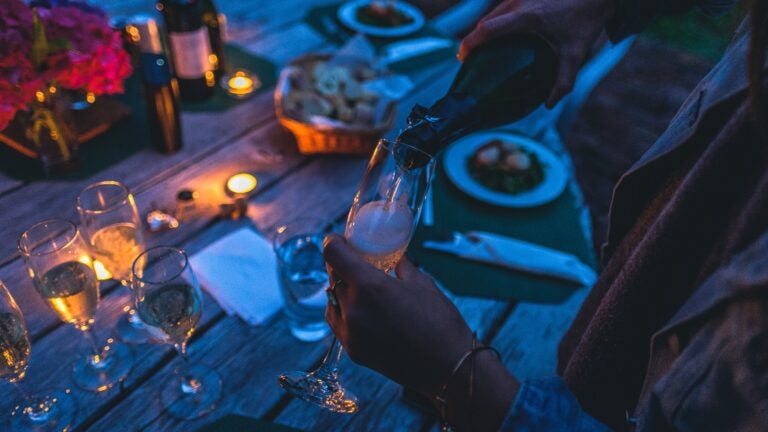 We're excited to introduce the Boston.com Cocktail Club, a weekly subscription box and event series highlighting local bartenders who will mix a drink of the week with host Jackson Cannon of Eastern Standard and The Hawthorne. Sign up for our newsletter and join us every Thursday evening to learn about mixing your own cocktails, the local bar scene, and how you can support the industry during COVID-19. 
The Boston.com Cocktail Club recently caught up with bartender and writer Haley Hamilton who will mix sparkling cocktails with host Jackson Cannon on Thursday, Dec. 31 at 7 p.m. Ahead, Hamilton shares her post-pandemic predictions, why you should always have lemons in your kitchen, and what it's like to be behind the bar on New Year's Eve.
What's your favorite part of bartending and bar culture?
The community bars create, both for guests and staff, and the electricity that crackles behind the bar on busy nights.  Bars and restaurants are intentionally created, even curated, social spaces, and right now I miss them terribly.
What's a high point moment behind a bar on New Year's Eve? 
At about 12:03 a.m. when, after the ball has dropped, the cheers have been made, and for maybe about another three minutes every guest has a drink in their hand and isn't looking for another one yet. It's a true moment of coming up for air when, even if you've been in the weeds since 8 o'clock, you lock eyes with a few guests, and then your coworkers, and everybody smiles because you're all thinking the same thing: We made it. We all made it.
As a writer, what would you love to dig into and investigate in the hospitality industry right now?
I can't stop thinking about how now is the time to establish better practices and for a culture shift within the industry. The hospitality industry has long been the Wild West of the employed, and while conversations are being had and policies are (sort of) shifting in terms of harassment and discrimination, there are still too many shady business practices, and the perceived power dynamics between guests and staff has got to be addressed.
The general public nationwide has literally been up in arms about not being able to go out to eat or drink. Bars and restaurants, and the people who work in them, have been proved essential — not like grocery stores or the post office, but socially and culturally essential. It has always been a privilege to go out to dinner or for cocktails; the people who provide those services deserve respect, financial security, and the same benefits of the rest of the working world.
It took statewide lockdown and the biggest economic stimulus package in the nation's history for a sweeping majority of hospitality workers to have paid time off. In 2019, if you wanted to take a two week vacation you were better off quitting your job and finding a new one when you got back; bar teams are just spread too thin to be down a person for that long or for management to hold your job for you. It doesn't have to be that way.
What do you love about the French 75 cocktail? 
Oh, man, what don't I love about the French 75? It's light and citrusy but still packs a full-proof punch. I think what most draws me to this cocktail is its simplicity: So many drink menus today are filled with cocktails with eight ingredients, half of them house recipes for multi-flavored syrups, and that's AWESOME. But…booze, citrus, sugar, bubbles doesn't need anything else. It's the Little Black Dress of cocktails.
If 2020 were a cocktail, what should it be? 
You ever see somebody light a shot of Chartreuse on fire? And then not blow it out before they drink it?
But really, a Wray and Nephew daiquiri: Looks alright at the start, catches you totally off guard at the first sip, kind of burns, kind of makes you want to cry, but by the time you get halfway through you're drunk enough to not care.
What's getting you through the pandemic?
I was really fortunate to get accepted into a yearlong, online writing class with Catapult Magazine, 12 months of a full essay collection, in January. We meet over Zoom every Sunday, and I don't know what I would have done without the structure, deadlines, and community of that class. This year has been awful, but I also wrote a book.
What do you think a post-pandemic Boston will look like for bars and restaurants?
I really don't know, but I hope the days of getting as many bodies in the door, fire codes be damned, are gone for good. It's a difficult balance: Outside of fine(r) dining you need a certain amount of volume to keep the lights on, and I work for tips so let's please be busy, but I'd really prefer to never be five deep from open to close ever again.
If you should always have one ingredient in your kitchen to make a great cocktail, what should it be and why?
Lemons. Whether you're using the juice for a sour (or a French 75), a swath of the rind for a twist, or making a cordial with oleo saccharum, lemons are versatile and add a little POP of brightness to even just shots of whiskey.
How can people support you and/or your colleagues right now?
If you're comfortable going out to eat, do so. If not, get takeout; buy gift cards. There are also a number of local and/or establishment-specific fundraising organizations for staff; I know Trina's Starlite Lounge in Somerville is always taking Venmo contributions. 
On a larger scale, our industry needs government support. We need legislation that halts rent payments. We need to not be put in the position to potentially further a public health crisis OR pay our bills. We need all tax-paying employees to be eligible for unemployment benefits. We need someone who can do something about it to understand that the average UI payment of $400 a week, before taxes, is not enough to get by on.
I'm @HaleyLoveHamilton [on Venmo].
Watch our virtual event with Haley Hamilton