Food
'Putting a spirit into a tuxedo': How to make a sultry tequila-based Old Fashioned
Craigie on Main's Jared Sadoian shares why tequila is his spirit of choice and a cocktail recipe.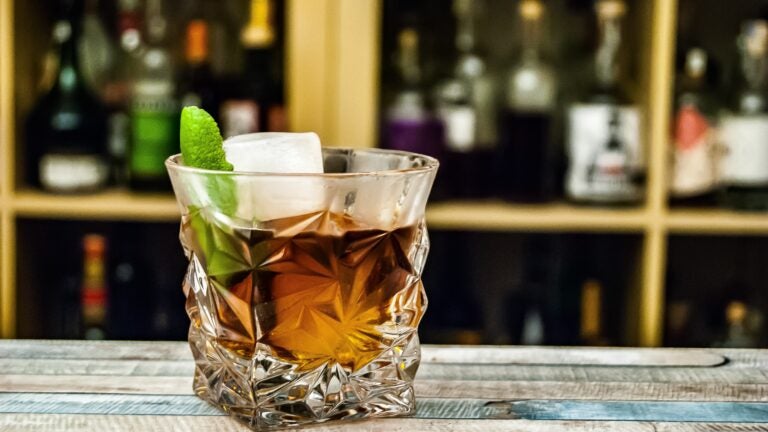 We're excited to introduce the Boston.com Cocktail Club, a weekly subscription box and event series highlighting local bartenders who will mix a drink of the week with host Jackson Cannon of Eastern Standard and The Hawthorne. Sign up for our newsletter and join us every Thursday evening to learn about mixing your own cocktails, the local bar scene, and how you can support the industry during COVID-19.  
When I jumped ship from my cubicle-in-a-skyscraper job and joined the hospitality industry during what seemed to have been a peak of the cocktail craze, a lot of us didn't realize just how little technical skills play a role in the grand scheme of "bartending."
When I'm chatting with potential hires or a new bar back, my usual breakdown of the job is: 10% making drinks, 50% taking care of people, and 40% cleaning something sticky. It's a bit of an exaggeration, but it underscores just how much we as bartenders are in service to others, whether it be our guests or our fellow team members.
At The Hawthorne, we built a rigorous training program that I am particularly proud of. Every hire, no matter how over- or under-qualified, started our training program as a bar back or a host, and worked their way through every position in the bar until they were a full bartender or manager. Even then, our robust staff of bartenders would often be working floor shifts as servers. Not only was it a break from shaking lots of cocktails for an evening, but from the guest's perspective they could talk in detail about their cocktail selections or ask questions about spirits as most everyone on staff was a bartender, or training to be one.
If a guest were to ask about the story behind the Tequila Old Fashioned, it would be a hard one to pin down. In our circles a lot of us would point to Phil Ward's Oaxaca Old Fashioned, created during his time at Death & Co. in New York City in the mid-2000s, as it was by and large a tequila-based Old Fashioned variation, albeit laced with enough mezcal for it to become a near-instant modern classic. However, if you dial back to one of the earliest recipe books, Jerry Thomas' "Bar-Tenders Guide" in 1862 there are several recipes similar to what we know to be an Old Fashioned today, with different base spirits. Somewhere between then and now someone put tequila in that drink.
For a lot of folks, the idea of an Old Fashioned immediately calls whiskey to mind, so it can be a surprising twist to an otherwise familiar drink, and makes it a fun one to suggest and serve. I've described an Old Fashioned to a guest before as "putting a spirit into a tuxedo" — you're dressing it up, but not completely obscuring it. I think that works well for the incredibly complex aroma and flavors from high-quality tequilas — the spirit still shines through, but is presented to potentially hesitant guests in a context they already understand. Further still, as reposado and añejo tequilas spend time aging in oak barrels like whiskey, they share some similar aromas and flavors.
Tequila quickly grew to be my spirit of choice for a number of reasons. I find it refreshing on its own and a versatile ingredient in cocktails of a variety of styles. Of course, we all know and love a great Margarita or perhaps the cassis and ginger-laced cousin, El Diablo. But the spirit also shines when you eschew the citrus like the Oaxaca Old Fashioned or Carrie Cole's Adelita, a mix of reposado tequila, aromatized wine, and dry vermouth with a touch of creme de violette.
I truly fell in love with the spirit when I had the opportunity to travel to Jalisco, see the production process firsthand, and experience the culture so tightly interwoven with this liquid. I've been back at least 15 times since that first visit, and each time I manage to discover something new, have an impactful conversation, and gain further perspective. This is a spirit that while produced on a large scale overall, is so intensely tied to a place and a people. Great tequilas are absolutely a product of the land the agaves come from and the people along the entire production process that turns those agaves into what we pour into our glasses here.
What you'll need:
2 oz tequila
½ oz agave nectar
2 dashes angostura bitters
Stir over ice and strain over fresh ice into a double old fashioned (large rocks) glass. Garnish with a twist of orange.
Order the tequila cocktail kit:
The purchase of each cocktail kit provides income to a local restaurant worker, who prepares a warm meal for a Boston frontline workers or resident in need through Off Their Plate.
Watch our virtual cocktail class with Jared Sadoian:
Get the tips and tricks for making exceptional drinks at home and catch up on the state of the Boston bar and restaurant scene, while making the world famous Tommy's Margarita and a sultry tequila-based Old Fashioned.
Jared

Sadoian is the general manager of Craigie on Main in Cambridge and former assistant bar director of award-winning cocktail lounge, The Hawthorne, and its sister restaurant, Eastern Standard.