Food
Ted Kilpatrick shares how Chickadee has weathered the pandemic
"The word of the year this year was 'pivot,'" the co-owner of Seaport restaurant Chickadee said.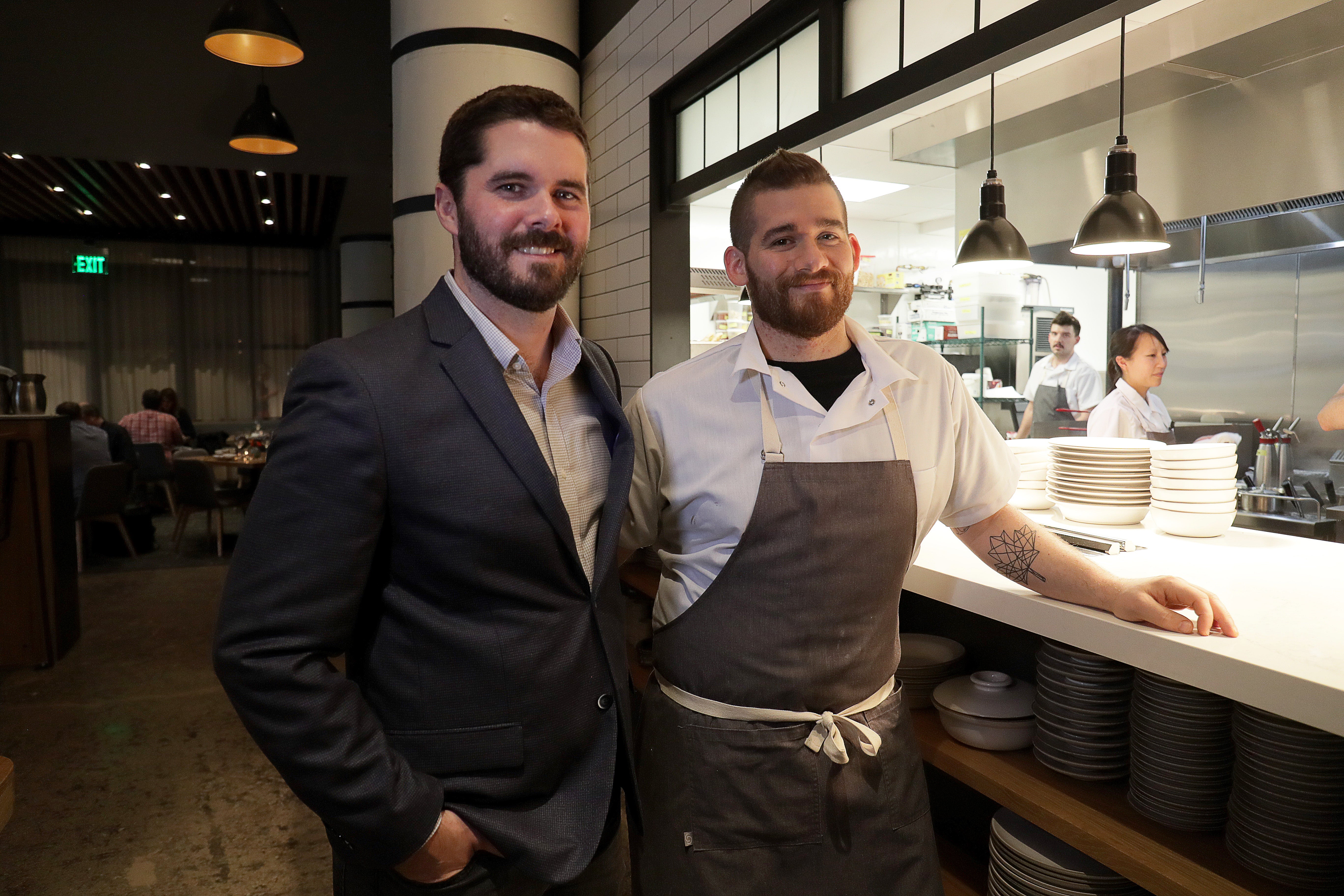 We're excited to introduce the Boston.com Cocktail Club, a weekly subscription box and event series highlighting local bartenders who will mix a drink of the week with host Jackson Cannon of Eastern Standard and The Hawthorne. Sign up for our newsletter and join us every Thursday evening to learn about mixing your own cocktails, the local bar scene, and how you can support the industry during COVID-19. 
Ted Kilpatrick had to adjust his business just like everyone else in the restaurant industry when the pandemic arrived nearly a year ago. In that time, he launched an improved takeout menu, a pop-up cocktail bar, and added regular staff trainings on health and safety. Now in the midst of winter and increased restrictions, the co-owner and beverage director said he is just thankful Chickadee is still open for business.
As part of the newly launched Boston.com Cocktail Club, we spoke with Kilpatrick ahead of his cocktail class on Jan. 14 about what's been getting him through the pandemic, his go-to cocktail, and how his staff have maintained the "soul of Chickadee" amid a rapidly changing landscape for restaurants.
What's it been like at Chickadee since the pandemic began almost a year ago? 
It would be difficult to summarize what it's been like, as everything's changed every couple months. Initially I think we were all a little bewildered and waiting for instruction that never came, so we tiptoed carefully into takeout. That eventually gave way to patio season, which was hopeful and even felt a little normal at times. Colder weather was ominous and I don't think any of us knew what to expect, but at this point in time, we're galvanized, determined, and thankful that we're still here. All of this is only possible because of our incredible staff. They've powered through all this, never once sacrificing the hospitality or delicious food that Chickadee is built upon — despite the adverse circumstances — all with smiles on their faces.
The ways that we've had to adjust our business through all this are probably not novel compared to other restaurants. We've just tried to do so while maintaining the soul of Chickadee. We added a robust takeout program, implemented regular staff trainings on public health and safety measures, all while trying to be a support to anyone on staff who, understandably, wasn't comfortable coming back to work yet. Suffice it to say, the word of the year this year was "pivot."
How has the recent capacity limit that Gov. Baker extended earlier this month impacted Chickadee?
It actually hasn't impacted us at all. It turns out that we've been running at that capacity this whole time just based on our intuition. We decided at the beginning of this, that the path through this isn't going to be packing them in when you can, but instead to create an environment where people feel safe and can still have a Chickadee experience. Those people will come back, and tell friends. We want to cultivate a dining room full of people who appreciate feeling safe and want to follow the rules that are in place to keep everyone else safe. So far, it's been working.
Do you see yourself running more playful pop-up cocktail bars like Mayday! in the future? 
I would love to pop up Mayday! again next summer. I think what I learned most from that experience is that all I really want to do is make blender drinks next to a large body of water. Honestly, we had a blast serving the folks who came and visited Mayday! with all these precautions in place — imagine if we could actually make it a party. One day.
What do you think a post-pandemic Boston will look like for bars and restaurants?
I think the easy answer is that we all hope we can get back to safely operating at full capacity. I also think it would be incredibly short-sighted if we had to get rid of the allowances that were made during the pandemic, like to-go cocktails, expanded outdoor dining, etc. When and if we make it to the other side of this, it's not like we're all just back to normal. We'll have months and months of lost revenue to make up.
What's getting you through the pandemic?
My two-year-old daughter, blissfully having no idea what's going on in the world right now, having a blast hanging out with me and my wife.
What's your go-to cocktail?
My wife and I love a gin martini, so during quarantine if the world was feeling particularly heavy, we would schedule a proper cocktail hour and have martinis. It was soothing, celebratory, and distracting.
My favorite cocktail served to guests this past year would have to be a Mayday! drink called Paddleboarding the Rio Grande. First off, it's blue. It's made with Del Maguey Vida mezcal, Suze, Blue Combier, and lime, served over crushed ice. It's dry and mezcal-forward, but blue and balanced, so it was a surprise and made a lot of people happy.
How can people support you and your colleagues right now?
If you're comfortable, come dine mid-week. We're seeing fullish Fridays and Saturdays, but sleepy weekdays lately, so we'd love to shower you with hospitality and delicious food on the days we have oodles of time to do so. Or, order takeout.
---
Watch our virtual cocktail class
On January 14, the Boston.com Cocktail Club featured special guest Ted Kilpatrick. Host Jackson Cannon and Kilpatrick made Jack Rose and Corpse Reviver #1 cocktails with calvados, the famed apple brandy of France, caught up about the state of the Boston restaurant and bar scene, and shared tips the pros use to make great drinks at home.