Food
3 things Lone Star Taco Bar's Sabrina Kershaw will do first when the pandemic ends
"I definitely want to travel again soon, but not until I do those three things first," Sabrina Kershaw said.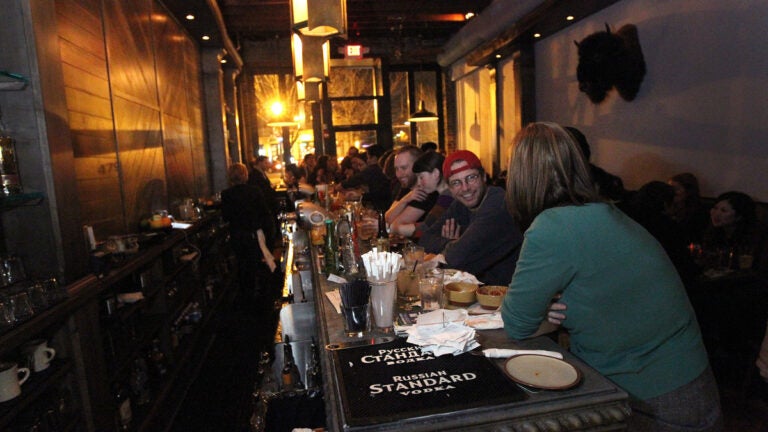 Just before COVID-19 arrived in Massachusetts one year ago, local bartender Sabrina Kershaw was hustling between her four jobs at restaurants and music venues spread across Boston. "What was honestly most memorable was all the different people I got to encounter from day to day, job to job, venue to venue," she said.
These days, she maintains only one of those jobs working behind the bar at Lone Star Taco Bar with locations in Allston and Cambridge. Despite the disruption to her industry, Kershaw was forced to slow down and discovered new things about herself — like being a good plant mom.
The long-time bartender is joining the Boston.com Cocktail Club on Thursday to mix rye whiskey cocktails with host Jackson Cannon and catch up on the latest in the local drinking scene. Ahead of the class, we spoke with Kershaw on what doesn't get translated over Zoom, what's keeping the lights on at Lone Star, and the first three things she'll do post-pandemic.
How has Lone Star been faring this winter?
It's been a very interesting winter for us. Our Allston restaurant took over our now-closed sister restaurant Deep Ellum in the summer, and we inherited their patio. It's been a great resource during a time when some people aren't comfortable dining inside, but I don't think anyone thought they would be setting up their patios in the 20-degree weather and serving people outside while it's snowing. Overall, we have been extremely lucky in that we haven't had to go into hibernation, we are really relying on takeout in a way that our business has never been used to and taking over our sister space has allowed us to have more tables available for dine-in business in a safe space than we would have previously.
Do you think bars and bar culture will change in a post-pandemic Boston?
Post-COVID bar culture is going to be inevitably different. I believe that most of us are hoping that it will eventually go back to the environment we were used to, but I don't think it's as easy as flicking a "back to normal" switch. I don't anticipate bars to be fully back to what they were right away, and I think we will see much more crowd control, but I am hopeful that the camaraderie of the spaces and the people that make those spaces so special will be able to return as soon as we're able.
It's been one year since COVID-19 hit Mass. What was work and life like for you just before the pandemic? 
Pre-quarantine I was actually working three jobs, six to seven days a week, sometimes more than one job in a day. I started working shows at Paradise Rock Club and Brighton Music Hall, and I was the hostess for Sunday brunch at Trina's Starlite Lounge, on top of my Monday through Friday day bar shifts at Lone Star. While I wasn't planning anything that really changed, I now am back to the one job at Lone Star — which I am eternally grateful for — and although I miss the constant hustle, being forced to slow down, be unemployed for a while, and now have one job to focus on has actually been a really good thing for me.
What do you love about rye whiskey cocktails?
Whiskey was the first spirit I got really passionate about. I was lucky enough to work under Joy Richard at Citizen Public House in 2011, which at the time was working on a whiskey list in the hundreds. I eventually took the assistant bar manager job under her and started to learn so much about every reach of the whiskey family. I also got the opportunity to travel to Kentucky and learn about American Whiskey firsthand when I attended Camp Runamok several times. Bourbon is "America's Sweetheart" of domestic whiskey, but rye has a very rich history that isn't talked about as much. I love the complexity that a spicy rye can add to a cocktail, or the way it can change a cocktail that predominantly uses bourbon.
What should people know about you that's not easily translated over Zoom?
I love talking to people, but I easily get awkward. I am a theater geek in every sense. And my other spirit of choice is tequila.
What's getting you through the pandemic?
Watching so many of my friends turn this whole year into a new path for themselves has been super inspiring (I'm looking at you, Nicky Bandera; shoutout to Project Paulie!). Finding new things to cook has been really fun, and learning how to just be at home and enjoy my space with myself and my boyfriend. I have learned how to be a good plant mom, and I am shocked by how into that I am.
What are you looking forward to most when we can return to 'normal'?
There are so many things that I can't wait to do. To be honest, the top three are hugging my friends, sitting at a bar, and watching my boyfriend get on stage with his band, Baabes Boston, again. I definitely want to travel again soon, but not until I do those three things first.
How can people support you and your colleagues right now?
For people who aren't comfortable doing dine-in, the best way to support us is definitely by ordering take out. Anyway you choose is appreciated, as it helps us keep the lights on. However, the best way if you aren't dining in is to order directly from us and pick up your order — that ensures the restaurant isn't paying fees on the order and also helps tipped employees. We see 0 percent of tips from delivery, and we are very much still relying on tips to make a paycheck. We (and I) appreciate your support in any form. If you would like to send me a virtual tip I am on Venmo @Saboozles (Sabrina Kershaw).
---
Watch our virtual cocktail class:
Watch host Jackson Cannon and special guest Sabrina Kershaw as they make cocktails with rye whiskey, the star ingredient in the Golden Age of American Cocktails, catching up about the Boston restaurant and bar scene and sharing tips the pros use to make great drinks at home. On deck are the classic Old Fashioned whiskey cocktail and the ever elegant Manhattan.