Food
Recipe: This may be the best cocktail to go for Negroni lovers
It's called a "Togroni."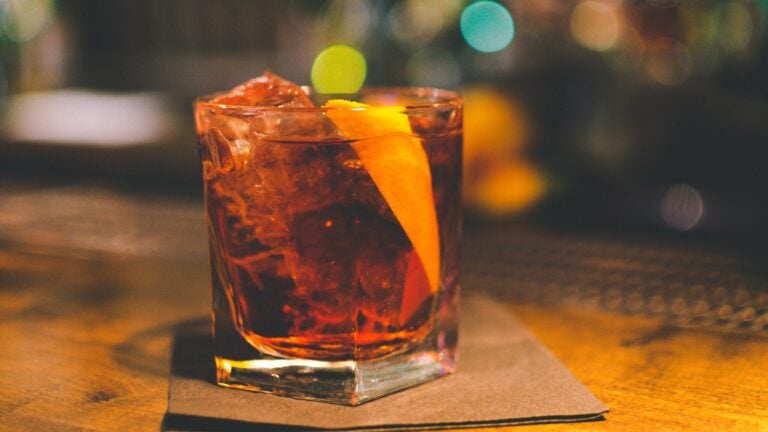 I was first introduced to Campari in Italy when I was 16 years old. It was 2007 and my dad and I wandered into the Italian town of San Gimignano after a long lunch in search of an espresso and a cigar. He ordered a Campari on the rocks with a splash of soda to accompany his Montecristo No. 2, so I followed suit. It was like nothing I had tasted before and the bitterness perfectly erased the variety of flavors lingering on my palate post lunch.
In 1919, 88 years before my first sip of Campari, the Negroni was invented. Upon request, a bartender at a café in Florence strengthened an Americano (Campari, sweet vermouth, and a splash of soda) by replacing the club soda with gin. The man behind the unusual request was Count Camillo Negroni and the name has been such ever since.
For decades upon decades the classic Italian cocktail has been ordered as the perfect apéritif. Though due to the specific ingredients, this is not a drink one orders just anywhere. A perfect Negroni takes patience, precision, fresh citrus, and good ice — not to mention properly stored sweet vermouth. Stirring exactly equal measures of the three liquors over ice and straining them into a rocks glass with fresh ice is essential to the dilution and integration of the cocktail. Garnish with an oily orange peel and you have a perfect Negroni.
At cocktail lounges across the world, this is my go-to order. Unless presented an option of brands, I love seeing how the bartender builds their perfect Negroni. Generally, Campari is the only constant, leaving the gin and sweet vermouth the exciting variables. A classic dry gin and Torino vermouth is my preference.
The only problem to date for Negroni lovers is that it can't be found on every menu, and by special request, it can often miss the mark. Thus, one hasn't been able to enjoy a Negroni truly anywhere — until now. At the end of 2020, I invented the triple barrel "Togroni," a Negroni to go. The inspiration for this came when my brother Mike informed me that Campari is available in 50ml "nips." I immediately searched for the best gin and sweet vermouth available in the same format. Hand rolling the three of them together with tape to dispense rapidly into a glass of ice in under five seconds was the beginning of a movement. People all over the world are now making perfect Negronis anywhere they please. Unlike a pre-batched canned cocktail, the Togroni provides another level of excitement with its triple-barrel pour. The process is almost as enjoyable as the cocktail.
The Negroni is no longer limited to savvy cocktail lounges and restaurants, but rather is accessible at any point, anywhere the consumer chooses. But above all, it will always be a fashionable choice.
What you'll need
1 oz. gin
1 oz. Campari
1 oz. sweet vermouth
A fresh orange twist
In a mixing glass with ice, stir the ingredients and strain into a rocks glass over fresh ice or an ice block. Twist an orange peel over the glass to release its oils and rub it around the rim, dropping it into the cocktail to finish. Enjoy.
---
Watch our virtual cocktail class:
Nick O'Connell is a fine wine specialist at his family's business Post Road Liquors in Wayland. You can find him on Instagram at @thecocktailist, @togroni, and @caskforce.