Food
Cocktail Recipe: How to make a classic Whiskey Smash
Bar director Jackson Cannon shares this classic Whiskey Smash recipe.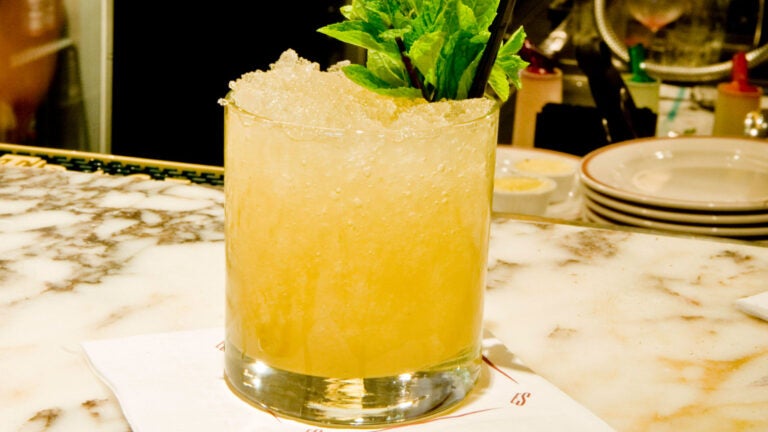 The bar program at Eastern Standard in Kenmore Square was renowned for its dizzying breadth and depth with a printed menu of 45 to 60 cocktails, and a lexicon stretching back through the years of hundreds of drinks that had been on the menus. Few people remember that the opening menu sported only six drinks, among them the Whiskey Smash, a slushy of lemon, mint, sugar, and bourbon over crushed ice.
The live muddling up and down the three-deep bar on busy nights was a tangible act of service, a demonstration that the team there would do anything to make their guest's drinking experience everything it could be. The highly visible, little extra bit of work coupled with the drink's refreshing approachability gave it the widest appeal.
Craft cocktail aficionados understood the deep significance of this classic while first time cocktail drinkers were seduced by the quaffable nature of this minted bourbon sour. It was the number one selling drink from the pin drop and even after it came off the menu it continued to routinely outsell the next two or three cocktails in the mix. The best things are usually the simplest things done right and the Whiskey Smash proves this over and over.
Below are the instructions for a Whiskey Smash as I learned them from the great Dale DeGroff, the master who taught and inspired a generation of enthusiastic craft cocktail devotees with his famous work at New York's Rainbow Room and seminal recipe book, 'The Craft of the Cocktail."
What you'll need
Whiskey Smash
2 oz. bourbon (something wheated, like Makers Mark or Weller Reserve)
1 oz. simple syrup
4 mint leaves
½ a lemon (cut into 4 pieces)
Muddle mint and lemon and simple syrup together.
Add whiskey, dry shake (no ice).
Strain in a lowball over crushed ice.
Garnish with mint sprig crown.
---
Watch our virtual cocktail class:
Jackson Cannon is Boston.com Cocktail Club's host and bar director for Eastern Standard and The Hawthorne.