Food
Recipe: Make a Kangaroo cocktail with the world's most popular spirit
Mix a Kangaroo cocktail, better known as the vodka martini, with the godfather of Boston's cocktail scene.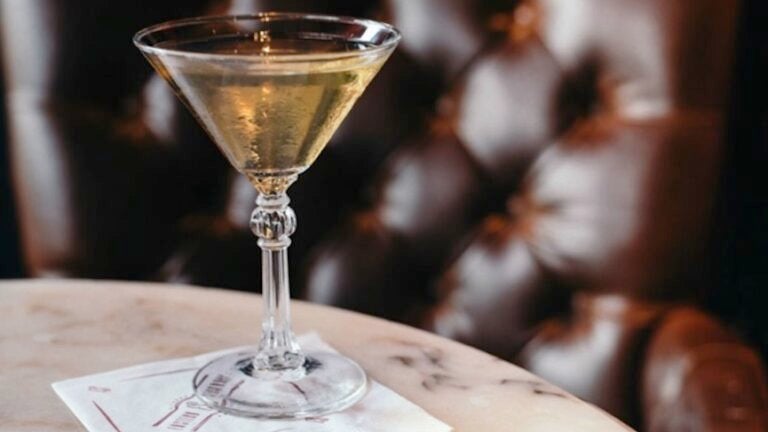 Greetings cocktail fans! My name is Brother Cleve, and I've been drinking cocktails since the '70s, and making them since the '80s. As a musician and DJ, I spent most of my life touring around the world, eating and drinking local all along the way. (Some of you may remember The Del Fuegos, Barrence Whitfield, The I-Tones, and Combustible Edison, the world's first "cocktail music" band.)
I was arguably the first person in Boston to bring back classic cocktails at a time when everyone was ordering Sex On The Beach, Woo Woo's, and Mudslides. Not many people cared back in 1988, but they did in 1996 when I launched the first weekly lounge music and cocktails party at The Lizard Lounge in Cambridge, with lines around the block every week. The B-Side Lounge debuted in '98 and I was on the opening team. I'm still making drinks today at Paris Seaport Bar and Creperie, and still travel the planet—when there's not a pandemic—crafting libations and giving spirited history lessons at cocktail and tiki festivals.
On Thursday, we're focusing on vodka, the world's number one selling spirit. It's funny to think that vodka was unknown in the U.S. until the 1950s! The only people who enjoyed it were from Russia, Poland, Latvia, and environs. You'd find it in ethnic Midwestern neighborhoods across Chicago and Milwaukee. When the "Cocktail Revival" spread during the mid-aughts, craft bartenders looked down on vodka and often refused to serve it! But in their defense they were focused on Golden Age cocktails from 1850-1920, when there were no vodka cocktails. By the 1920s in Paris and London, where Russian expats settled, drinks like the Bloody Mary were first served.
By the 1940s, vodka began to appear on backbars. On Thursday evening, we'll serve the Kangaroo, which appeared in World War II-era cocktail writer Crosby Gaige's 1944 "Standard Cocktail Guide." His recipe calls for vodka and Noilly Prat dry vermouth, garnished with a lemon twist—it's the original vodka martini. By the 1950s the Kangaroo name disappeared, as did the vermouth during the "Mad Men" era of the Extra Extra Dry Martini. Today we love vermouth!
The reason for vodka's popularity is its drinkability. Toss nearly anything in it and it will blend. It's not assertive like whiskey. Unfortunately it was often cheaply made for many years. The idea was that it had no taste. In 1999, I began DJ'ing in Moscow, where I finally had the real deal—a spirit filled with the rich taste of winter wheat. Today you can find a number of excellent vodkas made from wheat, but also potatoes, rye, corn, and even grapes. As a bartender, it's more fun to work with a spirit with real flavor. Cotton candy or whipped cream infusions can be fun, but real fruit, spices, and herbs are really cool. We hope you enjoy our vodka discussion and drinks with the Boston.com Cocktail Club.
What You'll Need
The Kangaroo
2 oz. vodka
1 oz. dry vermouth
Add the vodka and vermouth into a mixing glass, then fill glass with ice. Stir vigorously for around 30 seconds, then strain into a Martini glass. Cut a swath of lemon peel and express the oil onto the top of the drink. Peel can be used to garnish the drink or be discarded. Sip, refresh, and enjoy!
---
Watch our virtual cocktail class:
Host Jackson Cannon and special guest Brother Cleve make cocktails with vodka, the number one selling cocktail ingredient in America for the past 50 years, caught up about the Boston restaurant and bar scene, and shared tips the pros use to make great drinks at home. They mix a classic vodka gimlet and the underestimated Kangaroo cocktail (spoiler alert: it's a vodka martini).
Brother Cleve is a musician, DJ, and current beverage director/head bartender at Paris Seaport Bar & Crêperie. You can find him at @brothercleve.