Food
Brother Cleve, the bartending legend and musician, shares his go-to drink
"Drank 'em as a kid, drinking 'em as an old man."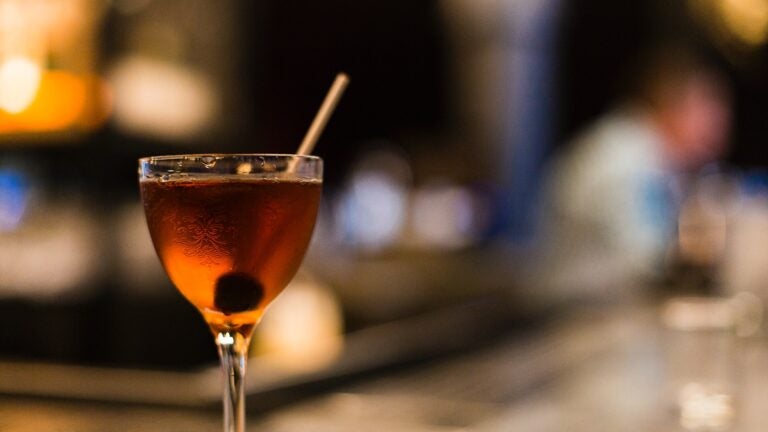 How does Boston bartending legend and musician Brother Cleve spend his days during the pandemic? A lot less travel, and a lot more experimentation with drink recipes. "I'm always thinking about drinks, especially while I've got records playing," the current beverage director/head bartender of Paris Seaport Bar and Creperie said.
Brother Cleve got his start in the local bartending scene in 1988 at the George Lewis-owned Hoodoo Barbecue by Fenway Park. He spent the following years bringing back forgotten cocktails, crafting new menus, and launching the first weekly lounge music and cocktail party at Lizard Lounge in Cambridge before joining the opening team at the B-Side Lounge in 1998.
These days, when Brother Cleve isn't behind the bar, he's at home building new recipes.
"I'm constantly working on new ideas and tweaking recipes for our menu in my home bar," he said.  
Boston.com spoke with Brother Cleve ahead of his live virtual class on Thursday about discovering his favorite vodka during a gig in Moscow, his lifelong drink of choice, and what's been getting him through the pandemic.
A year into the pandemic, what do you miss most about bar culture? 
Barstools! As a guest, I miss interacting with bartenders. As a bartender, I miss interacting with guests. Standing behind plexiglass for 8+ hours seems more like work.  
You must have heard, or been part of, some interesting stories as a legendary bartender and musician. What's your wildest one? 
Stories? Yup, I've got a few…thousand. Here's one: In the summer of 1986, I was touring as keyboard player with (Boston-based rock band) The Del Fuegos, and we were booked to tour the U.S. with Australia's INXS, who had just broken through on MTV. I doubled as band bartender on the road, and it turned out INXS liked to drink.
I was making margaritas nightly for both bands — that summer saw temps in the 100s as we worked our way across the South/Southwest. Kirk from INXS decided he was going to make them, too, so a "Bar War" commenced. Unfortunately for Kirk, I always won. I'll never forget the night [singer] Michael Hutchence proclaimed "Forget it Kirk, you're never going to win! Cleve's squeezing the f****** limes with his bare f****** hands!" All poor Kirk could say was, "But I'm using the Mr. & Mrs. T Margarita Mix!?" For the record, Kirk is a fantastic sax player and a great guy. But I made better drinks.
What has been getting you through the pandemic? 
Buying lots of records online and dreaming about spinning them at all the club dates and Tiki festivals I'm not working at.
What's the best vodka you'd recommend?
In the 90s and early aughts I was getting flown to Moscow to DJ (they had begun a love affair with cocktails and lounge music), and I was introduced to Russian Standard, which blew my mind. I used to bring bottles home, which I'd share with Jackson. But for drinking Russian vodka here in the U.S., my favorite is ZYR. For non-Russian brands, I like Absolut and Grey Goose.
What was your go-to drink at age 21 versus today? 
Actually, it's the same: a Manhattan. That was my grandmother's drink of choice, and she let me try one when I was 10. Loved it. Drank 'em as a kid, drinking 'em as an old man. I like trying them with different whiskeys, vermouths, bitters, but always a two-to-one ratio.
What do you think a post-pandemic Boston will look like for bars and music venues? 
I'd love to say we'll be right back where we started from. But as far as music goes, it's cool that the technology exists that a band can have different musicians playing together from all different locations to an audience comprised of global online watchers — but it's just not the same experience as having your ears rattled in a club or concert hall, is it? And bars without people just make it seem like it's always Tuesday night. 
What will you do first once we return to "normal"? 
Go to Japan. Visit bars. Visit distilleries. Visit kuras [sake breweries]. Buy records.
How can people support you or people in the restaurant industry right now? 
My Venmo is @brothercleve. Please come and enjoy a night out (or brunch) at our — or any — restaurant. We've all spent a lot of time, energy, and money making our establishments as safe and clean as possible. Or get takeout. Thankfully Mass. caught up with the modern world and we can serve cocktails to-go now. Woo-hoo! Ding, dong, the witch is dead! Enjoy!
---
Watch our virtual cocktail class:
Host Jackson Cannon and special guest Brother Cleve make cocktails with vodka, the number one selling cocktail ingredient in America for the past 50 years, caught up about the Boston restaurant and bar scene, and shared tips the pros use to make great drinks at home. They mix a classic vodka gimlet and the underestimated Kangaroo cocktail (spoiler alert: it's a vodka martini).
https://www.youtube.com/watch?v=Pqk0H46lyoU