Food
'I miss my people': Select Oyster Bar's Gina Richard Sargeant reflects on the pandemic, cocktails, and reopening
"They're the backbones of the places you love to go," Gina Richard Sargeant, Select Oyster Bar bar manager, said.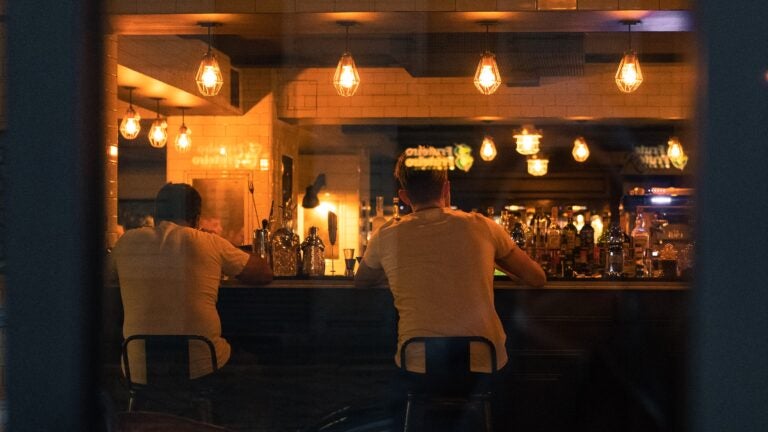 Gina Richard Sargeant misses restaurant life.
As bar manager for Select Oyster Bar, which has been hibernating since November, Sargeant has been using the time to cook more, take long walks in the Arboretum, text with friends, and care for her newborn son. Still, the longtime bartender is looking ahead to when she can create exceptional guest experiences again.
"I'm very much looking forward to our spring 2021 reopening," she said.
On Thursday, Sargeant joined the Boston.com Cocktail Club for a virtual class mixing cocktails with Pimm's. We spoke with the local bartender about the ultimate cocktail to pair with oysters, growing up in the business, and why early mornings are a new struggle.
Cocktail Club: Pimm's cocktails with Gina Richard Sargeant

Gina Richard Sargeant, bar manager at Select Oyster Bar, joined #BDCCocktailClub host Jackson Cannon to mix cocktails with Pimm's. The two made a classic Pimm's Cup and a Dartmouth Highball. Make your own:Pimm's Cup: https://trib.al/2LQMVNUDartmouth Highball: https://trib.al/qLwIqGO

Posted by Boston.com on Friday, February 26, 2021
Tell us about growing up in the industry and memories of your dad's bar in Las Vegas?
Looking back, I suppose growing up with a parent in the bar business was more influential than I realized at the time. When I was a kid, I noticed that restaurant industry work was often looked down upon. Seeing how hard my dad worked and how good he was at his job made me want to prove that idea wrong.
He moved to Las Vegas when I was about 10 and ran a low-key joint called Sonny's Saloon for about 22 years. It was a fixture in the city, dark and cozy, one last of the old Vegas bars. It was a local's haunt and after-work industry spot for hotel and casino employees. Growing up observing the camaraderie between the regulars and staff had an impact on me. Sonny's was a special place that brought so many people comfort. Whether you walked in that door for the first time or the thousandth time, you were welcomed with equal warmth. After my dad passed away in 2009, my visits to Sonny's were sparse, but in the handful of times I made it in since, I was greeted with hugs, my favorite seat, and my drink of choice before I even needed to ask. I'd like to think that's how I make guests feel when they sit at my bar now.
What's been helping get you through the pandemic?
Having a baby at the end of 2020 was certainly a welcome distraction from the pandemic. As fortunate as I am for my health and my family's, the isolation from friends and family has been challenging — plus not being able to drink from March-November was tough. To keep sane, we take a lot of walks in the Arboretum, and I've been cooking and baking a lot. I spend a lot of time texting with friends — probably too much — but I miss my people. Select was open from June through November so I was back at work for four months, which was amazing. Life felt almost normal for a little while.
How has parenting been going?
Being a parent so far has been wonderful. We've been blessed with a little guy who likes to sleep, so the deprivation isn't too bad. Staying up late at night is the easy part, but the early morning rises are what I struggle with as a restaurant person. All the trendy infant sleep consultants tell you to "start your day at 6:30 or 7 a.m." Sorry, but no.
What's the ultimate cocktail to order with oysters?
Pairing spirits with food can be tricky, but with oysters, there some good options. My personal favorite is a 2-to-1 gin martini with olives. I like Leatherbee and Oxley a lot right now. We have a cocktail on the menu at Select that was originally created for a tasting menu to accompany an oyster. It's made with gin, manzanilla sherry, cucumber, lemon, and black pepper. It's off-dry, a bit salty and vegetal, so a great match for briny oysters. Sherry and Islay scotch are notable pairings as well.
If you weren't behind the bar, what would your other career be?
If I didn't fall in love with the restaurant industry, I probably would've gone to medical school. I apologize to my family for this.
What do you like about the Dartmouth High Ball?
The Dartmouth Highball reminds me of my first time behind the bar at Island Creek Oyster Bar in 2011. I was staging [an audition for a restaurant job], and this was one of the first cocktails ordered that I was instructed to make and taste. At the time, I only had Pimm's in a Pimm's Cup and probably hadn't considered using it any other way. I loved how super refreshing and balanced it was, Pimm's shining through without overpowering the other ingredients. The taste and aroma of this cocktail brings me right back to that time in my life. Given the recent devastating news of ICOB's and Eastern Standard's closures, these memories are now especially bittersweet.
How can readers support you and your colleagues right now?
Patronize your neighborhood spots and other local, independent restaurants in any way you can comfortably and safely. When bars reopen, go to them. The people who are probably suffering the most right now are the thousands of restaurant workers who don't qualify for unemployment benefits or any of the stimulus money distributed. They're the backbones of the places you love to go. Some places have set up GoFundMe pages to help these employees while the businesses are shuttered, including us: Select Oyster Bar, Grand Tour, Atlántico Staff Fund.
---
Join our next cocktail class
Join us Thursday, March 4 at 7 p.m. with host Jackson Cannon and his special guest Kyisha Davenport, bar director at the employee-owned Tanám in Somerville. This week they'll be making two versions of the Aperol Spritz, the deceptively savory and delightfully refreshing bubbly cocktail, catching up about the Boston restaurant and bar scene, and sharing tips the pros use to make great drinks at home. Everything you'll need is listed here with a link to purchase your Boston.com Cocktail Club Aperol kit through Gordon's Fine Wine and Spirits.
Get Boston.com's browser alerts:
Enable breaking news notifications straight to your internet browser.