Restaurants
Where to dine on Valentine's Day in and around Boston
Whether you're going out or staying in on V-Day this year, these restaurants have you and your special someone covered.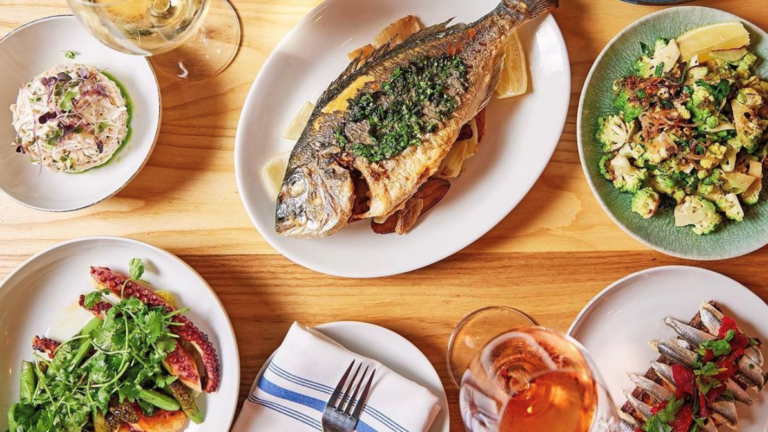 Boston restaurants are offering some dazzling specials this Valentine's Day.
In addition to accepting reservations, many of the restaurants will serve their specials to-go. Read on for our recommendations on where to grab dinner on February 14. Keep your eyes peeled for the 100-layer lasagna, the heart-shaped pizzas, and the over-the-top Valentine's Day shake.
Alcove, 50 Lovejoy Wharf, Boston
Backed by dramatic sunset views of the Zakim bridge, Alcove has prepped a menu even more romantic than its setting: Guests can expect a caviar and champagne pairing, lobster bisque with mascarpone, and an affogato with whipped vanilla ganache for dessert.
Atlántico, 600 Harrison Ave., Boston
The South End restaurant showcasing Iberian-inspired seafood celebrates Valentine's Day from Feb. 11-14 this year. For $75 per person and available for dine-in or take out, Atlántico's special prix fixe menu includes dishes like hamachi crudo and falda de res (frilled skirt steak), though guests can choose to order off the regular tapas menu.
Bakey, 151 Tremont St., Boston
The newly opened downtown bakery is attracting Valentine's and Galentine's Day celebrators alike with a monthlong special in February: buy any two pastries and two coffees for $20. Bakey, which opened this past September, specializes in Israeli-inspired baked goods like babkas and burekas, which it churns out fresh from the oven multiple times a day.
The Banks Fish House, 406 Stewart St., Boston
Alongside their regular menu of New England seafood, the Banks Fish House in Back Bay will serve up V-Day specials like surf 'n' turf, Alaska king crab, and a choice sweets menu, including a box of chocolates.
Bar Enza, 1 Bennett St., Cambridge
Located inside Harvard Square's Charles Hotel, Bar Enza has put together a four-course menu of showstoppers like 100-layer lasagna, truffled chicken, and chocolate torta. The prix fixe menu costs $65 per person with an optional $35 wine pairing. Guests can also receive a discounted $300 room rate for the posh Charles Hotel.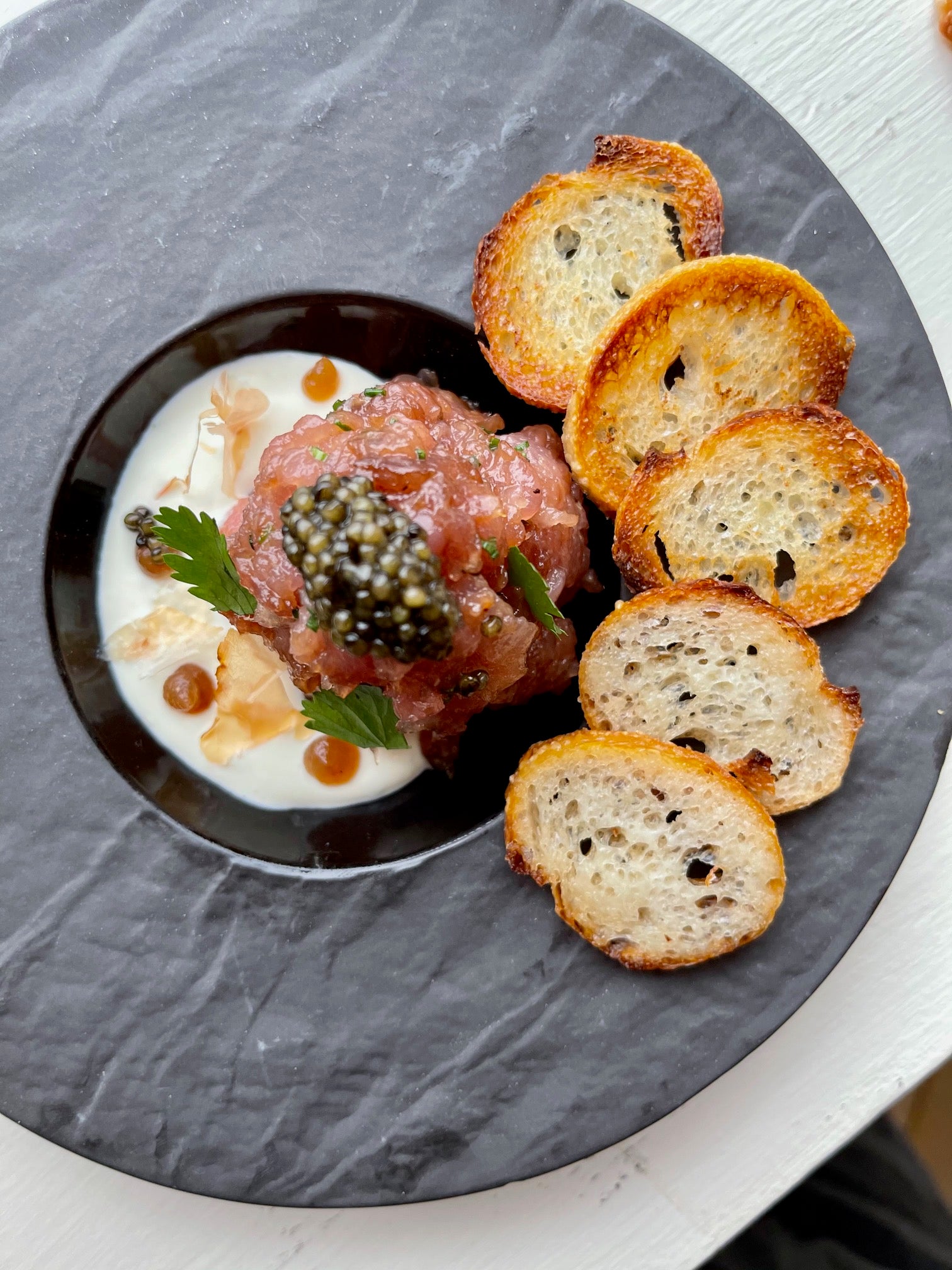 Bistro du Midi, 272 Boylston St., Boston
The elegant French restaurant across from the Public Garden serves a luxe Valentine's Day prix fixe menu from Feb. 11-14, with delicacies like Spanish octopus and Japanese wagyu. The dinner is $125 per person plus an optional $75 wine pairing.
Black Lamb, 571 Tremont St., Boston
Over Valentine's weekend, Black Lamb, the South End brasserie and raw bar, will offer a special three-course, prix-fixe menu for $62 per person. Choose from a first course of East Coast oysters and shrimp cocktail, fattoush salad, or carpaccio; followed by a second course of roasted salmon, coq au vin, or hanger steak frites; and end the meal with red velvet trifle.
Boston Wine & Food Festival, Boston Harbor Hotel, 70 Rowes Wharf, Boston
On Sunday, Feb. 13, the Boston Wine & Food Festival will host a Valentine's brunch with live jazz music at noon. For $125 per person, the walk-around brunch features stations where patrons can indulge in champagne, cocktails, fresh fruit, and delectable pastries.
Catalyst, 300 Technology Square, Cambridge
The Cambridge restaurant will celebrate V-Day a bit early with a Burgundy dinner on Saturday, Feb. 12 at 6:30 p.m. The six-course dinner menu includes Georges Bay scallops, lobster with forest mushrooms, and assorted petit fours for dessert, along with wine pairings for each course, for $165 per person including tax and gratuity.
CLINK., Liberty Hotel, 215 Charles St., Boston
Featuring local, seasonal ingredients, the Liberty Hotel's CLINK. will offer a Valentine's dinner with specials like winter parsnip soup and wagyu beef with sweet potato for $100 per person. Accommodation packages for the hotel will also be available.
Davio's, locations in the Back Bay and Seaport
Davio's Northern Italian Steakhouse is offering a romantic prix fixe menu for dine-in on Feb. 13 and 14 for $125 per person. Choose one of 10 antipasti courses followed by a decadent caserecci, and finish the evening with a dessert. Special holiday cocktails are also available.
Ducali, 289 Causeway St., Boston
For those who prefer to celebrate Valentine's Day from the couch this year, North End pizzeria Ducali offers a make-your-own pizza kit with two pizza doughs, tomato sauce, cheese, and toppings. They can also make any of their pizzas in heart shapes on Feb. 13 and 14.
Geppetto, 100 N First St., Cambridge
The northern Italian spot located in Cambridge Crossing is serving up a five-course Valentine's menu with items like parsnip ravioli, grilled swordfish, and a fiori panna cotta for $85 per person.
Grand Tour, 314 Newbury St., Boston
For $75 per guest, the Parisian-style bistro on Newbury Street will offer a prix fixe menu with specials like Nantucket bay scallop crudo and ocean trout that's available for both dine-in and take out from Feb. 11 to 14. The regular dinner menu will also remain available.
Grill 23 & Bar, 161 Berkeley St., Boston
This Back Bay steakhouse is offering a handful of sweetheart specials alongside its regular menu. Guests can find a surf 'n' turf with king crab and a lobster tagliatelle with caviar champagne crème for dinner, and desserts like raspberry profiteroles or a Sweet Heart Cookie Box.
Joe's Waterfront, 100 Atlantic Ave., Boston
The Commercial Wharf eatery is cooking up Valentine's specials like crab bisque, lobster ravioli, and chocolate covered strawberries, all with optional wine pairings. They're also hosting a Valentine's Day brunch, complete with red velvet pancakes and a mimosa flight.
The Lexington, 100 N First St., Cambridge
For $75 per person, the Lexington's four-course Valentine's weekend menu includes steak tartare, pumpkin bisque, and king salmon. The Lexington is one of three new restaurants at Cambridge Crossing, adjacent to Geppetto and Café Beatrice.
LUCIE drink + dine, 120 Huntington Ave., Boston
The Colonnade Hotel's onsite restaurant LUCIE put together a four-course to-go menu of reheatable favorites like Arctic char, crab remoulade, and chocolate raspberry tortes. The menu costs $149 for two people, with a bottle of champagne as an add-on. Guests dining in person can expect Valentine's menu highlights like southern fried quail, green curry mussels, and a shake with strawberry ice cream, red velvet cake, candied rose petals, and a chocolate-covered strawberry.
Lulu Green, 246 W Broadway., Boston
This Southie café sources its ingredients locally, organically, and sustainably whenever possible. For Valentine's Day, they're putting together a "Lovers + Friends" charcuterie board with assorted vegan cheeses, nuts, jam, and a baguette, plus some new gluten free heart-shaped cookies, like buttery sugar cookies and strawberry jam linzers.
Mida, 782 Tremont St., Boston
MIDA, an Italian neighborhood spot in the South End, is serving a romantic Valentine's weekend tasting menu for $60 per person with an optional wine pairing. The three-course menu includes starters like stuffed clams and cheesy garlic bread to share, and a choice of three entrees like seared scallops or spaghetti and meatballs (á la Lady and the Tramp?).
OAK Long Bar + Kitchen, 138 St. James Ave., Boston
The locally inspired eatery inside the Copley Plaza Hotel adds a few Valentine's weekend specials to their menu Feb. 11 to 14. Guests can find a Bourbon-glazed short rib for two, plus a chocolate fondant cake for dessert.
Porto, Ring Road, Boston
Porto, the modern Mediterranean restaurant, is offering two V-Day specials: Three-cheese agnolotti ($18) featuring spinach, ricotta, fontina, parmesan cream (also available as an entree); and a pan-roasted beef tenderloin ($58) with potato gorgonzola gratin, seared broccolini, and red wine mushroom sauce.
Publico Street Bistro, 11 Dorchester St., Boston
For a classically romantic dinner date, Publico in Southie is offering an optional seafood tower with two glasses of champagne or a bottle of wine for $90. The three-course Valentine's prix fixe menu, for $38 each, features clam chowder, truffle risotto, or crab-crusted cod.
Puritan & Company, 1166 Cambridge St., Cambridge
In Cambridge's Inman Square, Puritan & Company is serving up an elegant four-course menu in its traditional style of locally sourced New England cuisine. The $75 prix fixe menu features dishes like a foie gras brûlée and a marinated lobster and shrimp salad. Optional add-ons include local oysters and caviar service for two.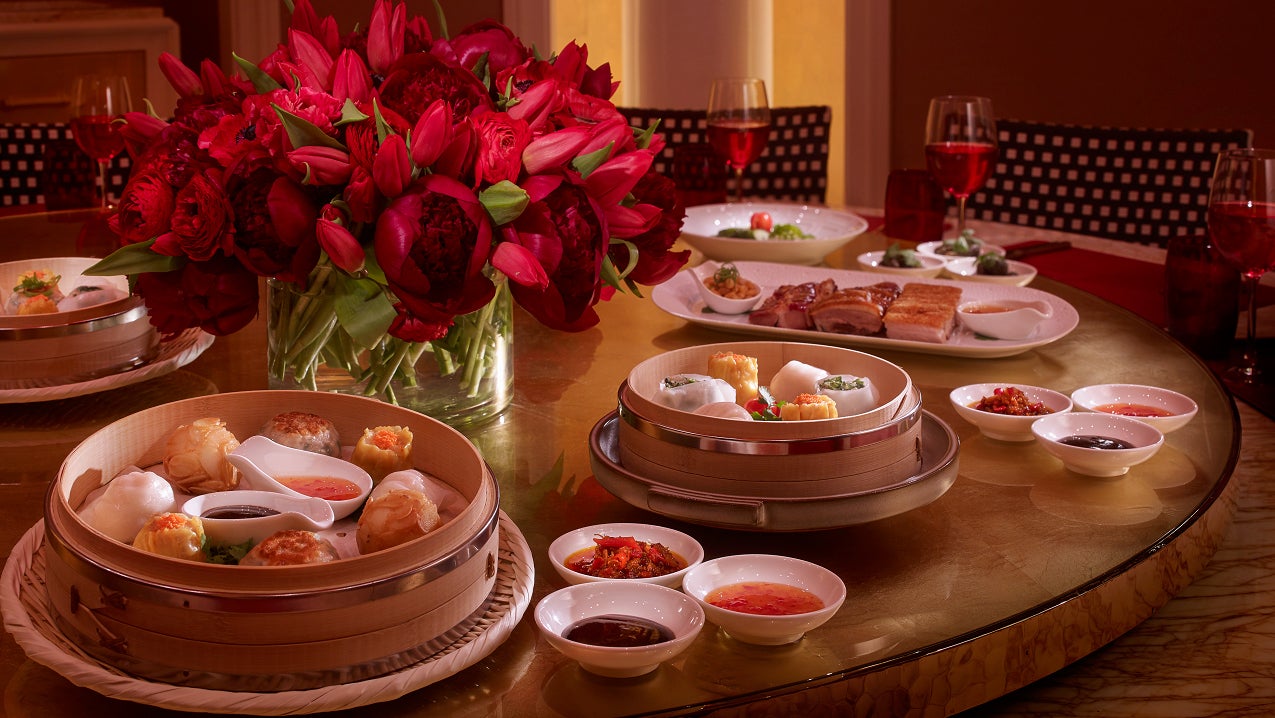 Red 8, 1 Broadway, Everett
Available Feb. 12 to 14, Encore's Chinese restaurant offers their Valentine's menu for both dine-in and take out guests. The four-course menu, for $88 per person, features Cantonese favorites like dim sum for two, plus a chocolate pot de crème for dessert.
Rochambeau, 900 Boylston St., Boston
Back Bay's lively French-inspired brasserie will serve up a handful of specials alongside their normal menu of contemporary Parisian fare, like truffle scallops and butter-poached lobster with a potato galette.
Row 34, 383 Congress St., Boston
The Fort Point oyster and beer bar is offering Valentine's Day specials: A shellfish platter for two with oysters, lobster, crab cocktail, caviar, spicy redfish ceviche, and shrimp cocktail ($165); hand-rolled ricotta gnocchi, Maine lobster, Meyer lemon, and chive butter ($34); Dungeness crab risotto, blood orange, chervil, and crispy shallots ($38); grilled black sea bass for two with dill and lemon butter, fregola, pine nuts, and cauliflower ($46). White sturgeon caviar is also available (50 grams for $125 or 100 grams for $230).
Russell House, 14 John F. Kennedy St., Cambridge
On Feb. 12 to 14, the Harvard Square gastropub will run a list of V-Day specials along with their regular menu, featuring scallop wellington, grilled veal chop, and a chocolate hazelnut tart for dessert.
The Salty Pig, 130 Dartmouth St., Boston
Located near the Back Bay MBTA station, The Salty Pig adds three additions to its menu of pork-focused elevated comfort food for Valentine's weekend: foie gras terrine, ravioli al uovo, and a chocolate tiramisu.
Scampo, 215 Charles St., Boston
The Liberty Hotel's vibrant Italian restaurant helmed by Lydia Shire will cook up a three-course prix fixe menu on Valentine's Day only. For $95 per person, guests can expect Wellfleet oysters, Chilean sea bass, and kabocha and butternut squash ravioli — plus a "caramel extravaganza" or "chocolate extravaganza" for dessert.
Select Oyster Bar, 50 Gloucester St., Boston
Celebrating all weekend, Select Oyster Bar is serving a Valentine's menu for two February 11 through 14. The Back Bay spot has loaded their prix fixe menu with the cuisine they know best: seafood dishes like Island Creek oysters, salmon crudo, Icelandic Arctic Char, and Casco Bay halibut.
Sonsie, 327 Newbury St., Boston
The mahogany bar, Newbury Street views, and internationally influenced menu make Sonsie a perfect V-Day date spot. This year, they're celebrating the holiday with a four-course prix fixe of saffron Parisian gnocchi, pistachio-crusted halibut, and Ferrero Rocher crémeux.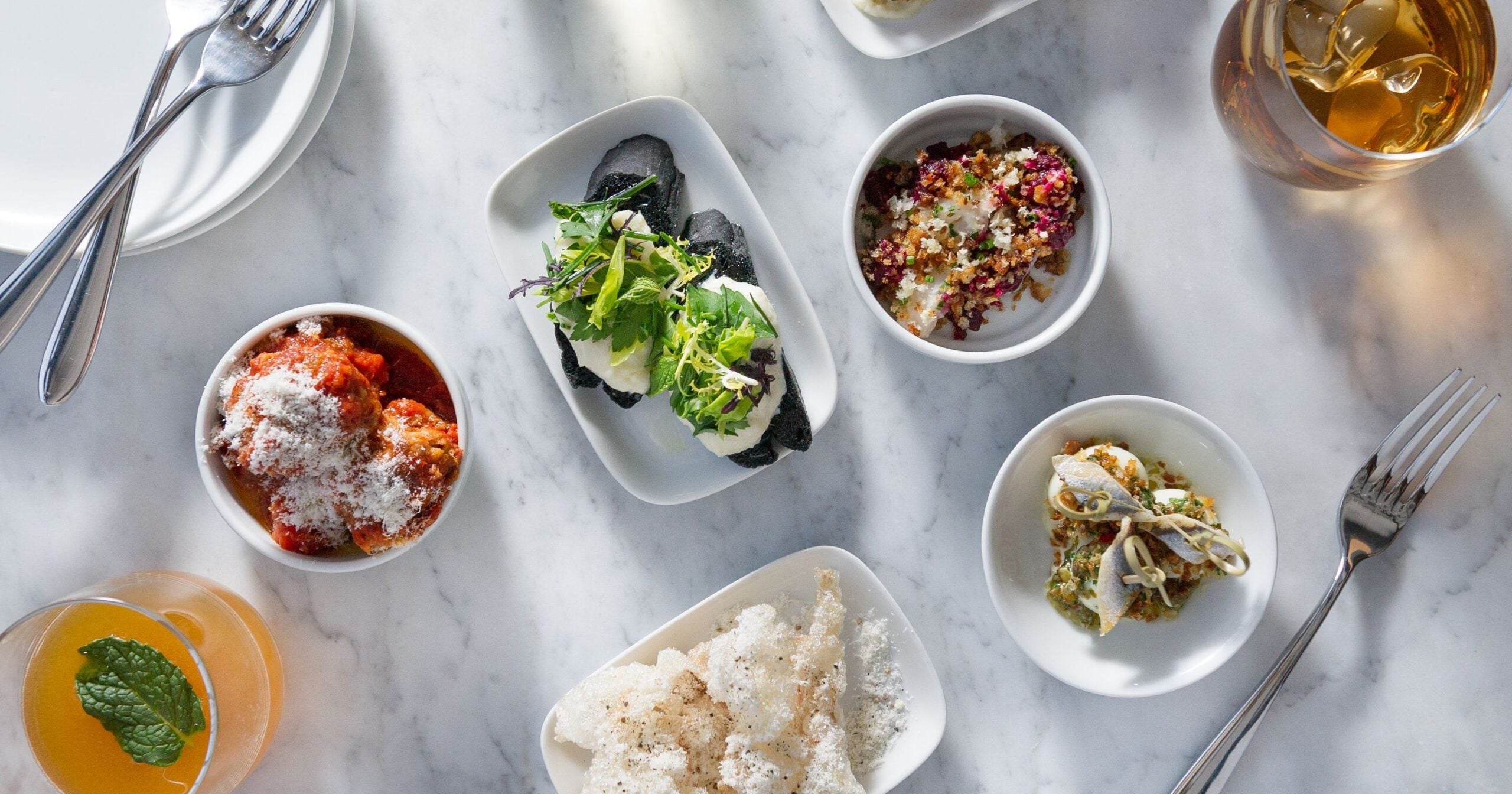 SRV, 569 Columbus Ave., Boston
SRV has put together a tasting menu for Valentine's Day only that shows off their menu of fresh pasta and cicchetti, authentic Venetian small bites. The multi-course menu goes for $100 per person, or $75 for the vegetarian option, and includes cicchetti like potato croquettes and tuna crostini, and pastas like agnolotti with duck, ricotta, leek, and pear.
Stillwater, 120 Kingston St., Boston
The lively downtown comfort food spot is serving a small but mighty Valentine's prix fixe for $100 per couple, with a baked burrata to start, a choice of grilled ribeye or lobster ravioli for the main, and a chocolate lava cake to finish it off.
Thistle & Leek, 105 Union St., Newton
While the cozy spot in Newton's Piccadilly Square is closed on Mondays, their Valentine's offerings will be available Feb. 12 and 13. The $95 meal kit for two, for couples celebrating at home this year, yields a four-course meal of truffled hummus, braised short ribs, fontina risotto, and a chocolate and caramel pot de crème. For dine-in and take-out, they've added a few specials like seared sea scallops with black truffle.
TRADE, 540 Atlantic Ave., Boston
TRADE, the Mediterranean restaurant on the corner of Atlantic and Congress, is offering two specials on V-Day: Oxtail Pastitsio ($28) featuring house-made pasta, oxtail ragu, braised tomatoes, graviera, manouri cheese; and grilled hanger steak & arugula salad ($18) with citrus, arugula, oil-cured olives, pickled red onions, and pomegranate. There will also be a specialty cocktail, called Aphrodite, with prosecco, Mastiha, and greek sour Cherry ($13).
Tuscan Kitchen, 64 Seaport Blvd., Boston
Available at all Tuscan Kitchen locations for both dine-in or take out, Valentine's specials span both food and drinks. Guests can start off with a cocktail like the "Romeo," with bourbon, maple and fig syrup, and angostura bitters, or the "Juliet," with citrus vodka, peach schnapps, pomegranate liquor, and Prosecco. Other specials include a truffle citrus salad and a beef tenderloin with sautéed shrimp.
Sign up for The Dish
Stay up to date on the latest food news from Boston.com.